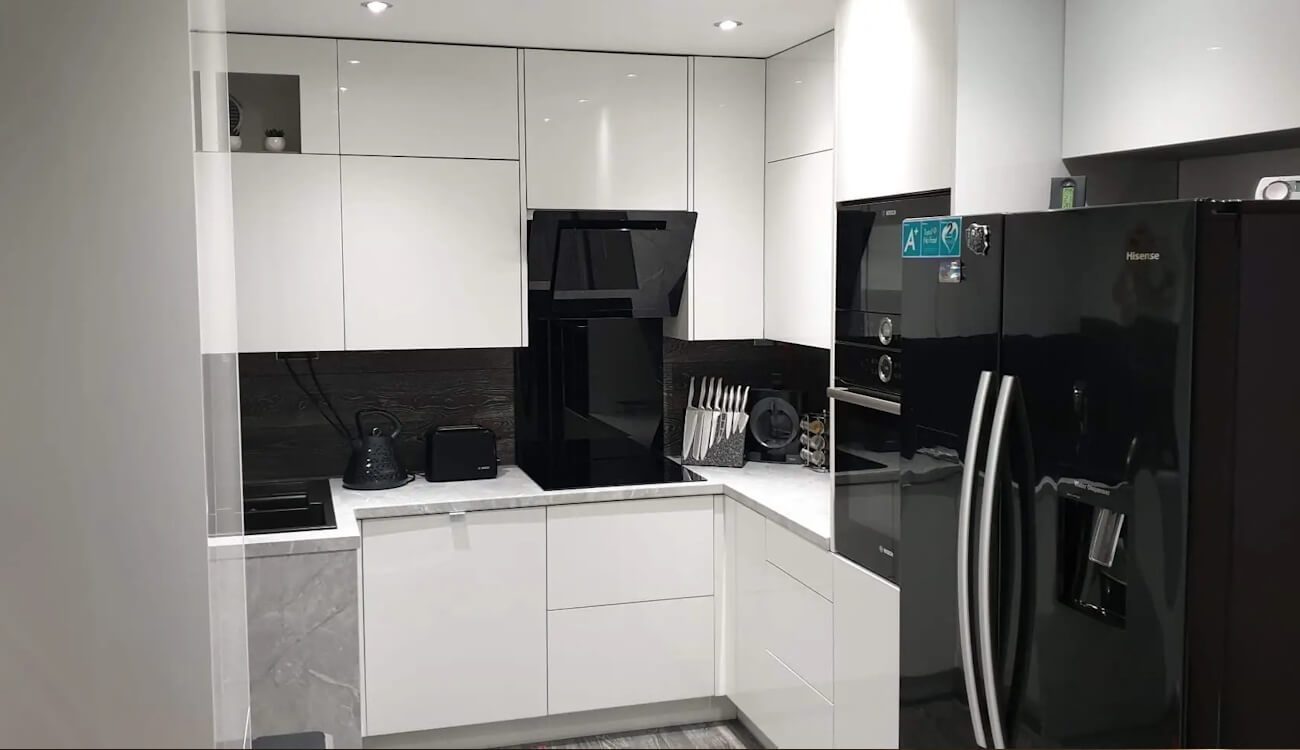 High gloss white handleless fitted kitchen, Normanton West Yorkshire
High gloss white handleless custom made kitchen furniture designed, manufactured, and installed for our customer based in Normanton, West Yorkshire. The investor was looking to maximize the space in a relatively small kitchen with the use of white reflective materials which will make the room looks slightly bigger than it is. A second important factor during the design process was to optimize the construction of the cabinets so they will adopt most of the available space and at the same time not overwhelming the room.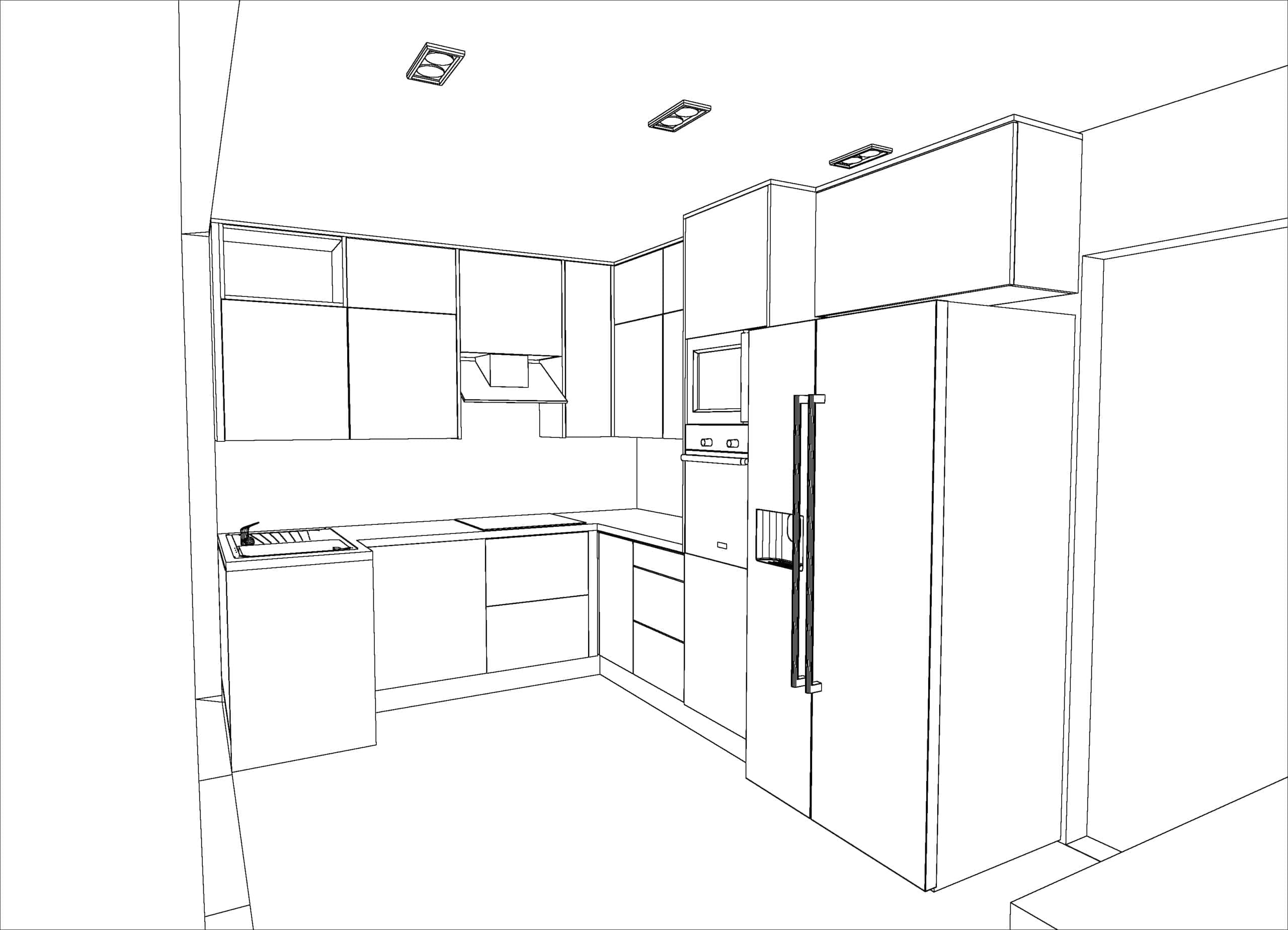 Materials used to manufacture this handleless kitchen
After consultations, we decided to use a combination of Ultra-high acrylic-coated slab doors, and to give the furniture more character the cabinets were made in Boston concrete effect from the Egger MFC board range. The worktop used in this project was a 38mm thick Egger Light Grey Valmasino Marbel effect. You can find out more about the materials used to manufacture cabinets and worktops on that page.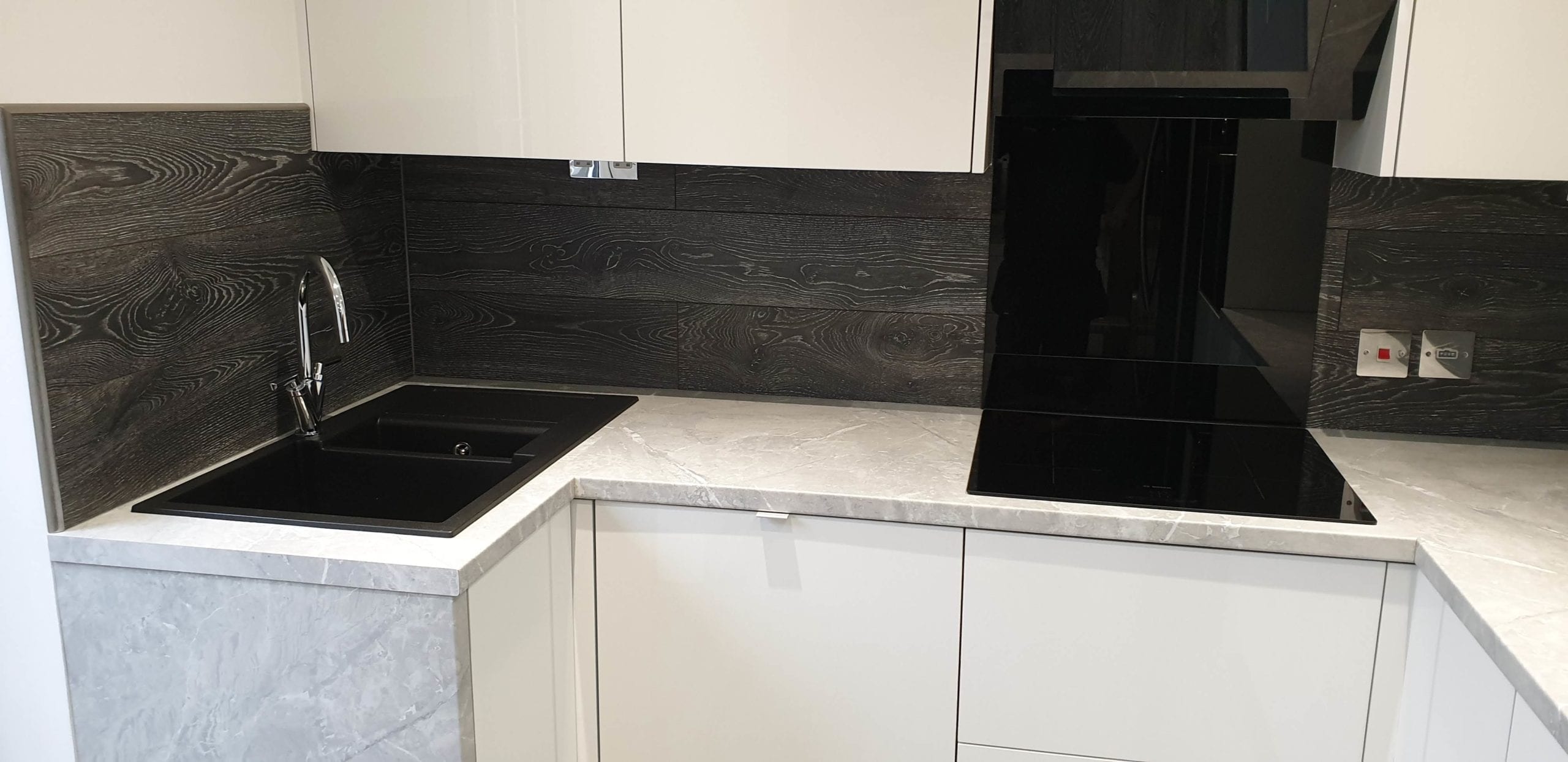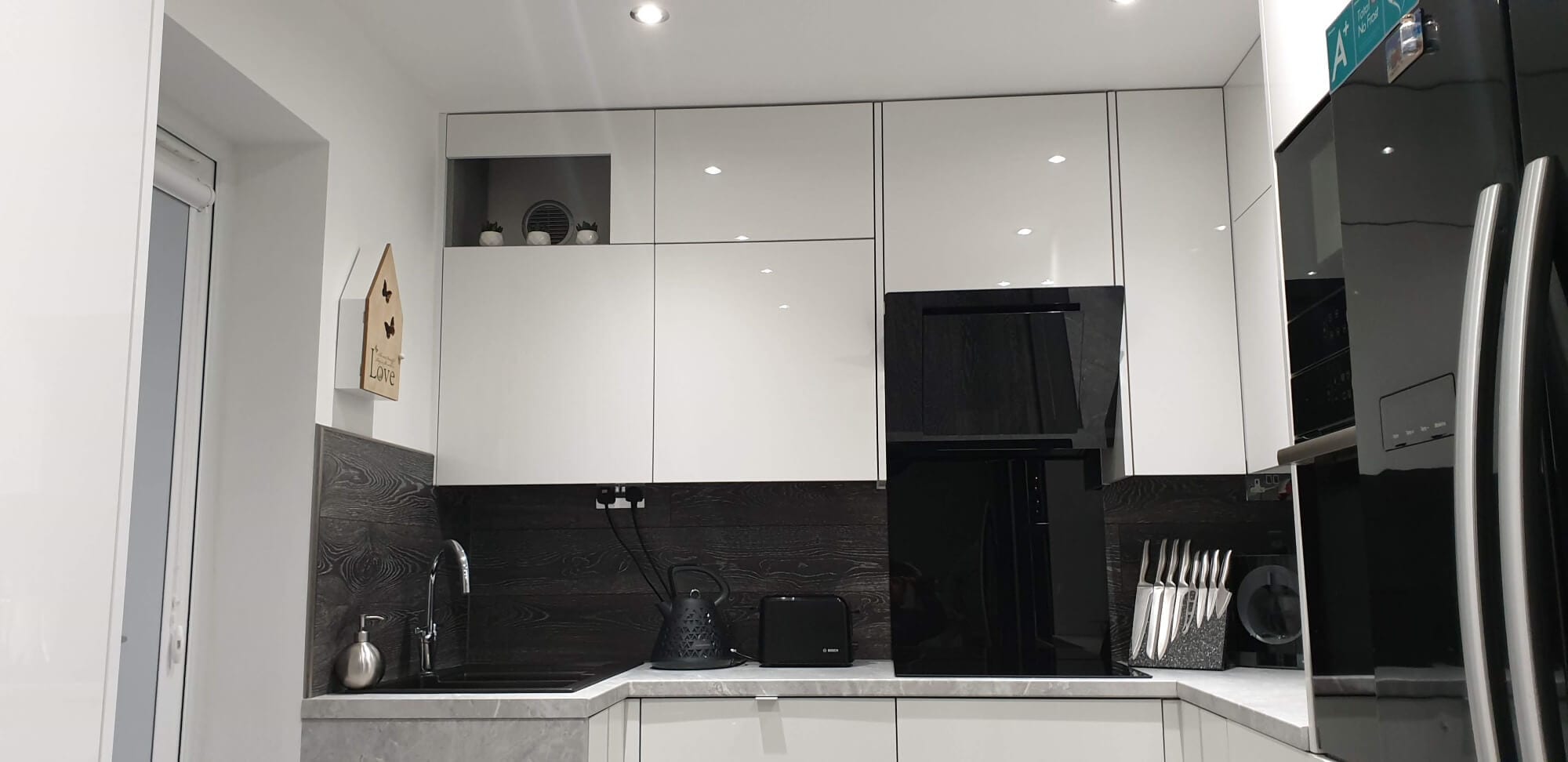 All wall units except the one over the extractor fan are made to suit the room, in this particular case, they were 1000mm high giving customers additional storage and flexibility in the matter of arranging the content. The bottom part of the wall units was equipped with vertically placed soft close hinges and containing two shelves. The top part of the cabinets has got horizontally push to open mechanisms. That part is not divided so it can accommodate bigger items.
In the base units, we were implemented several tip-on soft close drawers manufactured as the hinges and lift systems used for that project by Blum leading furniture component provider. All hinges, lift mechanisms, and drawer runners are lifetimes warranted*.
The tall larder unit becomes housing for the Bosch integrated oven and microwave. There was also additional storage space developed below and above the appliances.
Boiler housing with storage space
On the left-hand side of the room, there was placed a combi boiler. Instead of making a small cupboard just to cover the boiler, we decided to build a bigger structure which not only hides the appliance and pipes but also gives additional storage space. Again the cupboard was made that way, so it fills up space from the floor to the ceiling. However, it is as shallow as possible to do not consume much space from the kitchen.
Kitchen island with drawers
The last goal was to develop a dining space where the household could have a quick meal. For that purpose, we have designed a compact kitchen island which again combining a storage space and worktop surface. It contains a broad drawer chest and two shelved units so practically there is no wasted space in that 900mm x 900mm construction.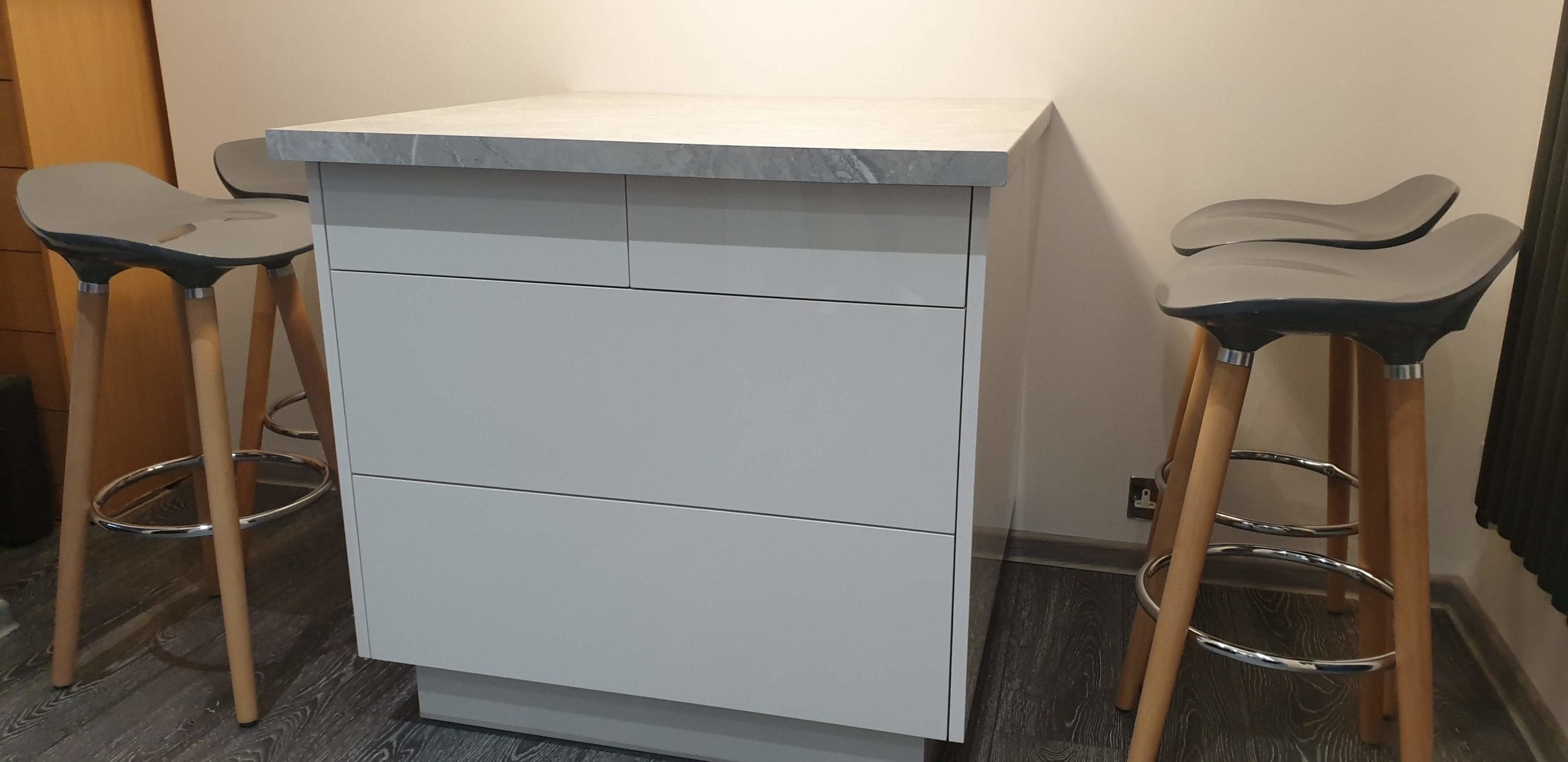 Furniture specification
Style – Modern contemporary style
Location – Normanton, West Yorkshire
Materials
38mm Egger laminate worktop
Ultra-high gloss  slab doors
Boston concrete effect MFC carcasses
White ultra-high gloss plinths
Soft-close tip-on Blum drawers
Set of integrated Bosch appliances
Contact us by email or calling to arrange a meeting and discuss your project in our studio/workshop. Where you can see the display section and how we make our custom made furniture.