[rev_slider alias="infinity-kitchens"][/rev_slider]
Infinity premium range porcelain faced kitchens

Infinity line is one of the premium kitchen furniture configurations manufactured in our workshop which we can supply to private and commercial customers. This particular group of kitchens brings together the highest quality components supplemented with porcelain materials provided by Clay International sole distributor of large scale porcelain stoneware slabs. The origin of that specific highly efficient and visually attractive material is Concorde Group the largest Italian manufacturer of porcelain floors and wall coverings.
All Infinity products have structural, aesthetic and functional characteristics that make them a unique option for furnishings, indoor and outdoor applications.
We have developed that line to fulfil growing market demand for the highly durable aesthetic forms desired by the private and commercial customers who are looking for a premium product for their home and interior design projects. It covers the market of designers kitchens and is our response to Italian and German kitchens.
Following this presentation, we will try to explain and highlight the most important elements of the Infinity Porcelain faced kitchen range supplemented with premium KitchenAid integrated appliances and lifetime warranted Blum components.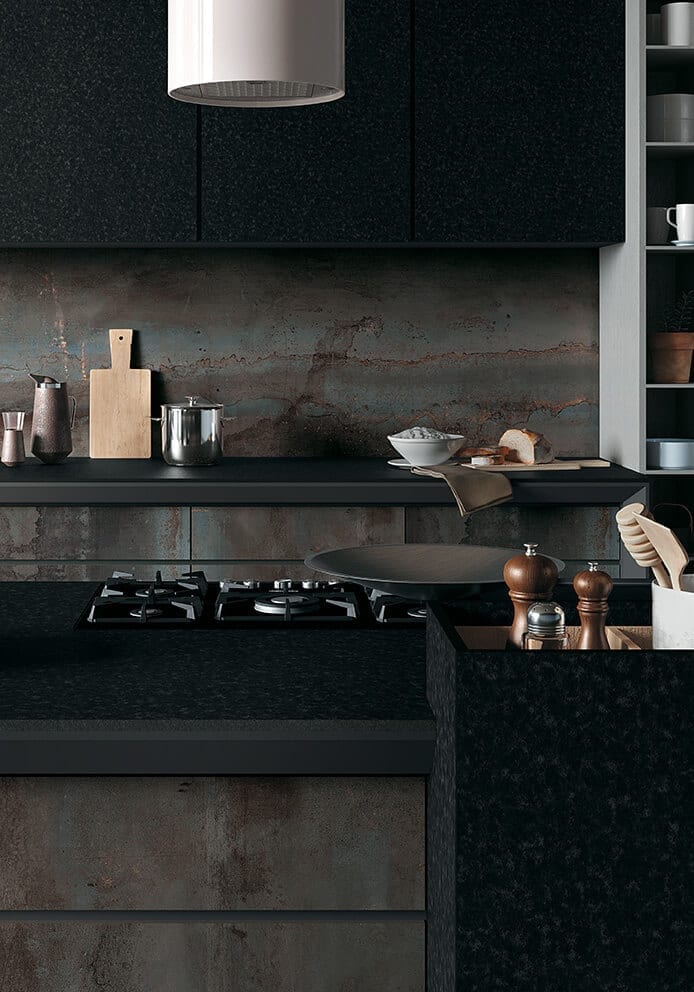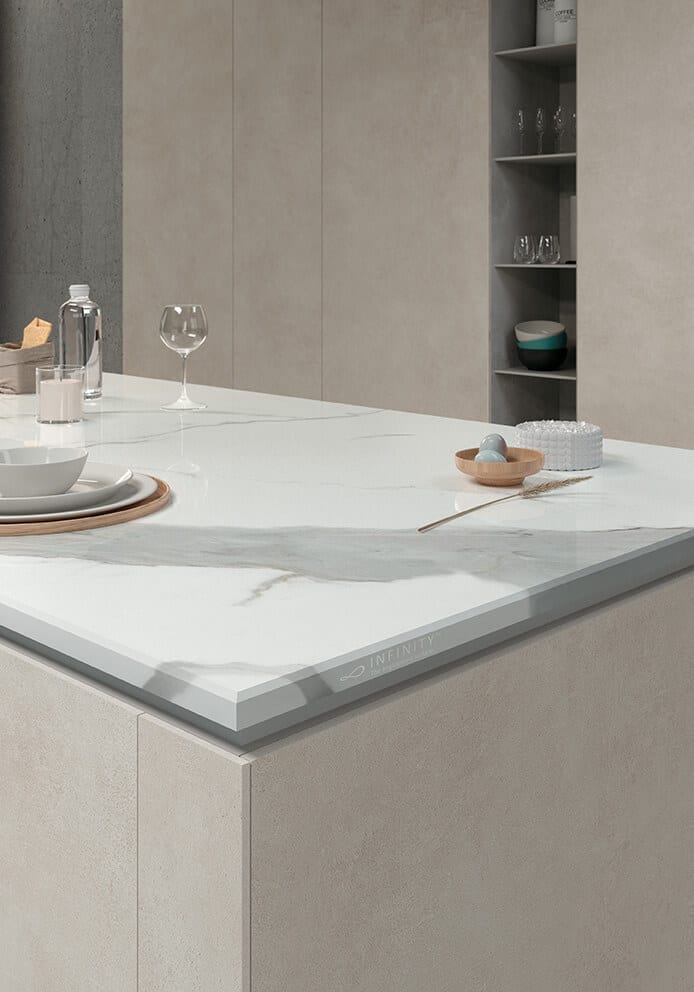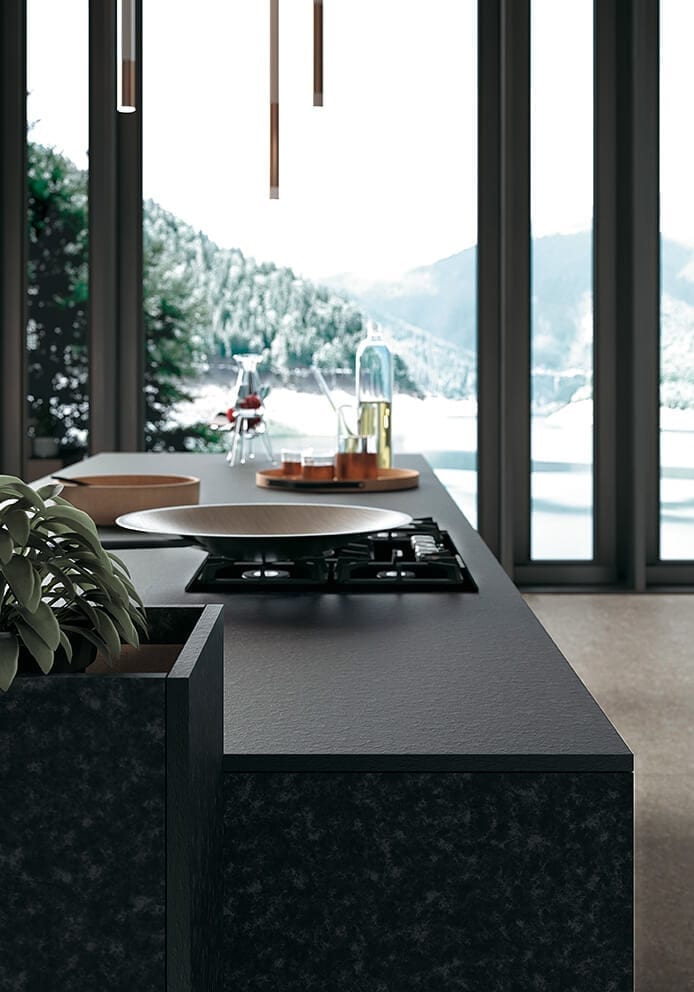 Physical properties of the Infinity TM engineered surfaces.
For a start, we would like to highlight some of the most interesting properties of the material which is engineered Infinity surface. The technology can be applied in the form of fabricated panels in three thicknesses 6mm applied as a backsplash or in the form of cabinet doors supported on the 12mm plywood or MDF core. The second option is 12mm thick elements which are dedicated to applying as modern style worktops or self-sufficient cabinet doors. The third 20mm option is available in a limited number of decors and dedicated especially as a worktop material.
Below diagram describe some of the key abilities of this material.
Range of available finishes
Our Infinity line kitchens can be manufactured with the use of 39 different decors in gloss, satin and matt finish. Including marble effect (MB), stone effect (SE), concrete effect (CE), metal effect (ME), materia effect (MA). All decors are listed bellow
Premium components specification
The core of Infinity Line kitchen furniture is designed with premium quality components: fully customizable, robust cabinets, reliable mechanical parts. They are also complemented by kitchen appliances of famous brands.
All those together with attention to detail during the production process brings a good quality product that meets the requirements of the customer or designer.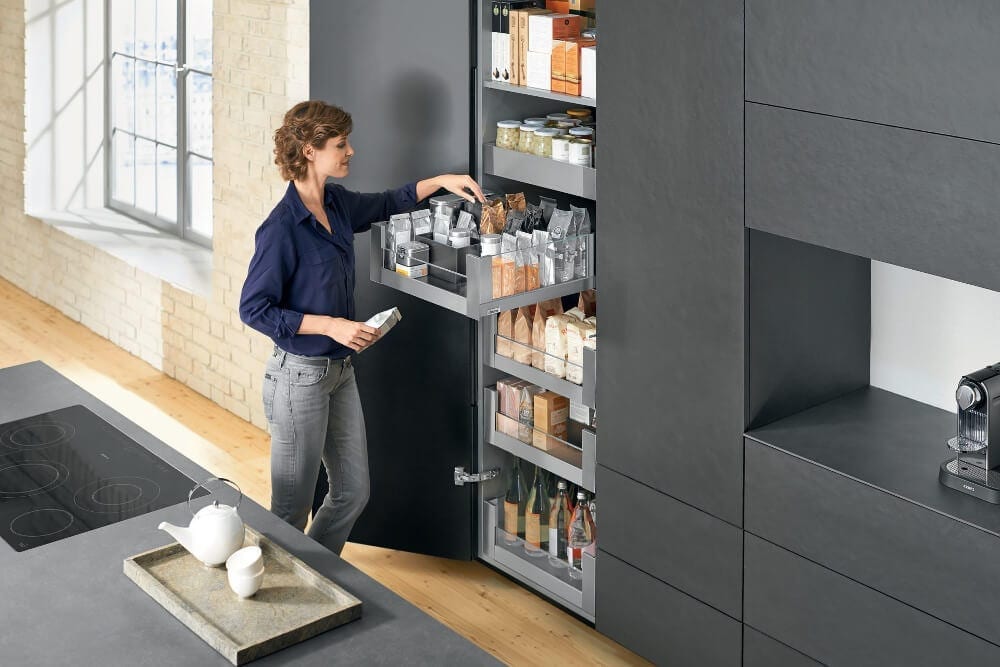 Custom made carcases
Carcase material used to manufacture each set of furniture is agreed with the customer at the beginning of the project and maybe optionally: 18 mm EGGER range MDF/MFC or 19mm laminated or veneered plywood. All carcasses are fully customisable in the matter of required sizes finish decors and internal organisation.
Mechanical gear
Mechanical gear of the furniture including hinges, drawer runners, lift systems including innovative servo system which automatise lifts and drawers opening process is based on the components provided by Blumm. A reputable brand which covers its products with a lifetime warranty.
Premium Appliances
To complete the Infinity Porcelain  Kitchens we offer a wide range of integrated kitchen appliances. Including all market-leading manufacturers. But additionally, for that particular range, we have dedicated offer of KitchenAid appliances covered with 5 years warranty.
How to order your custom made infinity line kitchen
Fill out the form below, and a member of our design team will reach out to schedule either an in-person visit to our studio/workshop or a virtual consultation.
We are more than ready to set up a comprehensive meeting to delve into all the crucial aspects of designing, manufacturing, and installing your dream kitchen, ensuring it aligns perfectly with your needs.
Fill in the form to arrange a consultation.