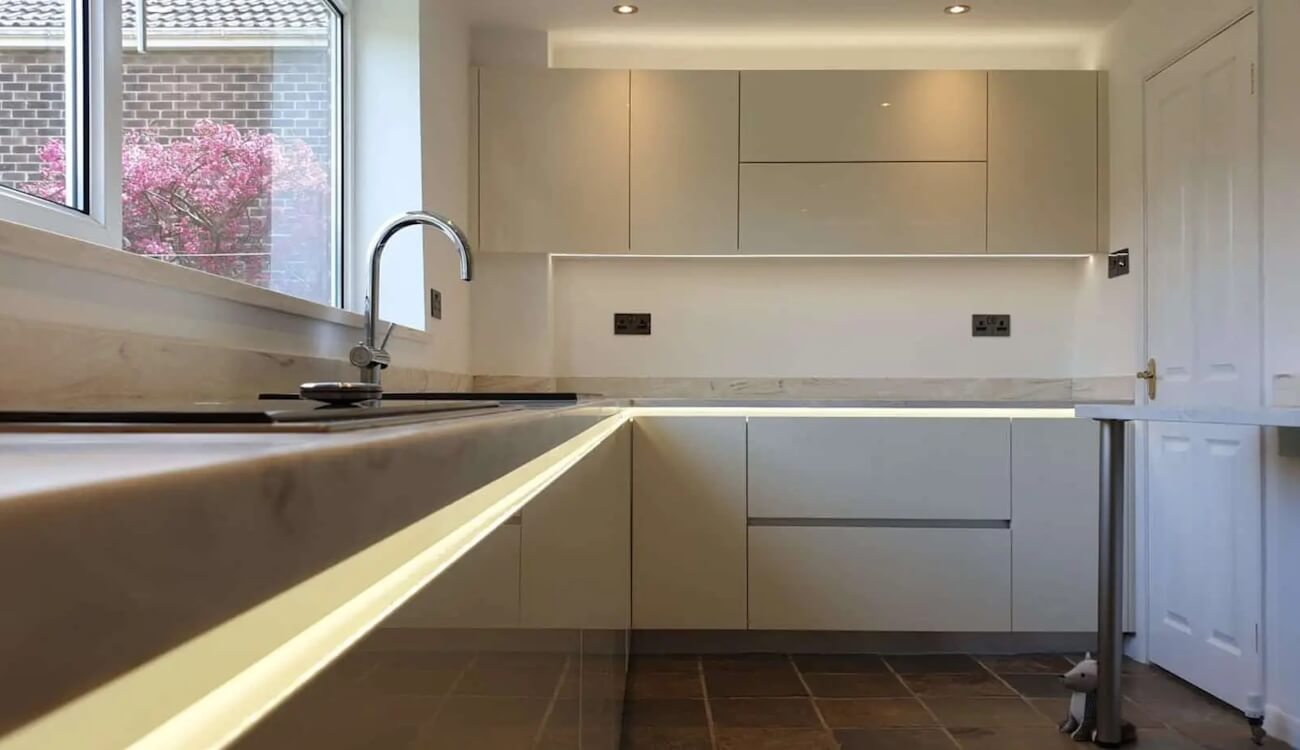 Modern style handleless kitchen furniture Otley, Leeds
Recently finished project of bespoke fitted kitchen furniture made in our workshop for the customer based in Otley. This is another high-end specification kitchen made in cooperation with Kastner Kitchens who was responsible for the design part of the project. This time our goal was to adopt a medium size bungalow walk trough kitchen with a large window on one of the walls and three doors located on other walls of the room which is not a common situation and needed specific approach to utilise the potential of the space.
The general idea behind the kitchen design
The idea standing behind this project was to provide a compromise between modern and aesthetic look but avoid the cold impression. To get that we have implemented a number of different materials which together gave us and our customers satisfying result.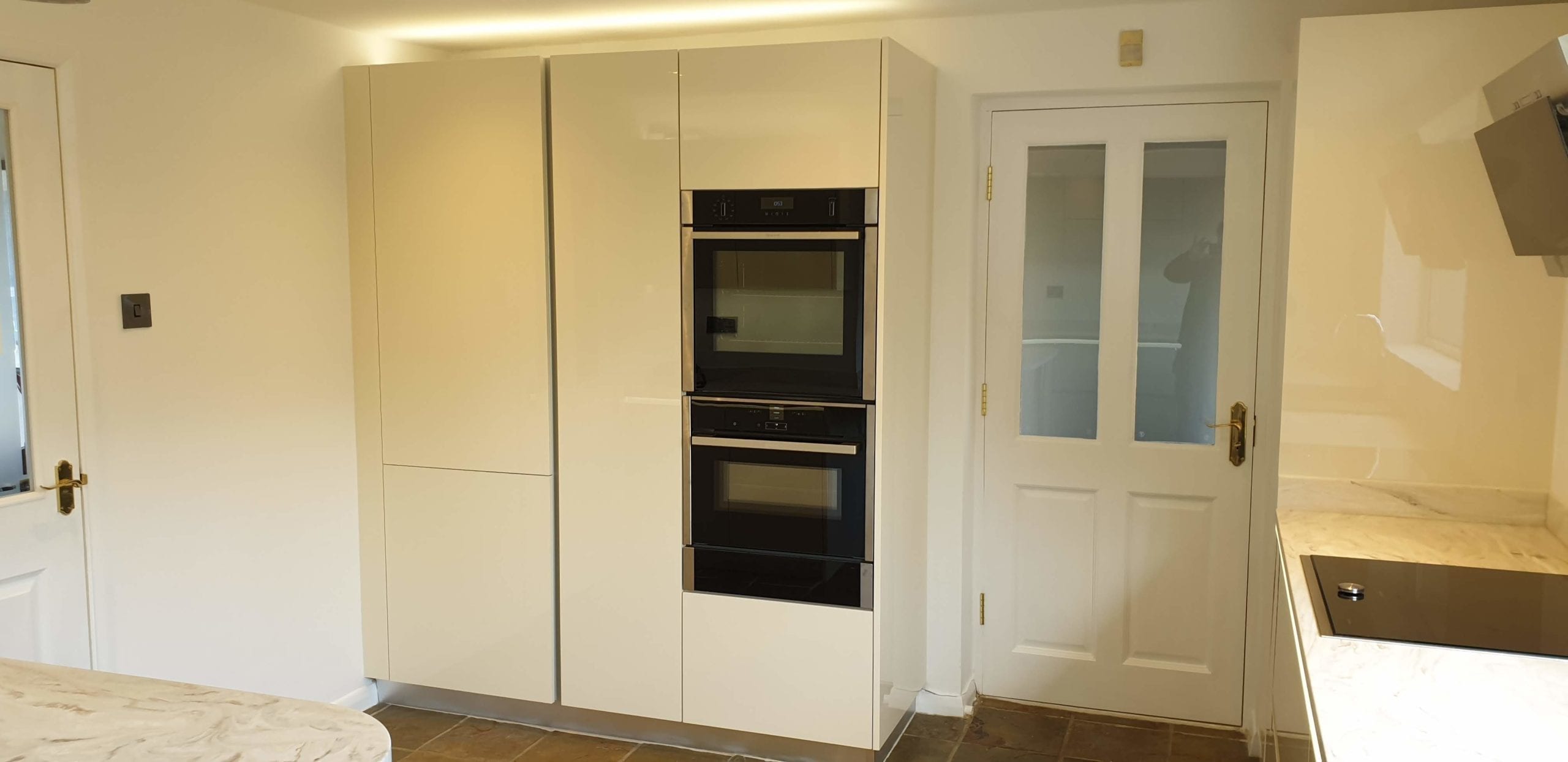 Materials used to manufacture this particular modern style kitchen
Our customer provided this project with a strong budget which gave us the possibility to implement one of the highest standard components and also very functional internal solutions. All layout was carefully planned to make the kitchen not only visually attractive but also very functional.
The carcasses are manufactured with 18mm PVC edged Egger MFC board enforced with additional 70mm long screws on the joints. That makes carcasses very sturdy and stable.
All mechanical elements are manufactured by Blum, market-leading kitchen components maker. Including soft close hinges, tip-on soft close drawers, pull out lemans soft-close corner basket, tall ladder space tower, internal wine rack, 200mm wide additional pull out basket located next to the hob area and 600mm wide pull out waste bin.
Cabinet doors were made to measure in our workshop with use ultrahigh gloss acrylic laminated slabs in ivory colour.
24mm thick Corian worktop in Dune prima satin finish placed on the aluminium profile which has been illuminated with led lights along all length of the working surface.
The plinth is made of brushed steel laminate which matches the finish of the appliances and anodised aluminium profiles.
Wall units were a combination of traditional opening doors and extra-wide unit in the middle with bi-folded horizontal slabs.
Photos of the fitted kitchen.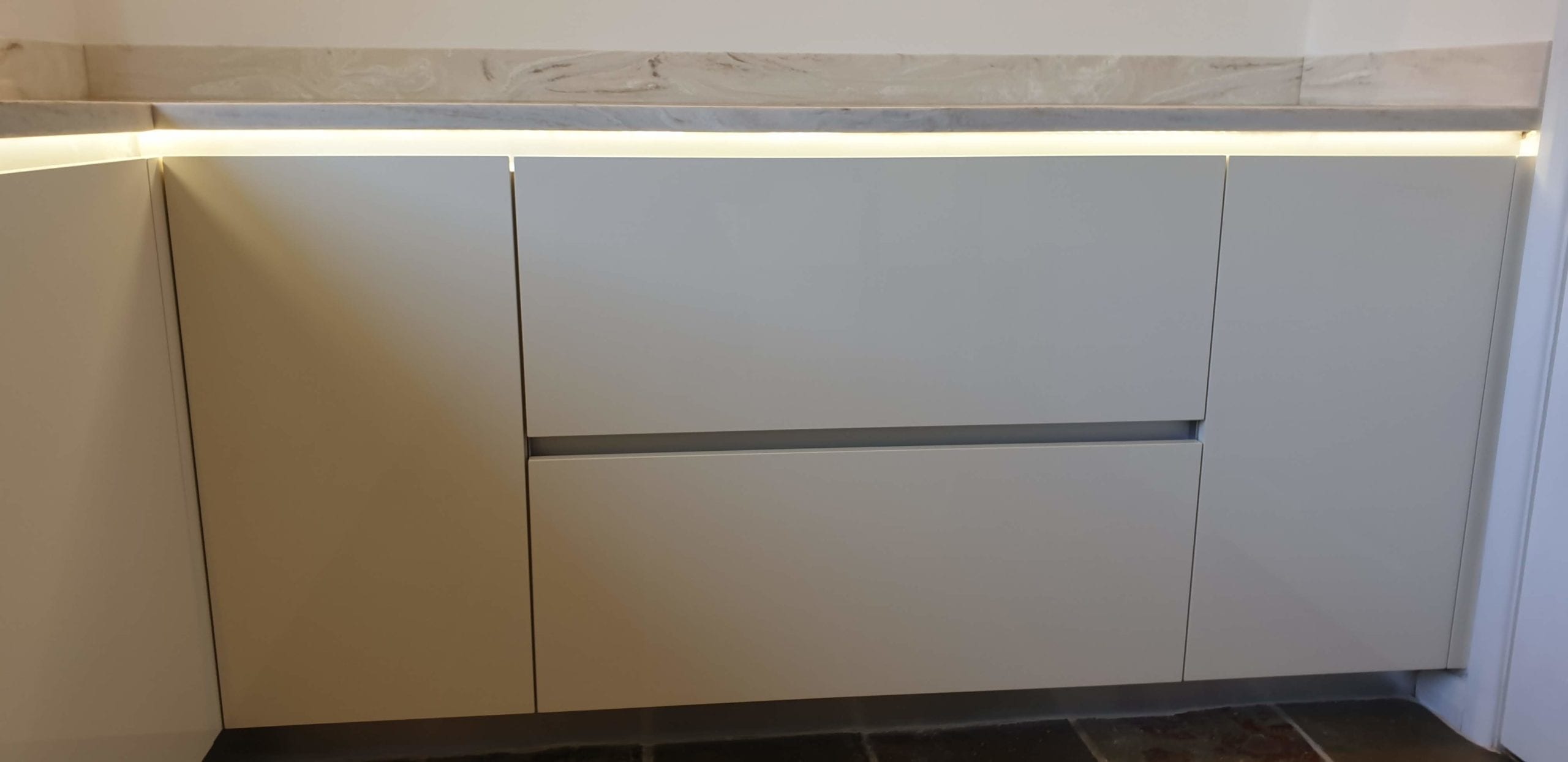 Photo JSDECO.CO.UK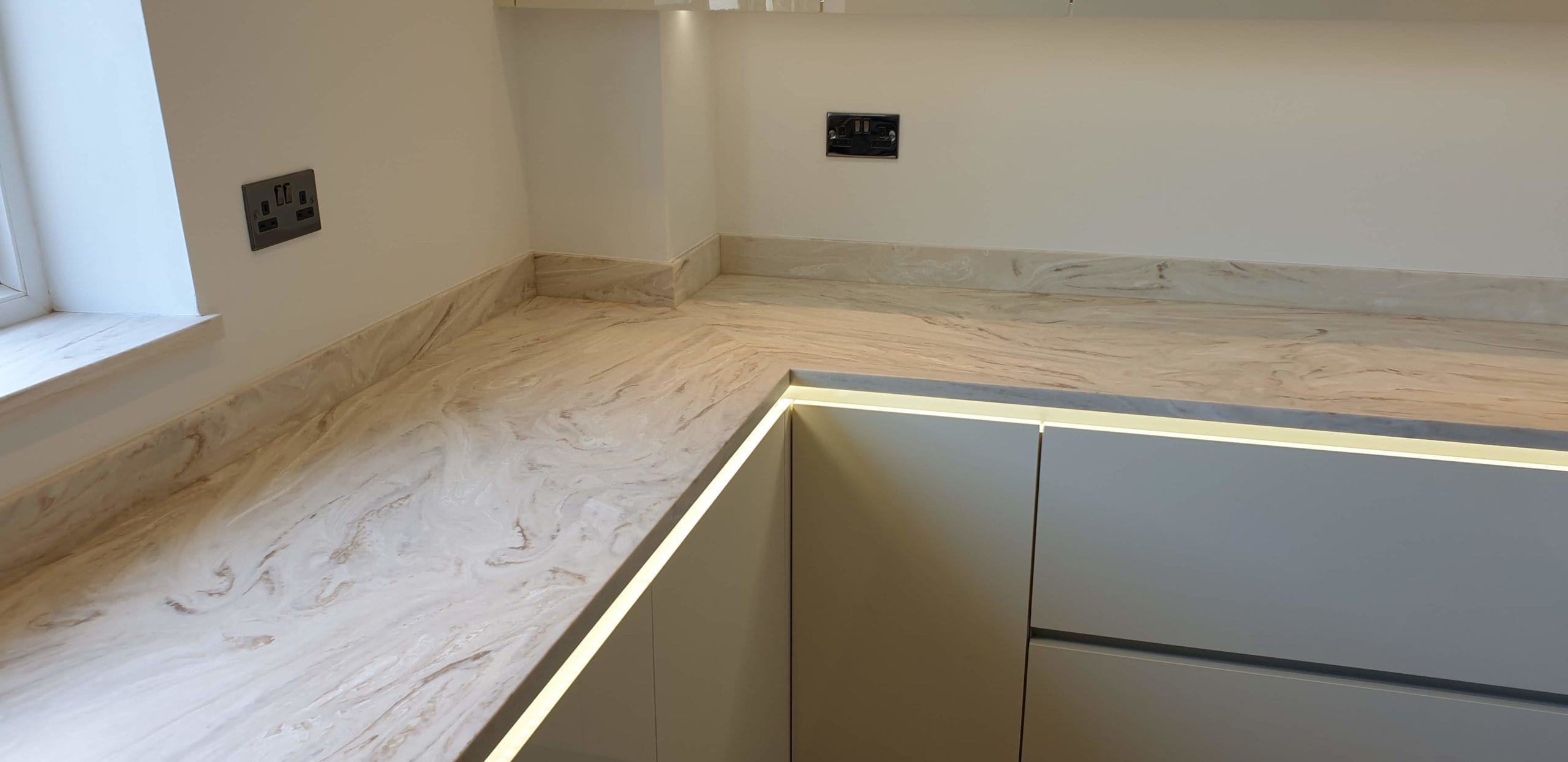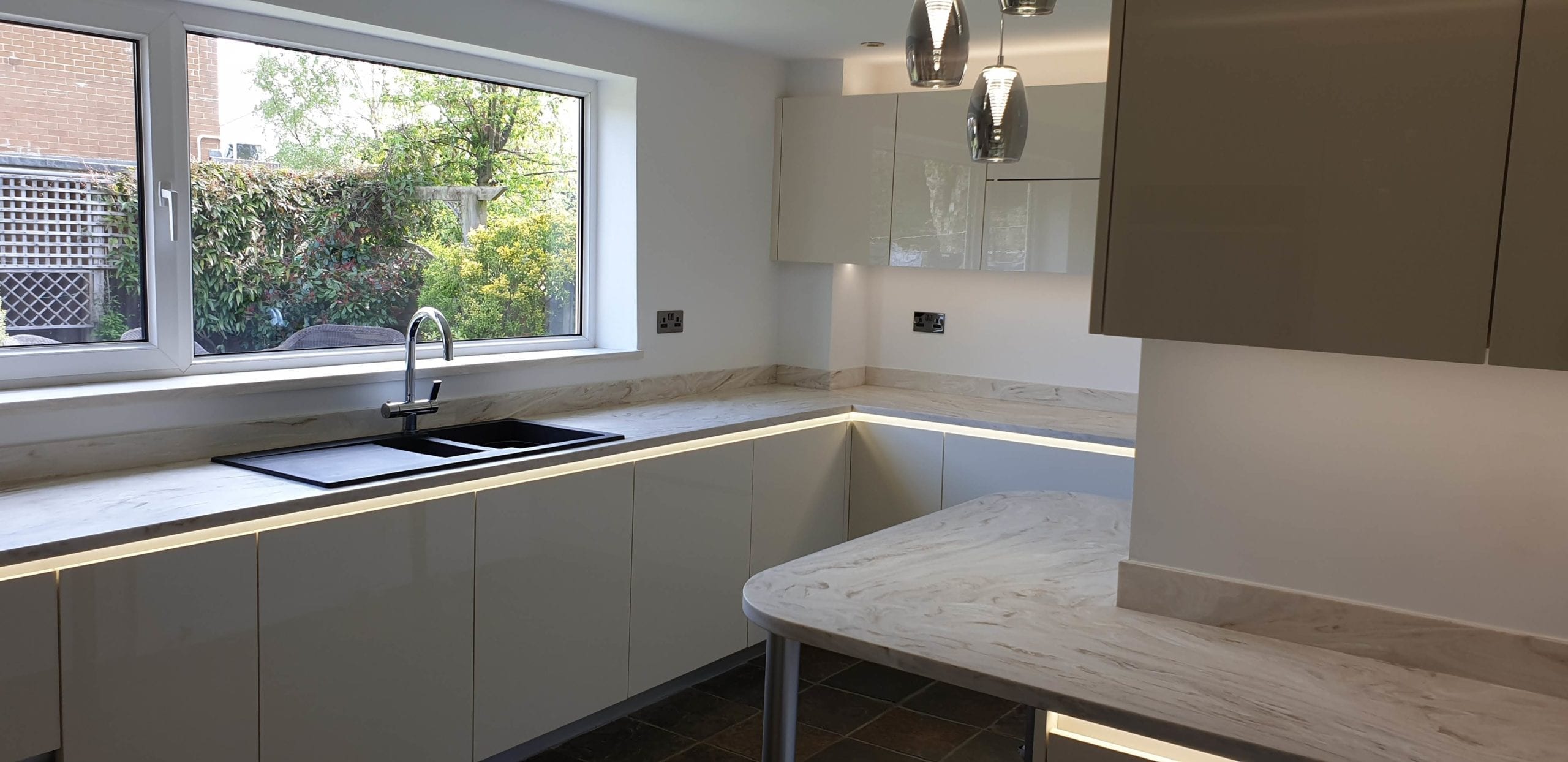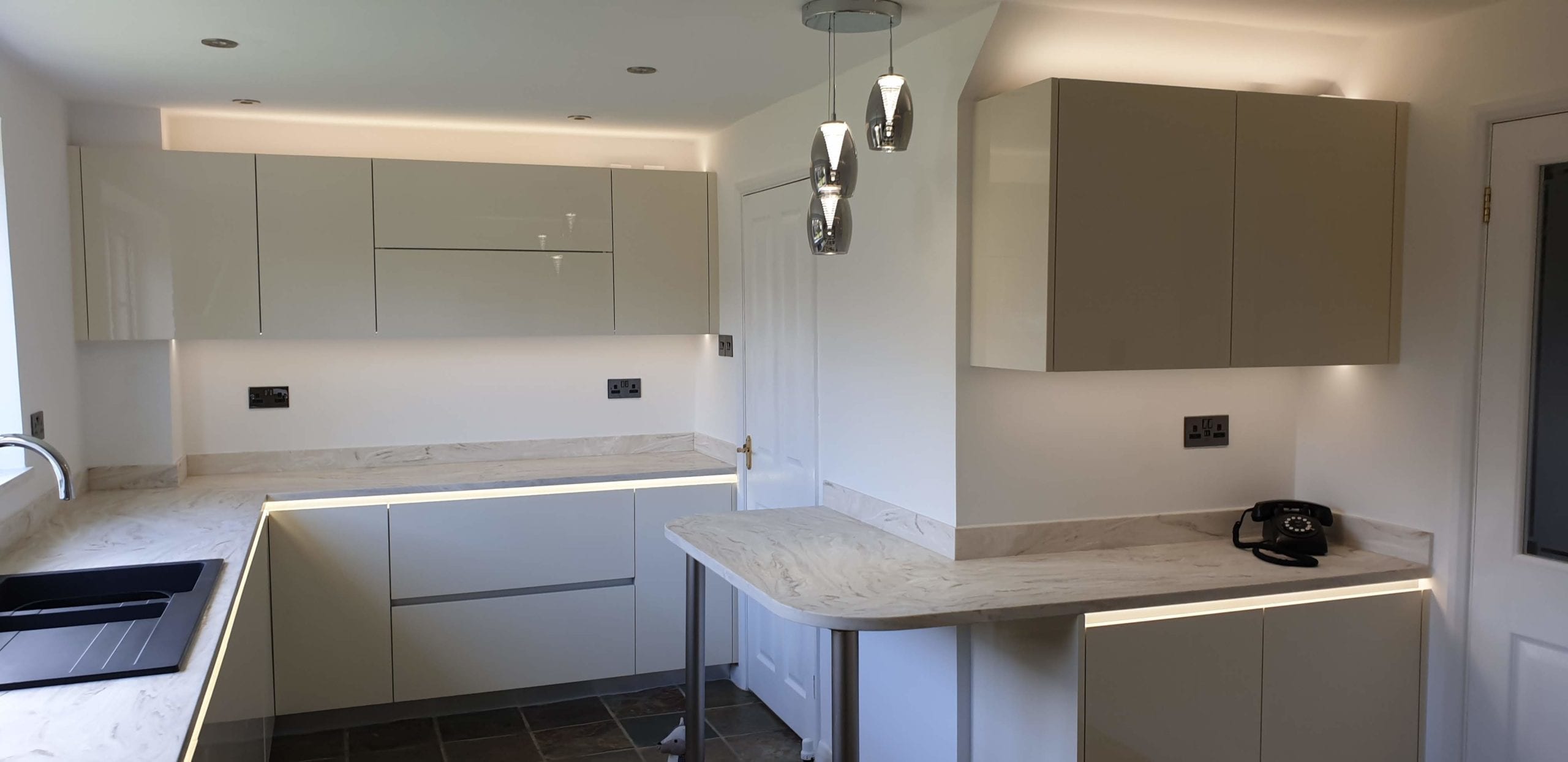 Kitchen appliances
Most of the appliances installed in that kitchen are provided by Neff well-known brand on the integrated appliances market.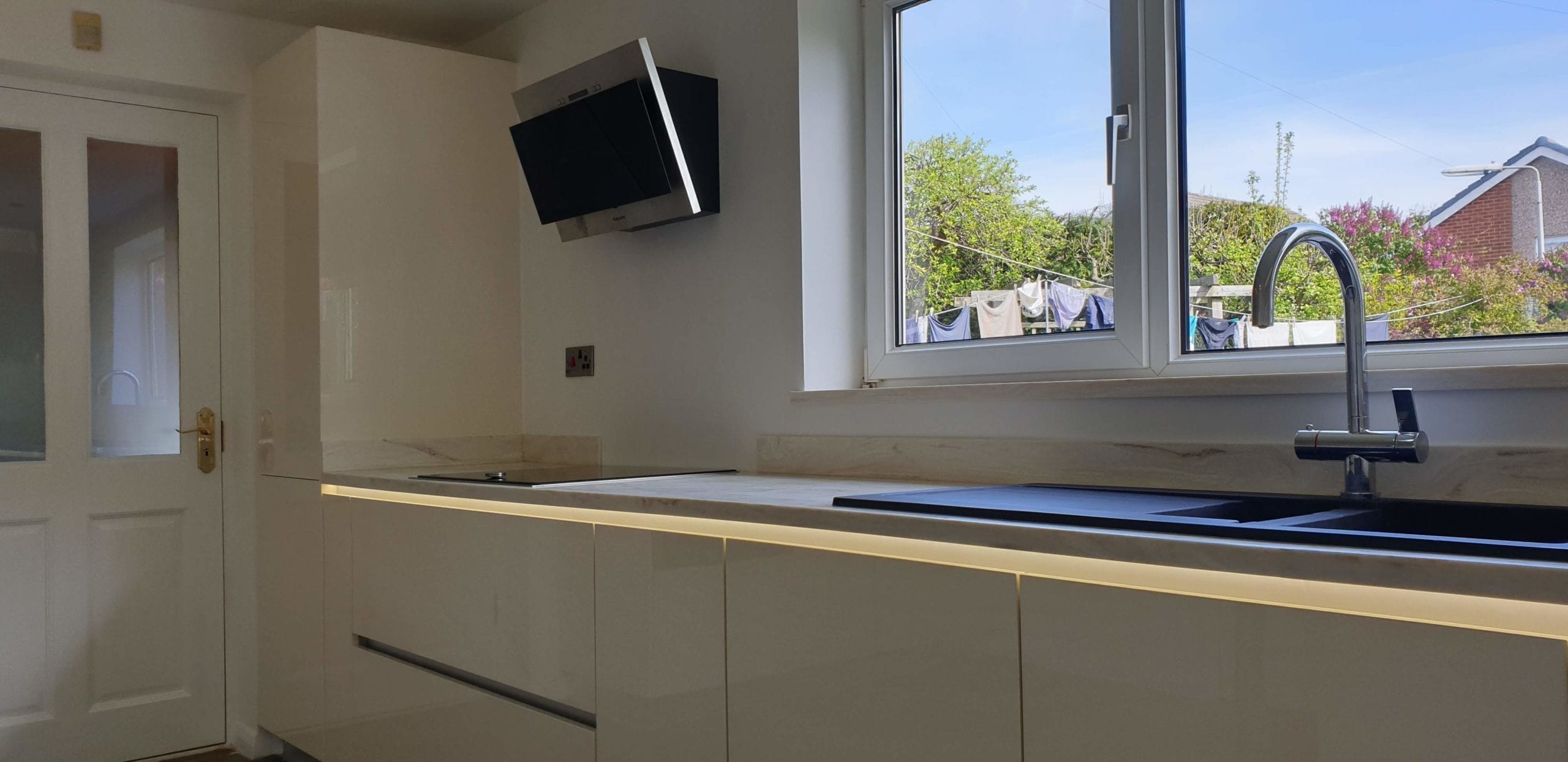 Otley kitchen project storage solutions
Storage solutions are a very important part of the kitchen and have a significant impact on the functionality and ergonomy. That specific kitchen has got 15 drawer boxes implemented in various locations providing the user comfortable access to the stored content. Leman's type corner solution, 600mm wide pulls out waste bin and 200mm wide chrome wire basket dedicated for cooking ingredients.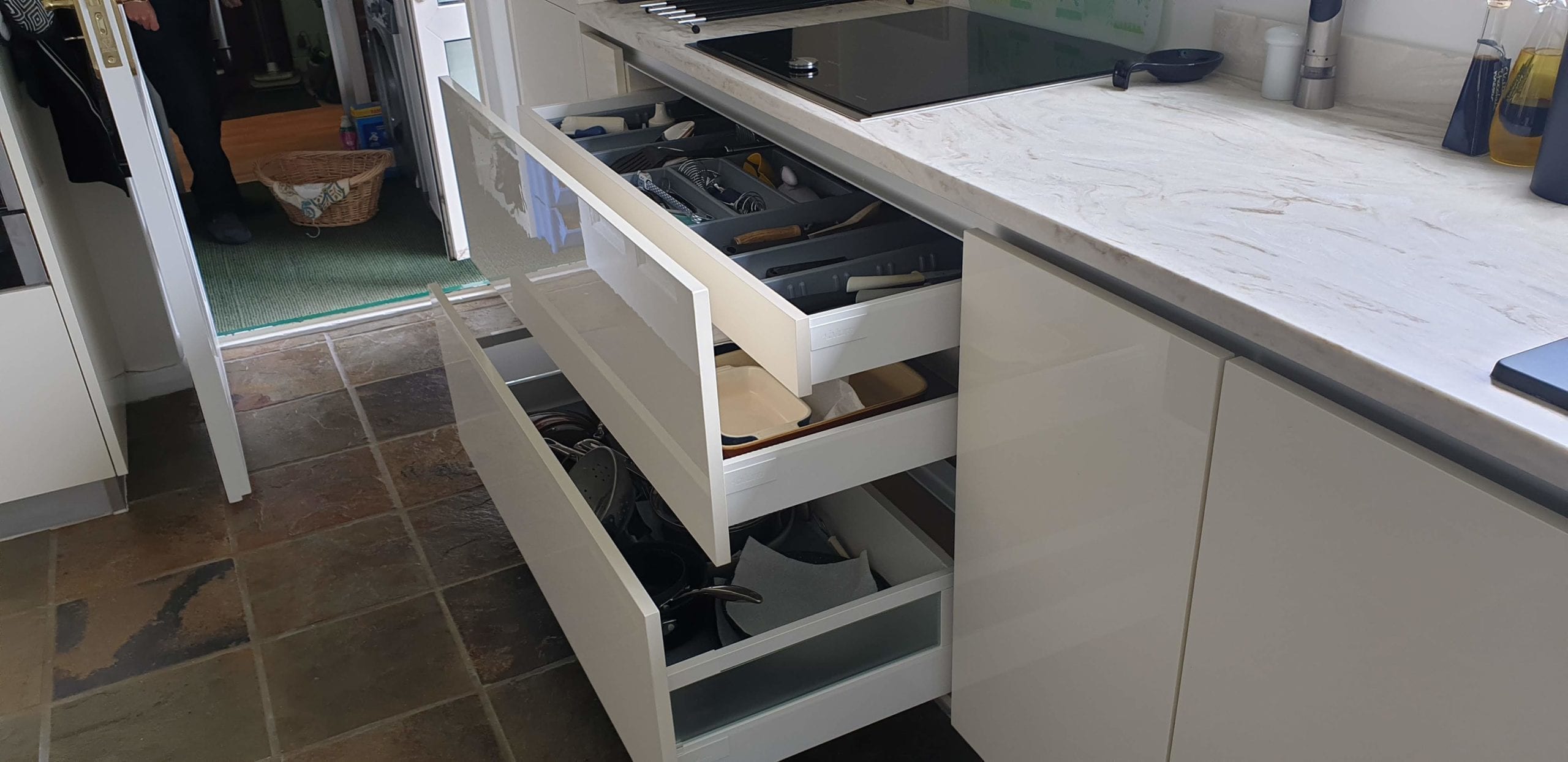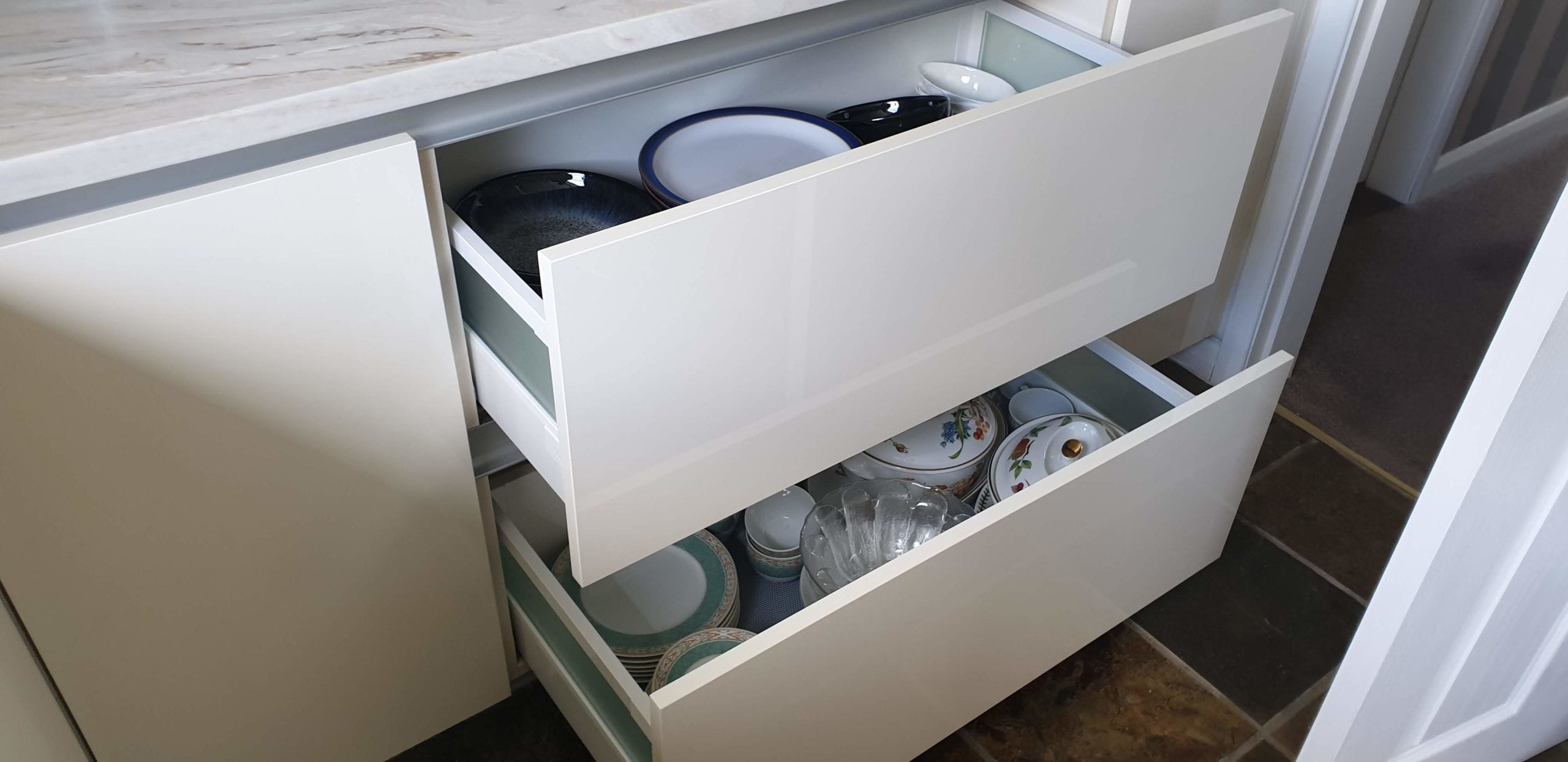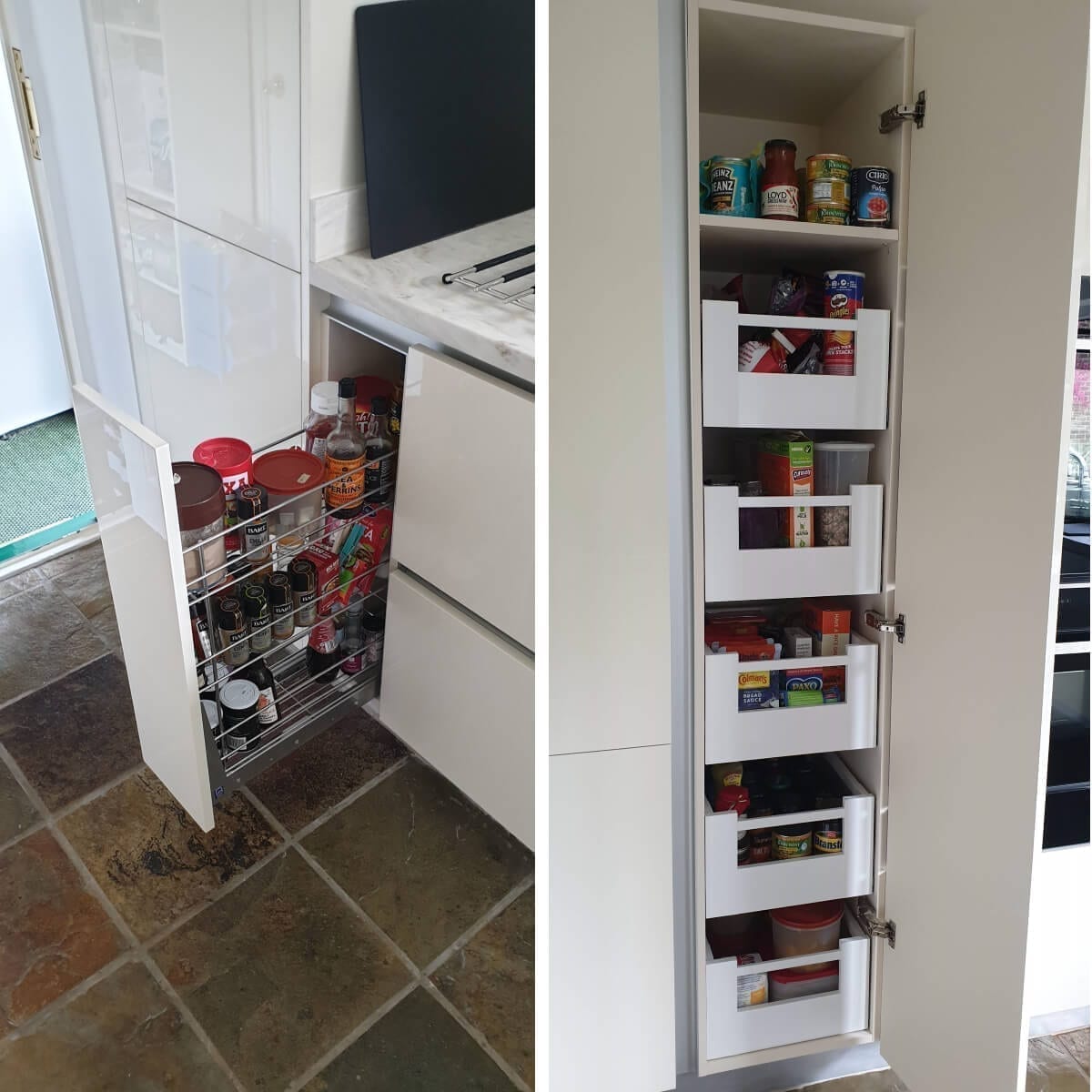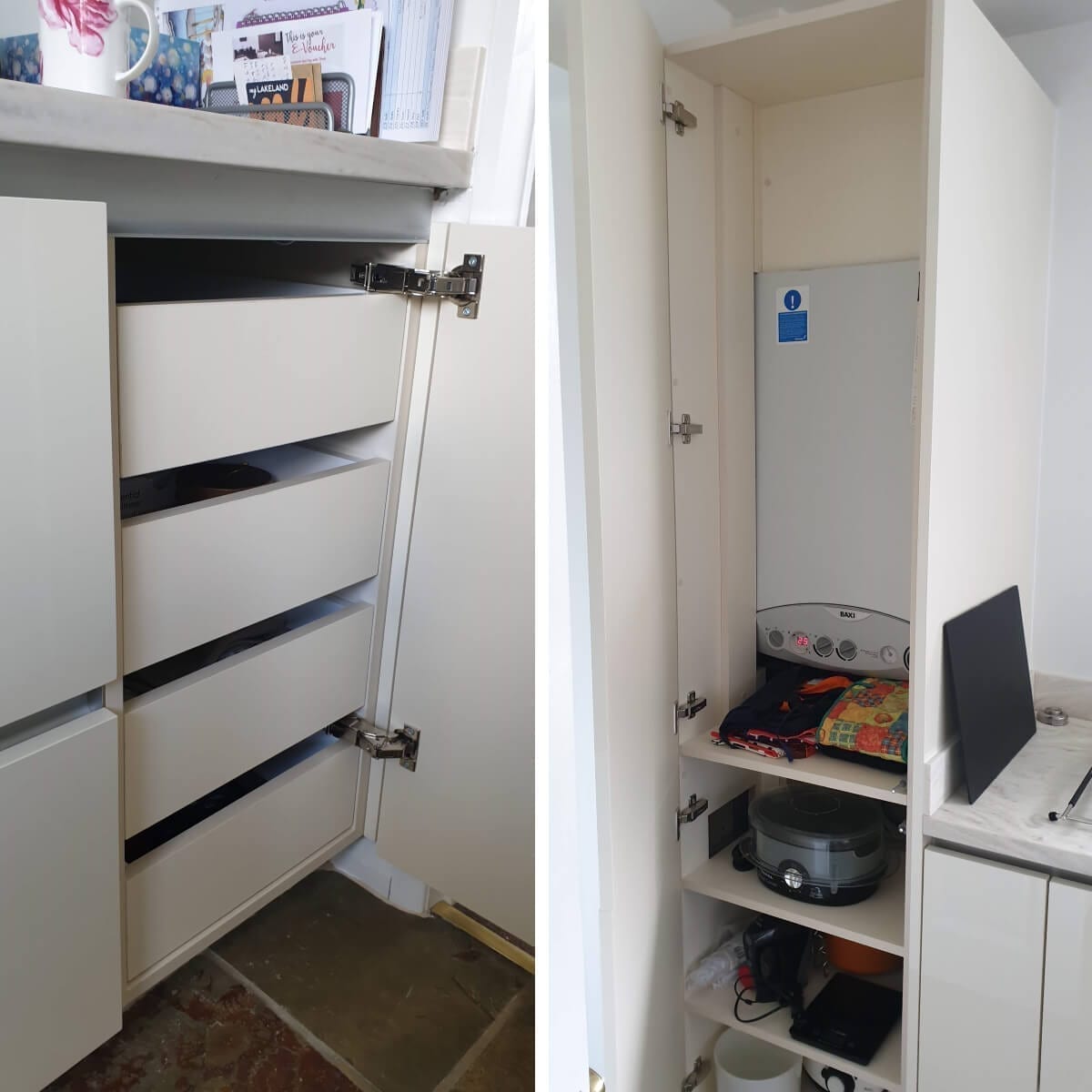 This type of kitchen is only a small fraction of our flexible custom made furniture range. We can provide you with different types of designs including most recent market trends like Fenix Laminate kitchens or Porceline finished kitchens which are one of the highest quality materials available on the interior design market.
Feel free to contact us and discuss potential solutions meeting your budget and expectations. We are happy to cooperate with private customers and also the commercial sector including interior designers and kitchen studios who are looking for a supplier of high-quality furniture.