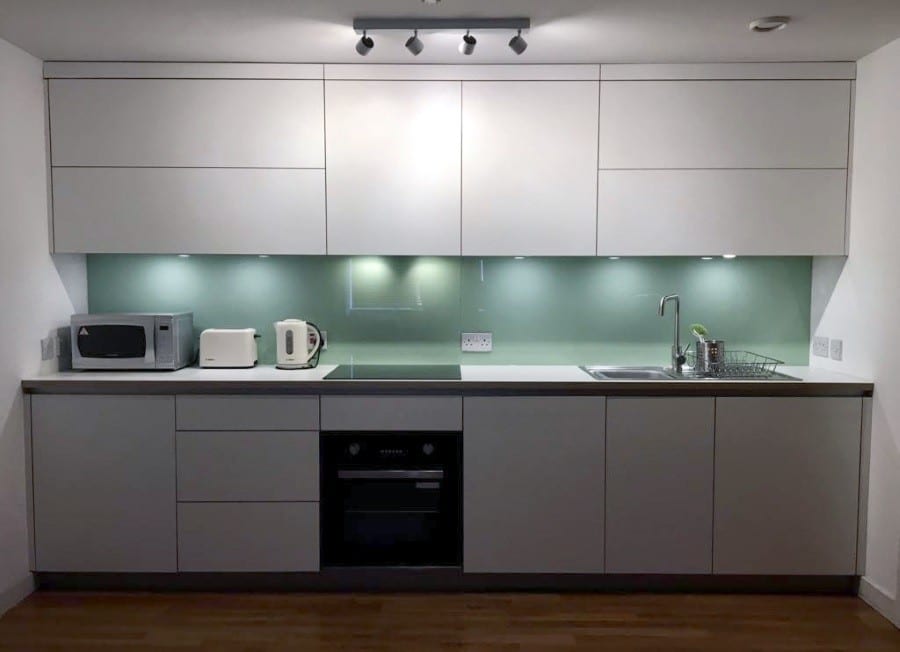 White handleless mat modern style plywood core kitchen. Sheffield
Plywood kitchen furniture is one of the most durable solutions in case of arranging kitchen space.  Next to high physical properties, it is also good looking modern style design. One of our customers asked us to design and manufacture such a kitchen for his flat based in Sheffield South Yorkshire.
Design of the plywood modern style kitchen
The idea of that particular project was to get a modern and clean impression with the use of natural materials which gave the furniture a warmer feeling. Kitchen in this flat is an integral part of the living room, and in that case, the customer wanted to keep open space impression. Because of that, we had to implement all the appliances in a single row layout. On the other hand, maximise storage potential.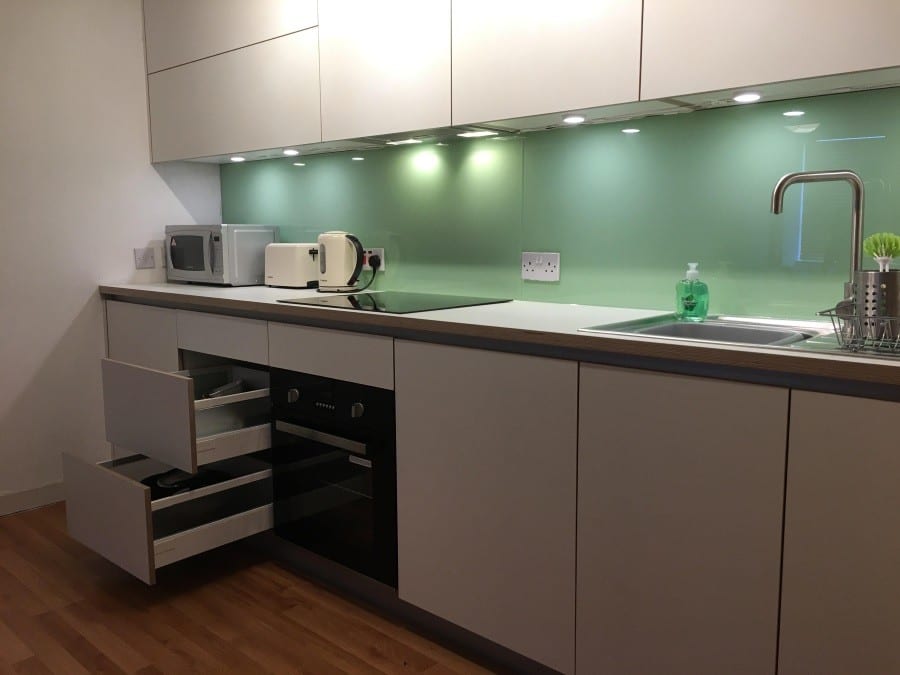 All doors and drawers implemented in this project are handleless. Part of the wall units are on the integrated bifold soft-close system, and part traditionally opens soft close hinges. To make the kitchen more functional built-in oven is placed under a fully functional soft close drawer. That way we have developed additional space which is usually wasted by most of the manufacturers who use fixed panels under the oven.
Next, to the oven, there is 600mm wide soft-close push to open drawers set. At the left-hand side end, there is located an integrated fridge freezer. On the right-hand side, there is a 600 mm built-in waste bin. A sink housing unit is only 450 mm wide, which give us space for the integrated washing machine.
Wall units in that kitchen are a combination of horizontal and vertical doors which gives interesting visual effect and optimise loading space. To keep a compact character of the design, we decided to use an integrated extractor fan. Leed spotlights highlight all kitchen.
The worktop is made of 38 mm solid plywood covered with highly durable white laminate. Under the worktop, there is an aluminium profile which adds character to the final effect. The plinth of the kitchen is also made of aluminium effect laminate.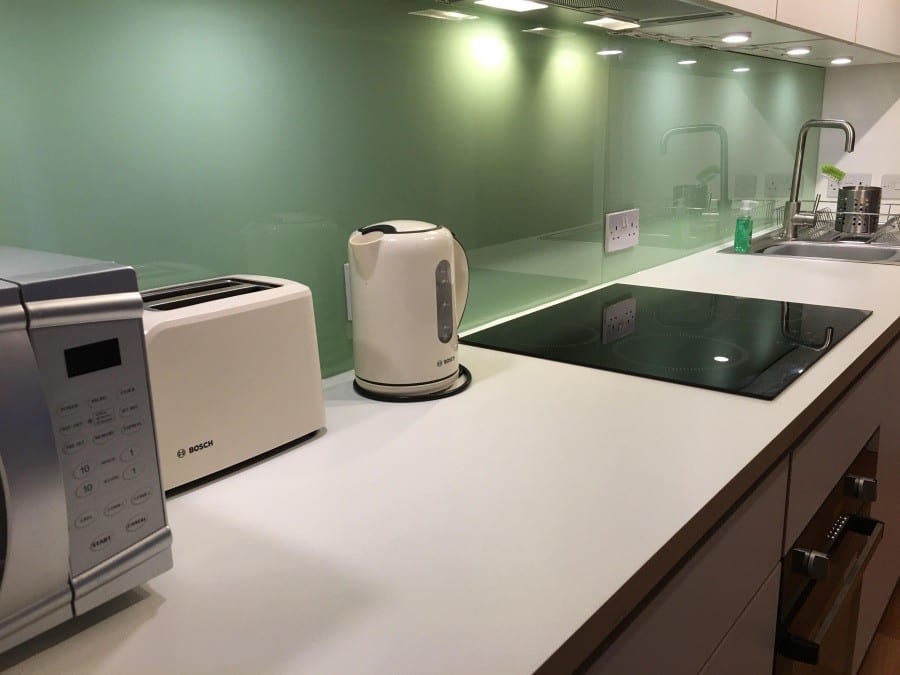 The design is completed by an integrated induction hob and hardened glass splashback.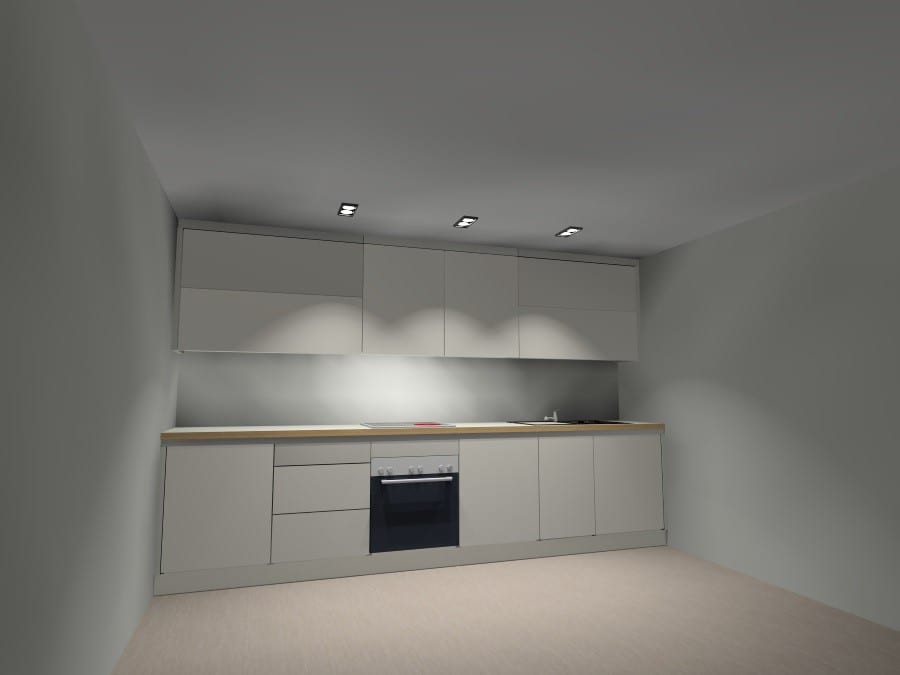 Before and after kitchen renovation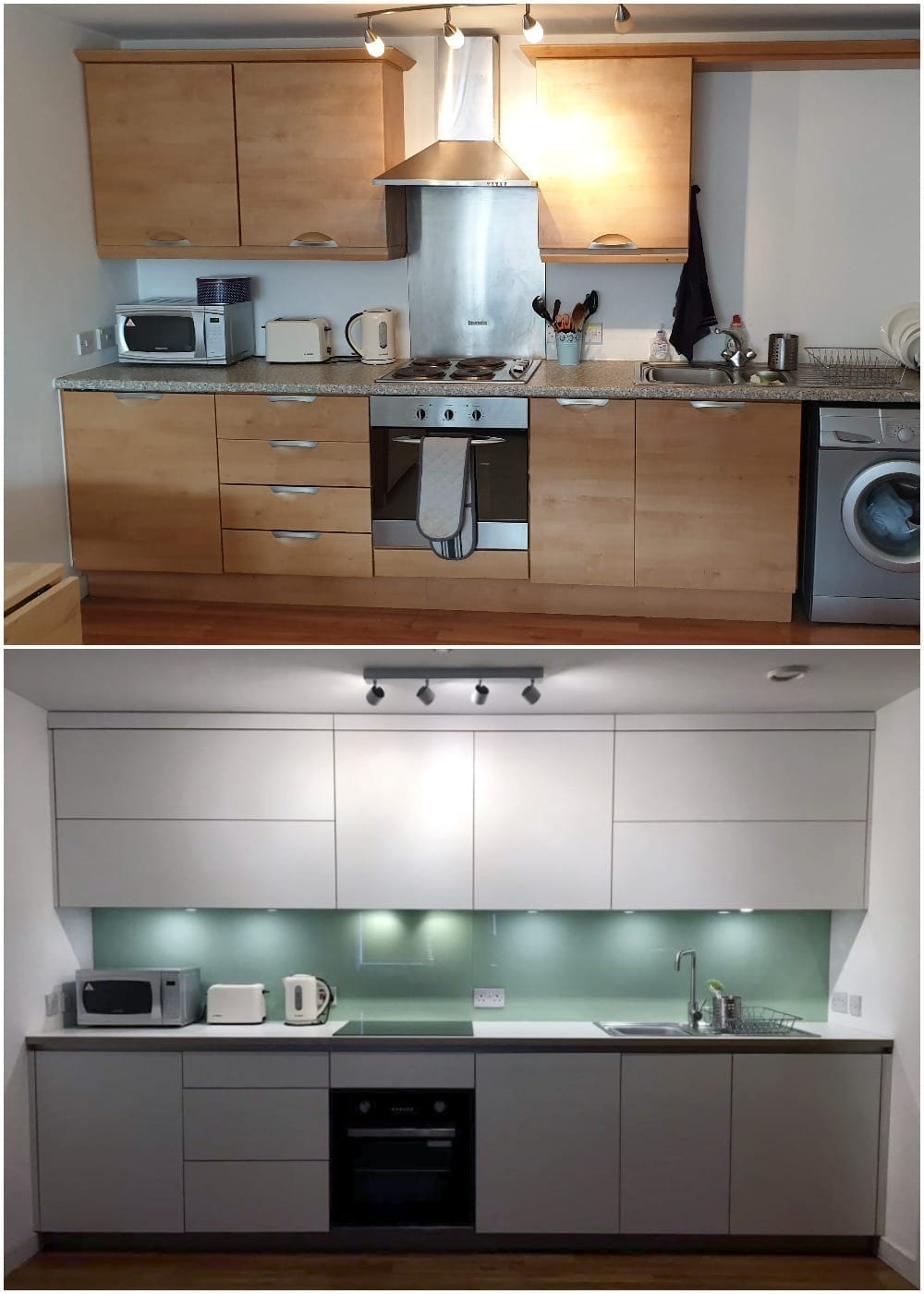 Technical information about the kitchen
Style – Modern style
Location – Sheffield
Materials
33mm Plywood laminated  worktop
White mat slab doors
White laminated cupboards
Soft-close push to open Blum drawers
Soft-close push to open bifold doors
Hardened glass splashback
Integrated fridge freezer
Integrated extractor fan
Integrated oven
Integrated induction hob
Integrated washing machine
Integrated waste bin
Designed, manufactured, supplied and fitted by JS DECO.
We are open for cooperation with private and commercial customers, property investors, shop owners, and interior designers. If you would like to see another more complex project in similar handle-less style, please click the link. Where we have described the furniture realisation made for one of our customers based in Ilkley.