An integral part of kitchen furniture next to the cupboards, components and kitchen appliances are kitchen worktops.  In that subject again we did our best to give our customers an as big choice as possible. Materials used to manufacture kitchen worktops can wary in the matter of visual appearance, physical characteristics and price. Below we place the list of worktops which we are using to produce our kitchens.
Laminate worktops
For the laminate worktops, we cooperate with Egger leading supplier of chipboard products. These worktops are at the moment considered as one of the best in the matter of quality in the competitive price range. If processed with the right attitude and quality, especially in joints area they can look tidy and last ages. Laminate worktops can be completed with the same decor upstand or splashback. This kind of worktops is available in two thicknesses 28mm and 38 mm.  To see the full range of  available decors, please check the manufacturer website Egger laminate worktops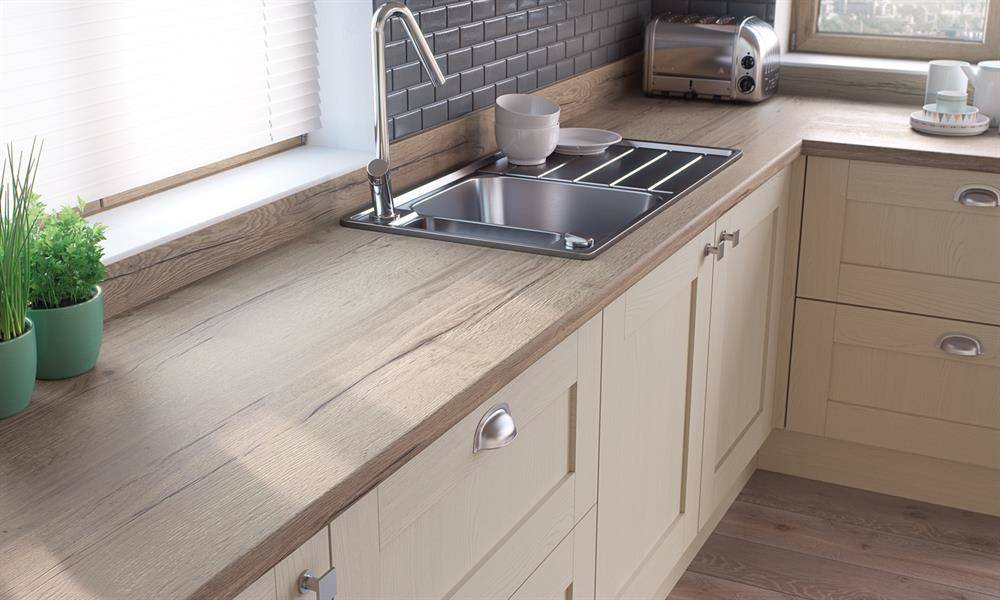 Laminated plywood worktop
Laminated plywood worktop is a very interesting option for those customers who are looking for a long-lasting and unique solution. The construction of such worktops is based on 32mm thick plywood finished with highly resistant Egger laminates available in 170 colours and decors. The edges of the worktop are protected with durable acrylic resins. This combination results in very good properties but also an attractive visual effect. This kind of kitchen worktop we especially recommend to combine with our plywood core kitchen range.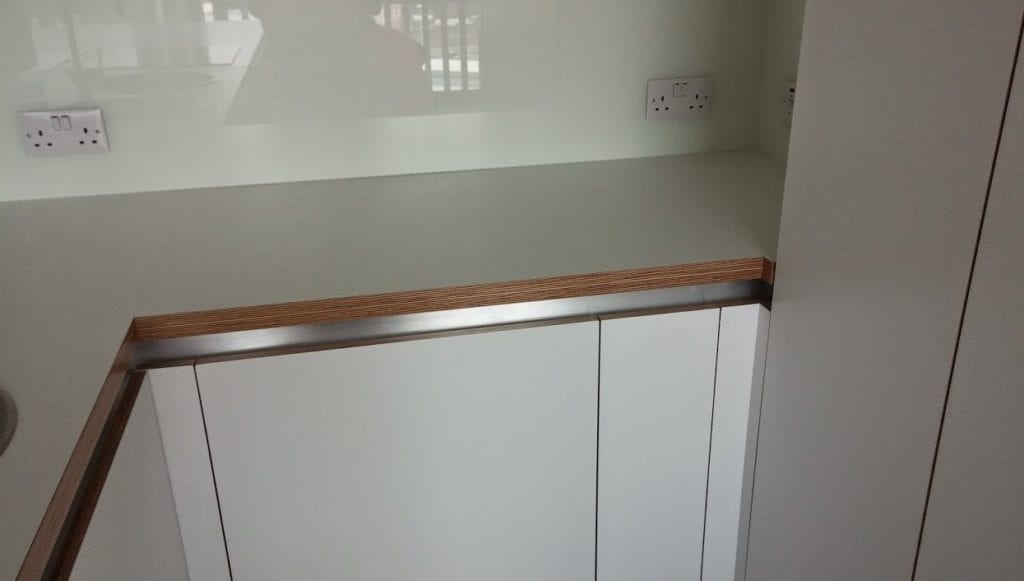 Solid wood worktops
Solid wood worktops are the classic but still popular solution. We can provide this kind of worktops in many shapes, thicknesses and types of wood like oak, beech, walnut, iroko, ash, wenge, bamboo, black oak. At the moment we cooperate with worktop-express.co.uk you can choose any worktop from their range and have it fitted on your kitchen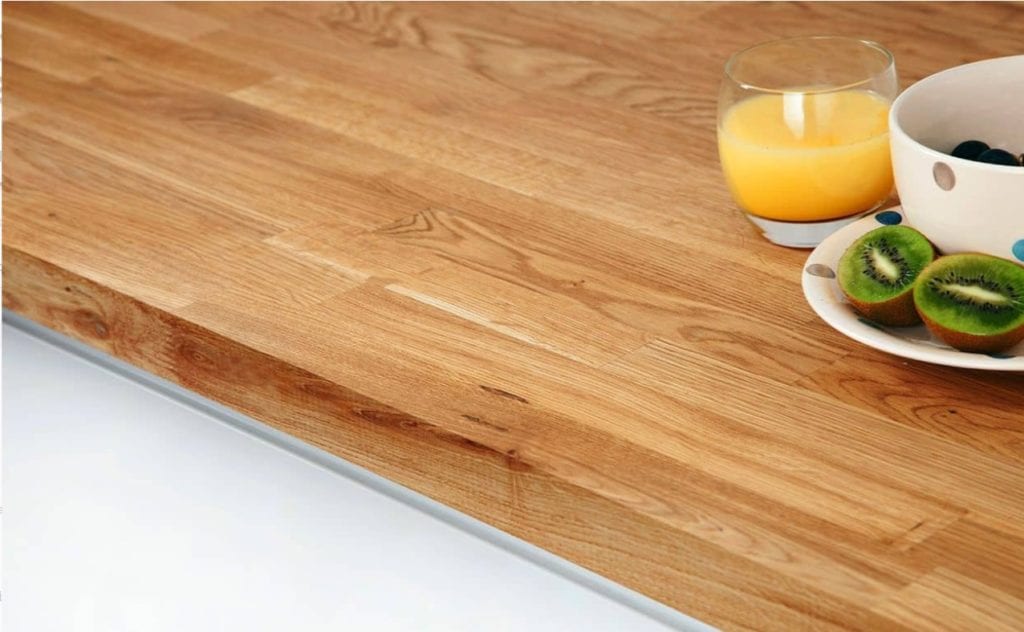 Corian worktops
Manufactured by DuPont, a popular solution in mid-range budget projects Corian worktops available in many colours and shapes. Made to measure exactly to the shape of your kitchen to give a jointless effect. To see available colours and decors, please visit a manufacturer website Corian Worktops. To find out more about our offer of Corian related services please visit Corian kitchen worktops.

Minerva worktops
Minerva worktops it is very interesting solid surface worktop in the thickness of 25mm, available in the range of 14 decors. With the appearance of real stone, at the same time, it gives the possibility of virtually inconspicuous joints. The material also poses very good physical properties including, total water resistance and good heat resistance. One of the most important is the possibility to repair the surface.  More about Minerva worktops.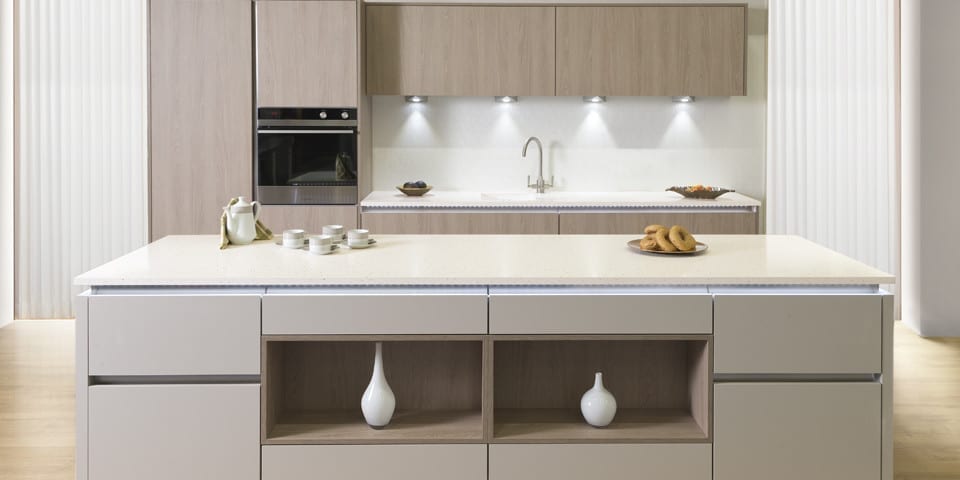 Granite worktops
This classic type of worktops popular, especially in mid and high range budget furniture. We are using a couple of different suppliers for that type and choosing the right one for the customer after the determining budget for your kitchen. Available in many unique patterns and colours. The best solution for customers who are looking for long term solution and product which will improve their property value.

Quartz worktops
It is another popular material, especially in mid and high range budget. This kind of work surfaces is made from 93% quartz and the 7% polymer resin. Quartz has a look and feel of granite but provides much more consistent and solid colour, without the need for periodic maintenance needs. Quartz worktops are an engineered stone which joints elegant look with attributes of natural stone. Enhanced colours, including mirror flecks, and modern concrete colour options.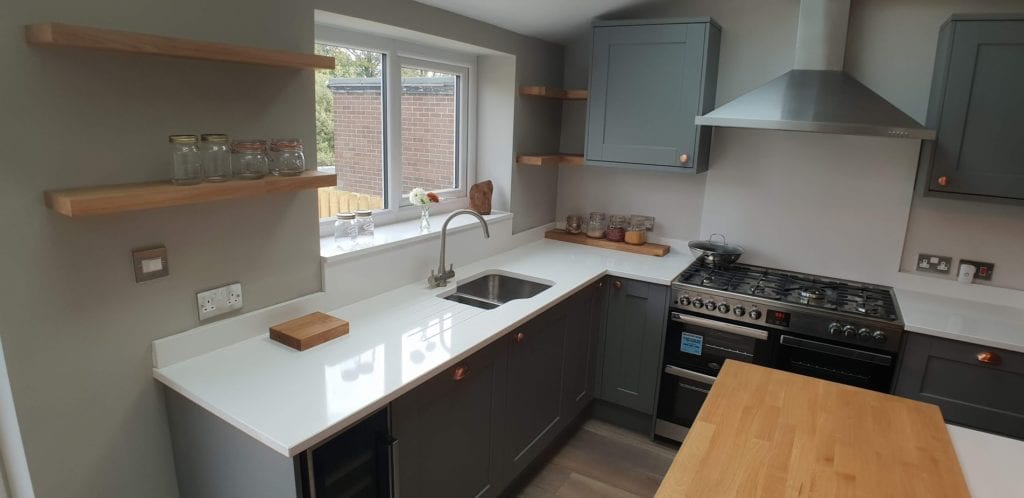 Stainless steel worktops
Stainless steel worktops thanks to very good physical and hygienic properties is very often used for commercial solutions. But it does not mean it can't be implemented to complete domestic kitchen projects. It is waterproof and heat resistant. Provide a unique and uncommon style which will look really attractive, especially in contemporary kitchens, Metalic-coated kitchens  or Beton finished kitchens, and what is most important it will last for ages.

Compact Laminate worktops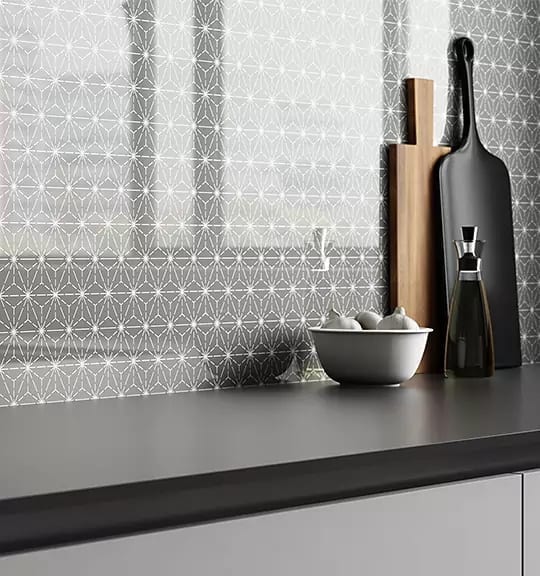 Another very durable and also cost-effective option which can be installed together with our kitchens are Compact laminate worktops. We are using Zenith worktops which are 12.5mm thick fully waterproof with a consistent colour all the way through and double-sided decorative finish. Available in 16 realistic designs on 5 coloured cores. Feel free to visit this website to see the full range of colours and styles of Zenith compact laminate worktops. As an additional service, we can also provide kitchen doors made of that highly durable material which in result produce the long-lasting product.
How to start your kitchen project with us?
We use a reliable network of suppliers specialising in each type of worktop to give our customers the best quality product and hassle-free experience during the realisation of their furniture project. Thanks to the wide choice of materials, we are very flexible and able to adjust to the customer budget and expectations.
Feel free to contact us and arrange to visit our showroom when we discuss potential solutions for your furniture. Together we will design optimal configuration for your kitchen manufacture it for you in our workshop and choose and install the right type of worktop.
What is the most stain resistant worktop?
Quartz is the most stain resistant material because it is engineered with ground-up natural stone and resin. This creates a non-porous material that is highly stain resistant.
Which kitchen worktops are best?
Laminate worktops

Laminated plywood worktops

Solid wood worktops

Corian worktops

Minerva worktops

Granite worktops

Quartz worktops

Stainless steel worktops

Compact Laminate worktops
Fill in the form to discuss your project