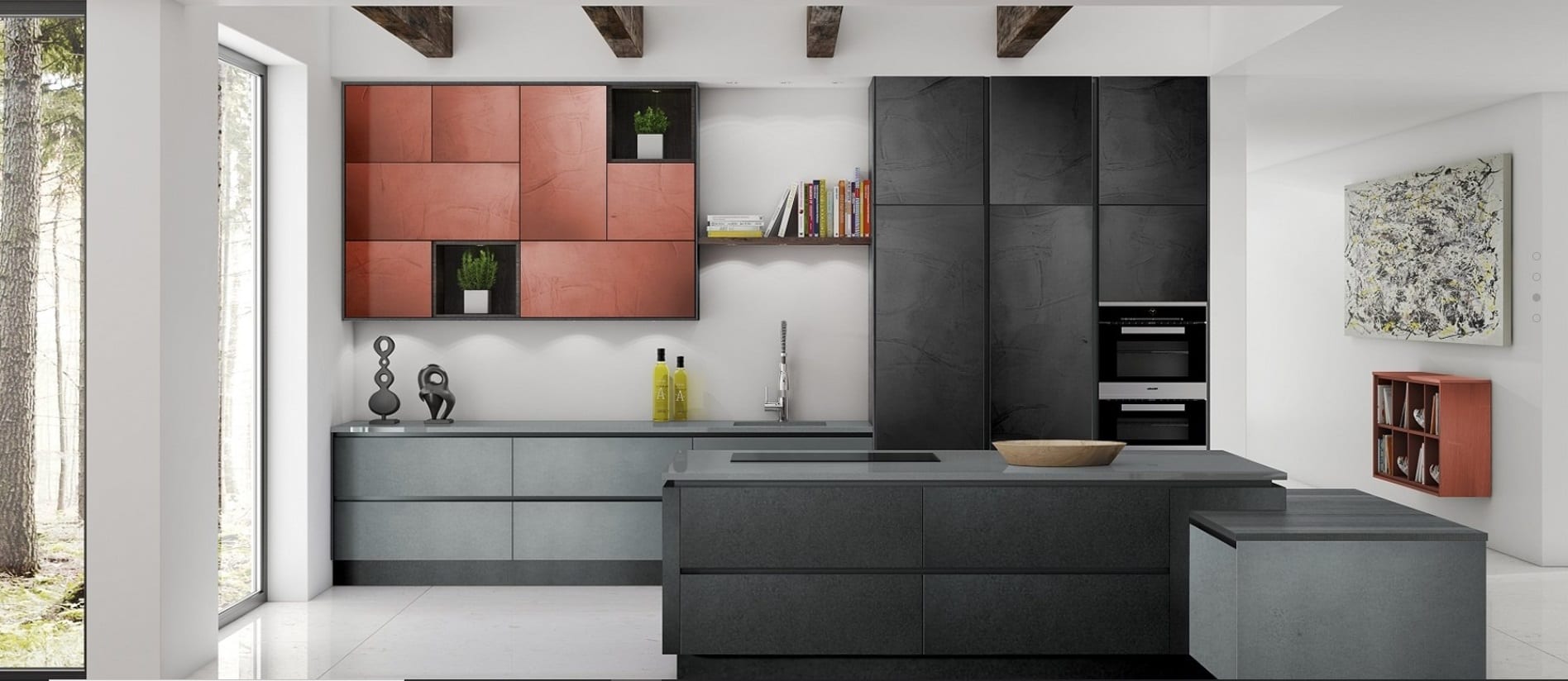 Metallic finish custom made kitchen furniture
Metal lacquers are the latest trend in the high-end kitchen design and are becoming increasingly popular as an alternative to actual metal fascias. Beautifully tactile and luxurious. At JS DECO we can offer our customers Metal lacquered furniture based on many in many optional configurations with the use of highest quality components.
Why choose lacquered furniture finish?
Lacquer is the ideal solution to give your furniture a look you want. Whether glossy, matt, wood, or metallic, a lacquer finish can meet your every desire. Varnish is not only aesthetically very functional but also because of its added value. Lacquer is a waterproof, breathable, and resistant material at an affordable price that is perfect for the kitchen. Metallic lacquer is becoming popular for many because it creates a remarkable effect on modern metal kitchen cabinets.
Below we will highlight the main benefits of lacquer coating:
Lacquered surfaces are highly resistant to various damage and abrasion, as well as to water, alkalis, water, and acids;

Lacquered kitchen cabinets last longer and remain in perfect condition through the years. Unlike polyurethane or oil stains, varnish does not yellow;

Lacquer coating protects wood materials from the inside out. You only need to apply a second coat of lacquer to enjoy your kitchen for another ten years without any problems;

Lacquer is very pleasant to the touch; it creates a quality finish and has no smears;

It is very easy to care for. Lacquered coatings can be cleaned with a microfiber cloth or gentle detergents.
Our artisans perform their work with honed quality, so they guarantee a dense, high-quality finish to achieve a believable metal kitchen cabinet.
Metal lacquered furniture.
All visible elements of your kitchen or bedroom furniture will be finished in metal lacquer available in 18 colours and structures provided by Deseo. Because the custom character of our workshop production it is also possible to combine this material with different types like  Beton, Stone, Laminates, Solid wood, or wood veneers.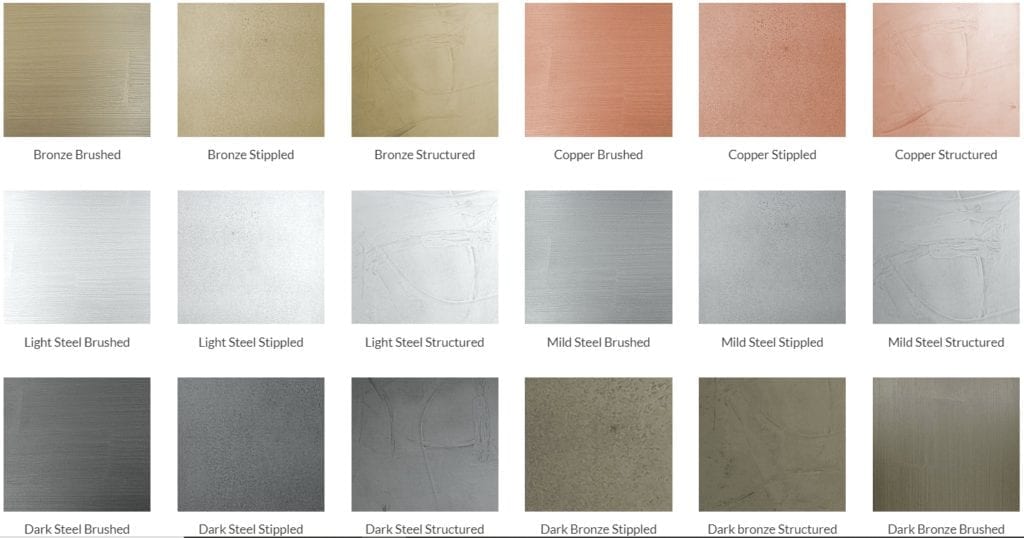 Types of metal finishes
There are several types of metallic finishes with their characteristics of the composition. So, to achieve a metallic kitchen look, we use the following:
Matte metallic finish – a matte finish gives the surface an extremely smoothed look. This type of metallic finish looks great in modern-style kitchens. It's also a frequent choice of commercial customers, such as for professional kitchen finishes;

Polished Metal Finish – This finish produces the effect of a glossy, mirrored metal surface. It is the most traditional type of coating. Nevertheless, various imperfections, such as fingerprints, dirt, etc., are most visible on it;

Satin is something between a polished and matte finish. It is soft and smooth and fits perfectly into the interior of modern homes;

Acrylic gloss panels reproduce a metallic sheen. The decorative value of the material is much higher, so any shade is possible, enhanced by shimmering;

Painted facades – the surface is covered with special enamel paint, containing as a component aluminum powder. It is this that creates a special silvery shimmer.
Premium furniture configuration
There is also full flexibility in the subject of materials used for the structural part of the furniture. The carcases can be made of:
High-grade MFC
Plywood
Solid wood
Completed with lift time warranted Blum furniture hinges, drawer runners and other furniture components.
Metal paneling vs. metal coating
Metal kitchens are modern. They are used in commercial establishments, cafes, bars, restaurants, hotels, etc. Nevertheless, it is also becoming the choice of ordinary home kitchens. This material gives room for austerity and restraint, but it also has some inconveniences, due to which – the metal coating is preferable.
Metal is a material that is prone to corrosion. However, that is why they use stainless steel to manufacture metallic cupboards. Nevertheless, the material is also easily deformable; for example, a collision with a heavy object on the surface can form a dent. The metallic coating creates the same cool gray sheen effect but at a lower cost and with better wear rates.
Private customers
If you are interested in having a quote and design service for this kind of furniture, feel free to contact us to arrange a meeting in our studio/workshop to discuss your project in more details. Alternatively, you can ask your interior designer to contact us, and we will carry all aspects directly with the person who will be responsible for the design.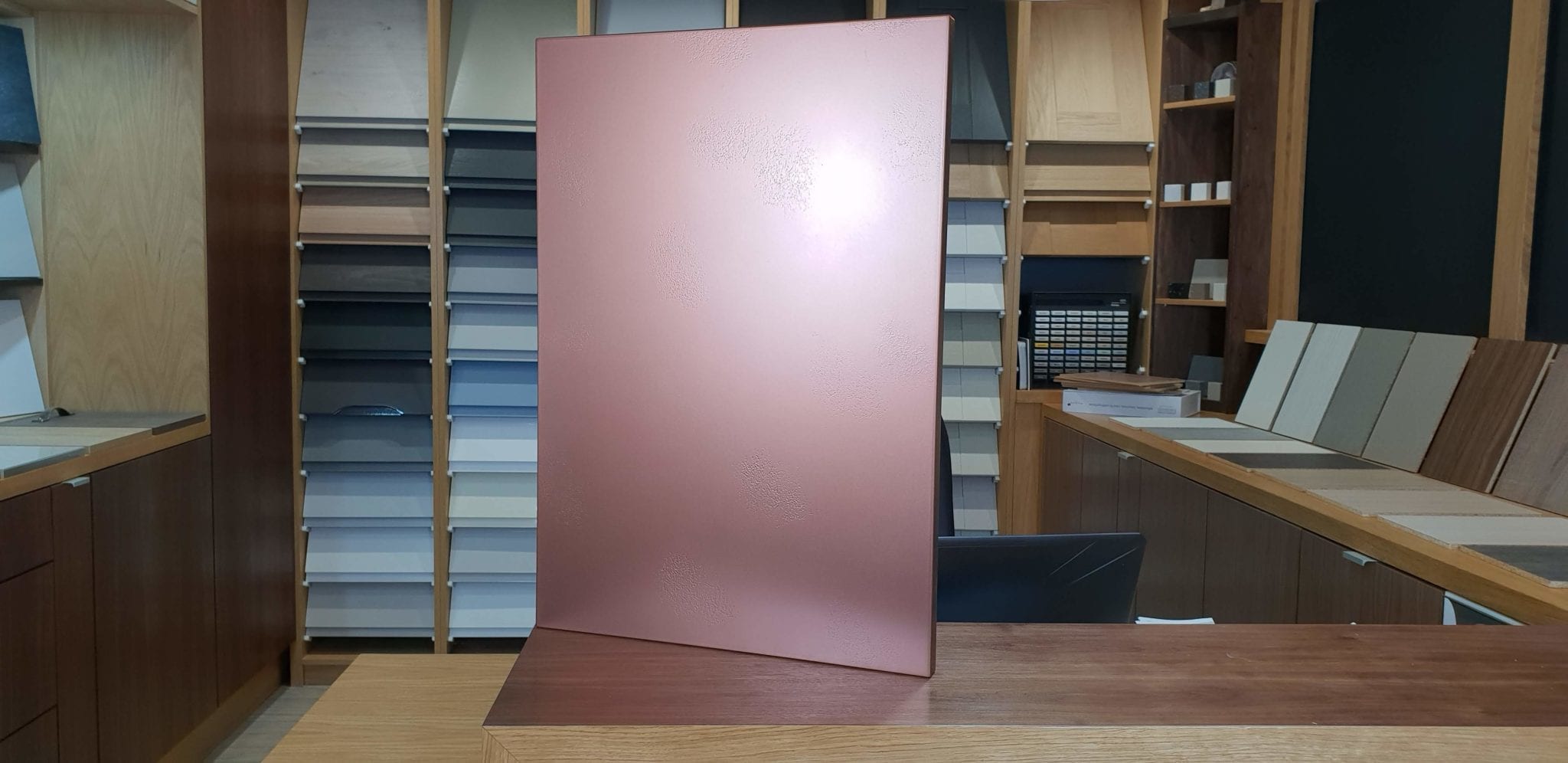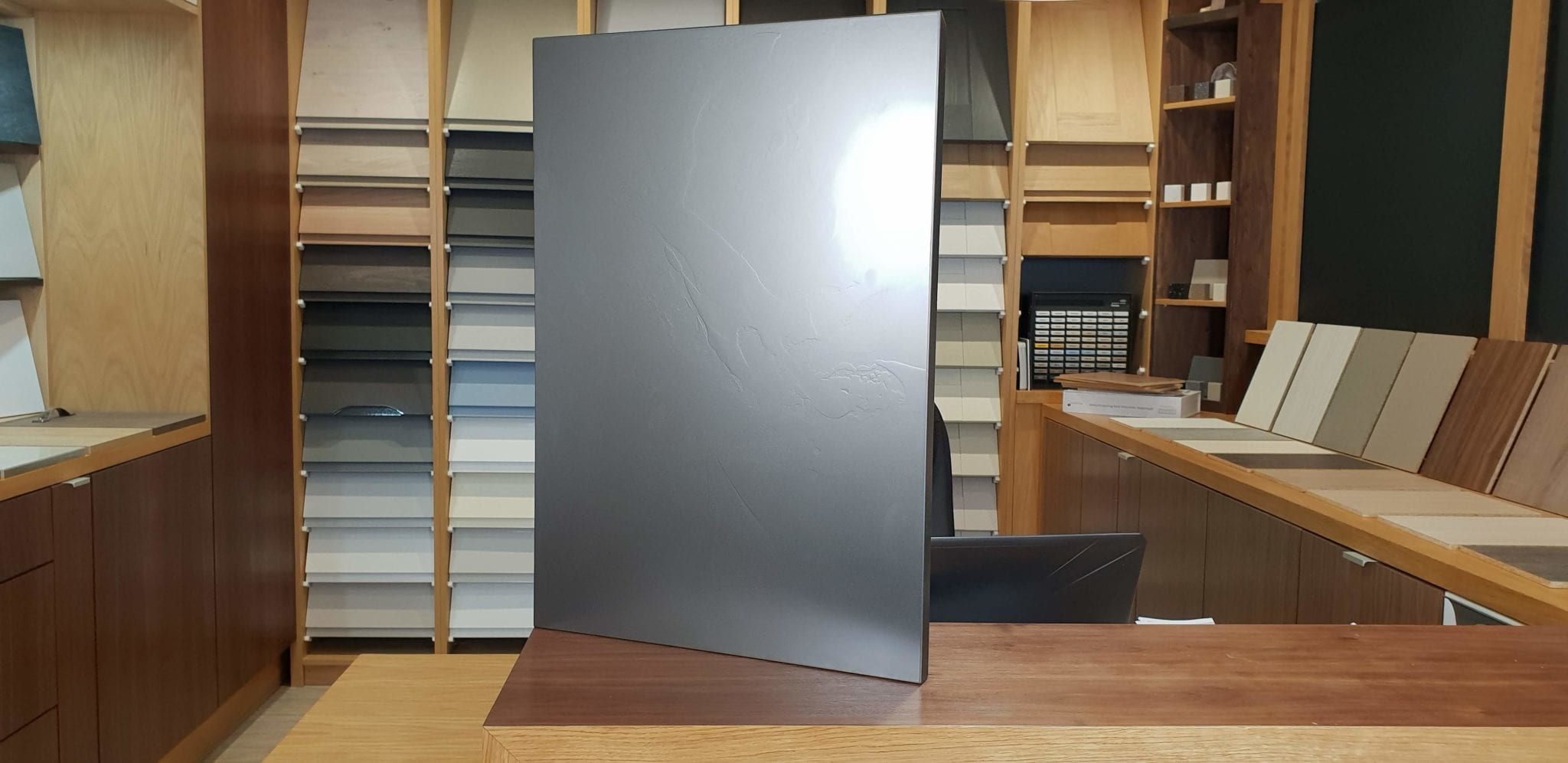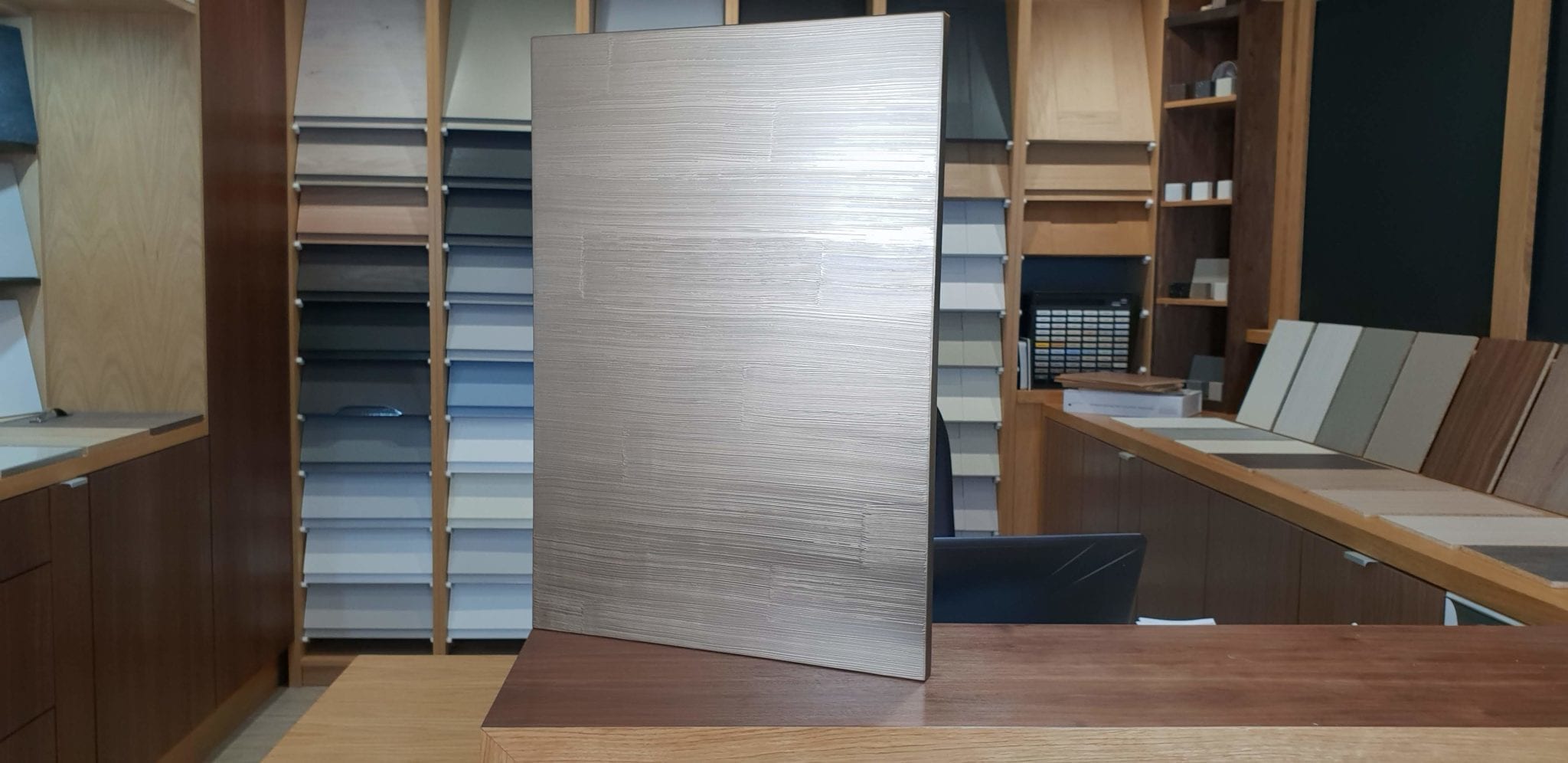 Interior designers and furniture dealers.
We are happy to manufacture and install this kind of furniture not only to private investors but also develop long term supply relationships with interior designers and kitchen studios and furniture dealers. To find out more about starting potential cooperation, feel free to visit our dealer's section.
JS DECO has been awarded a number of certificates and awards which confirm the quality of our product and services.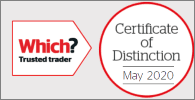 Are you ready to start your project? Ask for a free consultation and arrange a visit to our furniture workshop – studio!
Fill in the form to arrange a consultation.