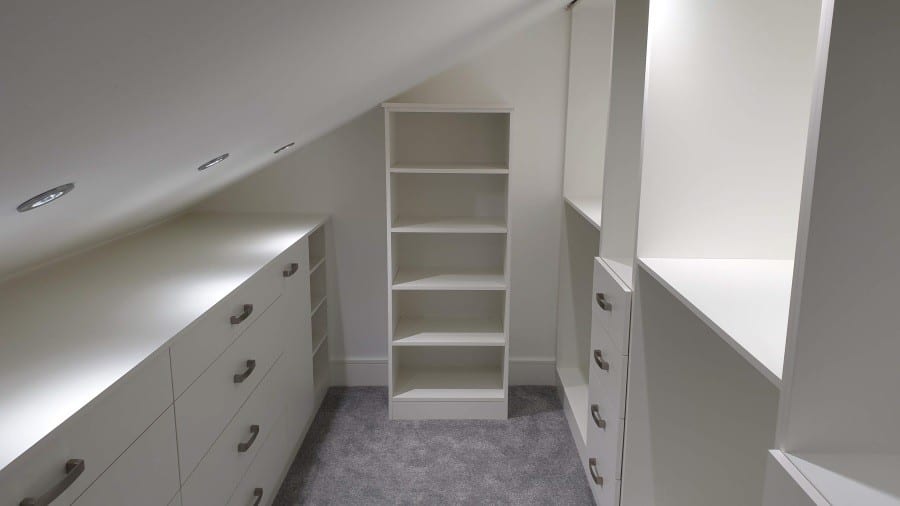 Walk in Wardrobe Transformation in Wakefield
Walk in wardrobes represent an epitome of luxury combined with meticulous planning. Our Wakefield project, located in the heart of West Yorkshire, was an exercise in balancing style with substance. Faced with the challenge of a room featuring a sloping ceiling, our team worked diligently to craft a wardrobe that exemplified both functional utility and aesthetic elegance.
Every homeowner yearns for a wardrobe space that stands out, offering both style and ample storage. This particular homeowner was no exception. Their vision was clear: they wanted a wardrobe that was more than just a storage unit. By engaging in a series of consultations and brainstorming sessions, we charted out a design that marries contemporary aesthetics with pragmatic storage solutions.
Among the many features that make this wardrobe a standout is its exquisite matte white finish. This isn't just a design choice; it plays a functional role too. White, being a neutral tone, not only exudes a modern appeal but also gives an illusion of spaciousness. It beautifully complements the room, merging with the walls while reflecting the soft illumination from the ceiling spotlights, bathing the entire room in a gentle luminescence.
At JS DECO, we are committed to delivering only the best. This project showcases our commitment to superior quality, evident in our selection of materials. From the robust white Egger laminate that promises longevity to the refined PVC edges, every element speaks of luxury. The drawers, boasting Blum soft-close runners, promise durability with a maximum load capacity of 30 kg. The added feature of a soft-close door system coupled with the sleek stainless steel handles elevate the overall user experience. For a deeper dive into the world of walk-in wardrobes and their intricate designs, we recommend this enlightening article on Houzz.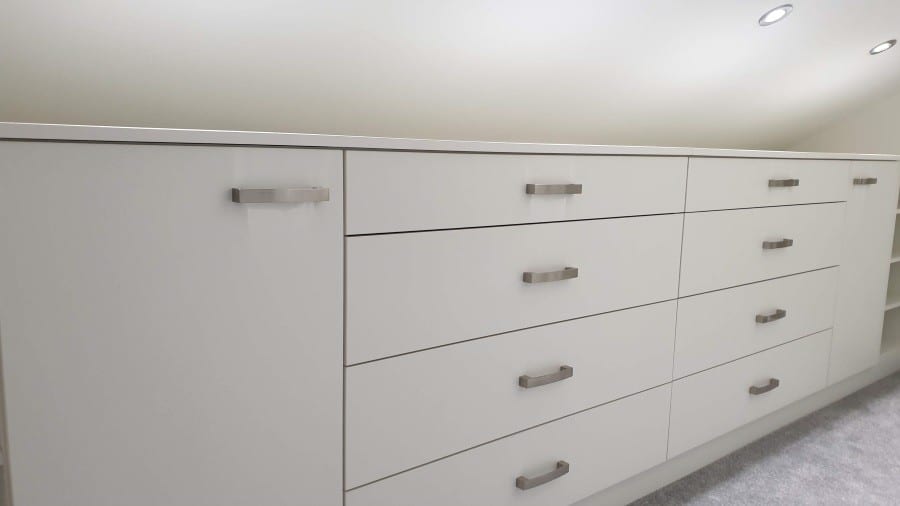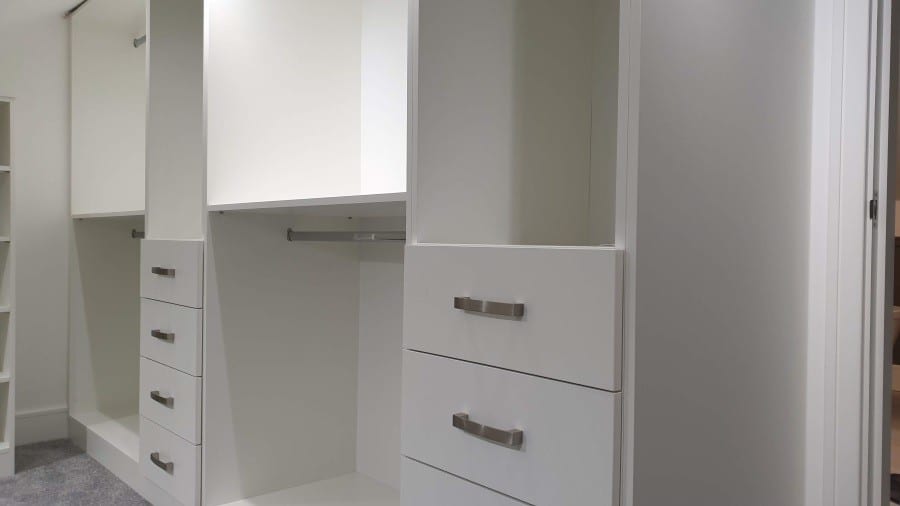 Photo JSDECO.CO.UK
Wardrobe Details At A Glance:
Style: Modern, sleek, and timeless.
Location: Wakefield, an area renowned for its rich history in West Yorkshire.
Materials:

White MFC with a matte finish for cabinets and doors – a choice that epitomizes contemporary design.
State-of-the-art soft-close systems by the reputed Blum brand.
Customizable storage options including versatile shelves and hanging rails to suit all your needs.
Handles crafted from brushed stainless steel, adding a touch of elegance.
Envisioning Your Own Walk-in Wardrobe?
At JS DECO, our mission is to transform homes, one wardrobe at a time. With years of expertise and a passion for interior design, we craft wardrobes that reflect your personality and meet your storage needs. Thinking about a walk-in wardrobe for your home? Let's embark on this design journey together. Drop us an email for an in-depth quote, or better yet, step into our studio and immerse yourself in a world of materials, designs, and possibilities.