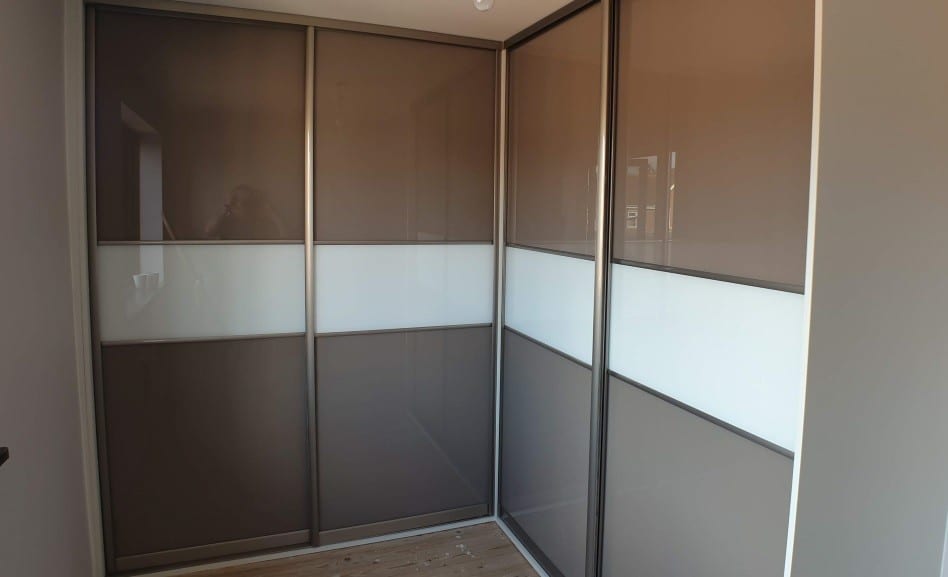 Corner L shape sliding door wardrobe. Normanton, West Yorkshire
Corner L shape sliding door wardrobe. The realisation of this spacious and functional made to measure wardrobe started from the interview regards the requirement for the size and practical functions of the wardrobe.
Acording to agreements we have prepared visualization shoving the wardrobe in proportions and colours. During that process we have aimed to reflect precisely the needs of our customer.
After the customer accepted the project.
The next step was to manufacture the wardrobe in our workshop, and finally install it at the confirmed date, in the house which this time was based in Normanton, West Yorkshire.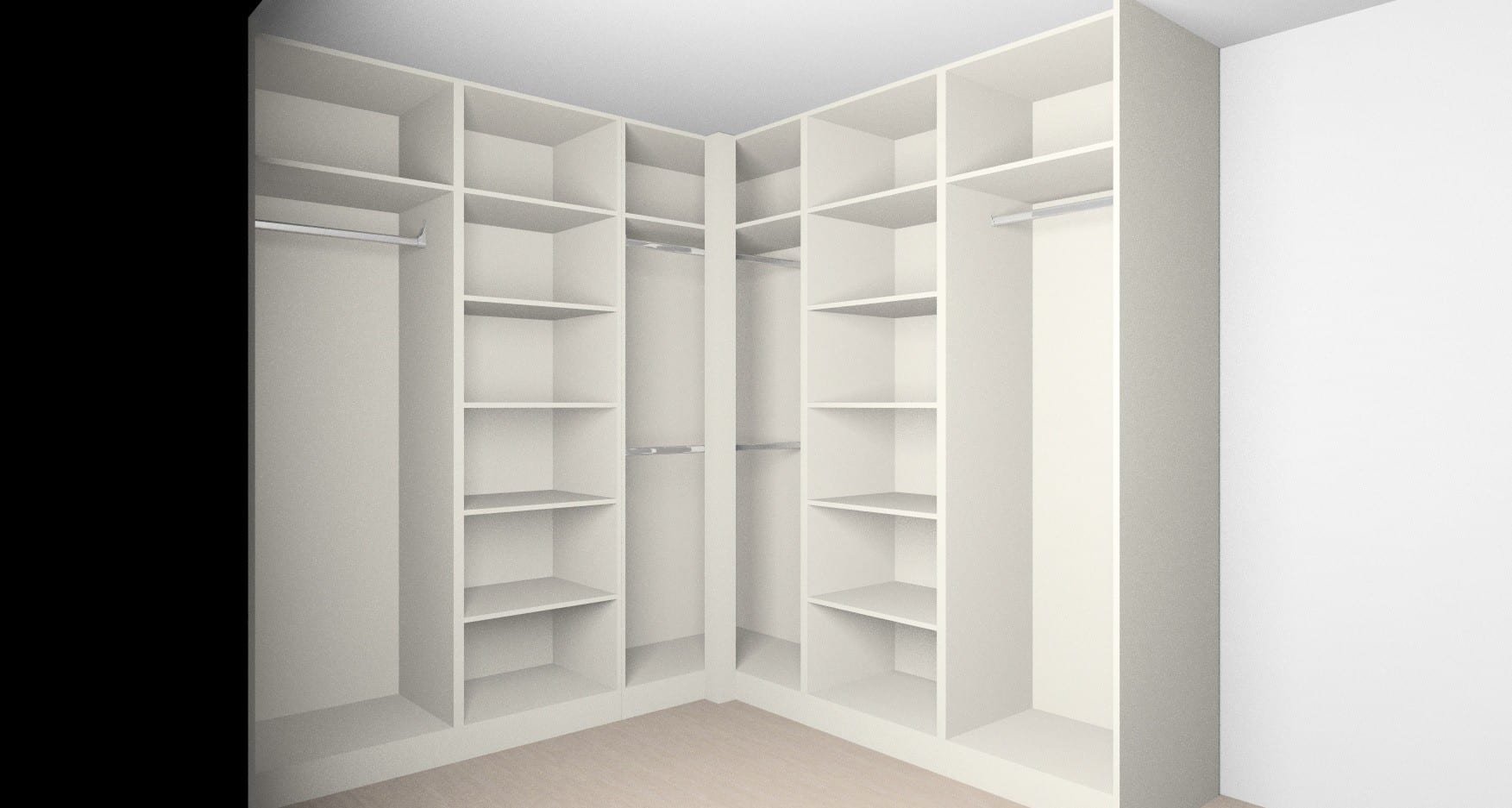 Made to measure corner sliding door wardrobe specification
That particular wardrobe utilizes two walls covering the corner of 2.3 m by 2.3 m. Which in total gives 4.6 m wide and 2.3m high wardrobe which may accommodate 6.3 m³ of content.
The whole wardrobe was divided into the five separate sections combining hanging rails and shelves. the idea was to maximize functionality,comfort of use and give the customers freedom to organise the internall of the wardrobe in the way as they preffer.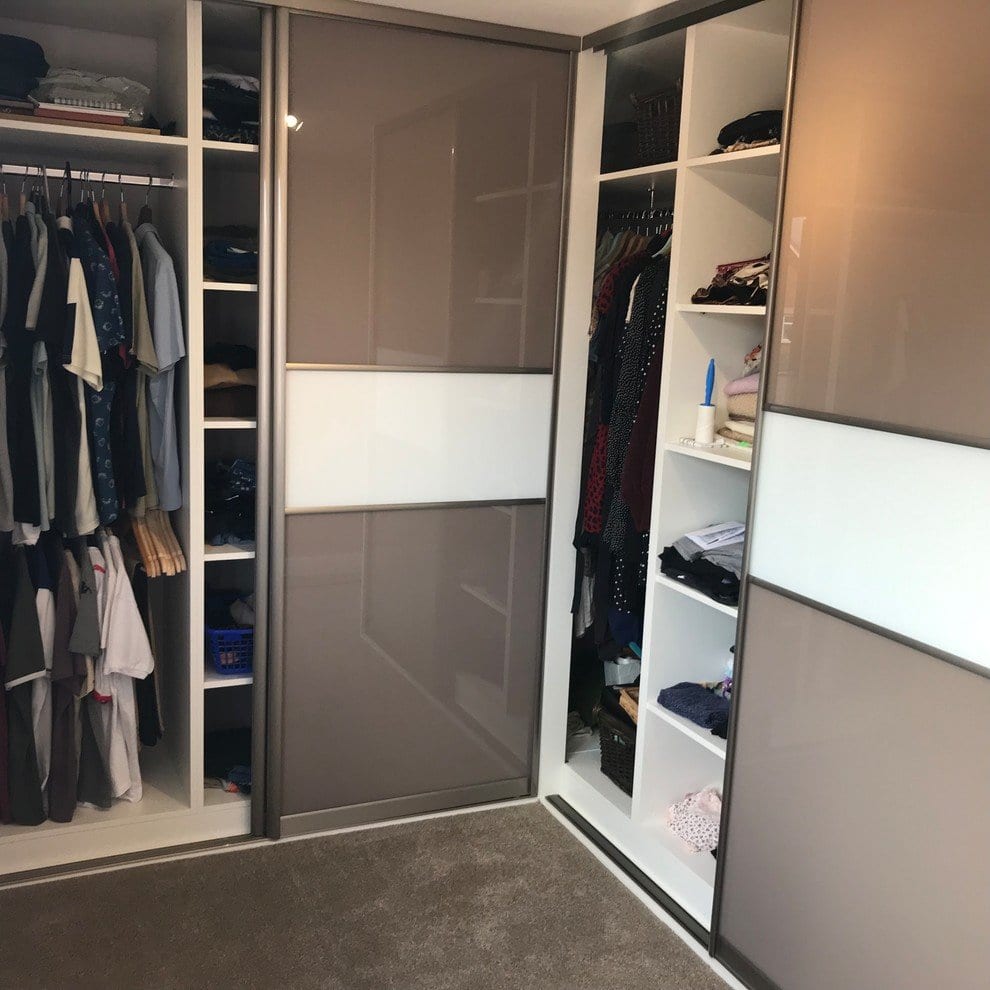 The internal part of the wardrobe was made of high quality 18 mm Egger chipboard finished with 1mm PVC edge.  The sliding doors are a combination of glass and aluminium frame.
In that project, we have implemented four three panelled doors

All of them are made of high gloss glass. The middle one is in pure white colour and top and bottom, are made in classic brown.
Obviously, we are not limited to that pattern. We have very flexible in many different colours and materials available to use in similar or totally different furniture projects.

General information about the furniture project.
Type – Fitted corner sliding door wardrobe
Furniture Style – Modern
Location – Normanton
Materials
High-grade PVC edged internal carcases
4 x hanging rail
14 x shelves spaces
High gloss glass doors on the lacquered aluminium frame.
Realization time – 4 weeks (depends on the amount of work in the schedule)