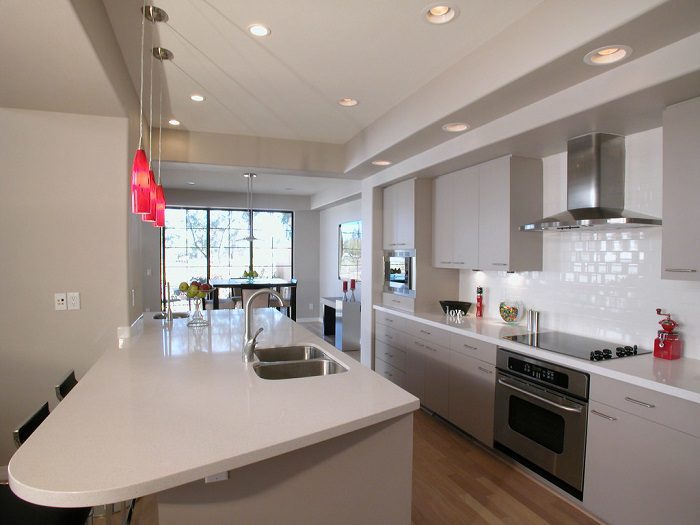 The Best Small Galley Kitchen Ideas
Are you looking for ideas that will make your small galley kitchen a joy to use? These ideas for a galley kitchen prioritize style, comfort, and convenience. Galley kitchens have long been a mainstay of apartments and small homes. In today's on-the-go world, their efficient, space-saving layouts are newly relevant. The best designs for small galley kitchens evoke the energy and romance of cooking on a ship or train. Innovative design, materials, and technologies can transform the experience of cooking in a galley kitchen into something wonderful. Here are ten galley kitchen design ideas that will inspire and delight.
Budget-Friendly Small Galley Kitchens
If you want to find small galley kitchen ideas on a budget, think about how to make the most of what you have. A fresh coat of paint, new light fixtures, and a colorful rug will immediately brighten your kitchen. If you change your kitchen's layout, take time to research and plan every step of the renovation. Repair or replace chipped countertops and problematic flooring, and eliminate obsolete furnishings, fabrics, and appliances. Reclaimed materials can make wonderful cabinets, shelves, and work surfaces. Splurge on a range or refrigerator that will be well-loved and constantly used. When your space is well-lit, cohesively designed, and well-maintained, you will feel relaxed and happily focused on cooking.
Petite Galley Kitchens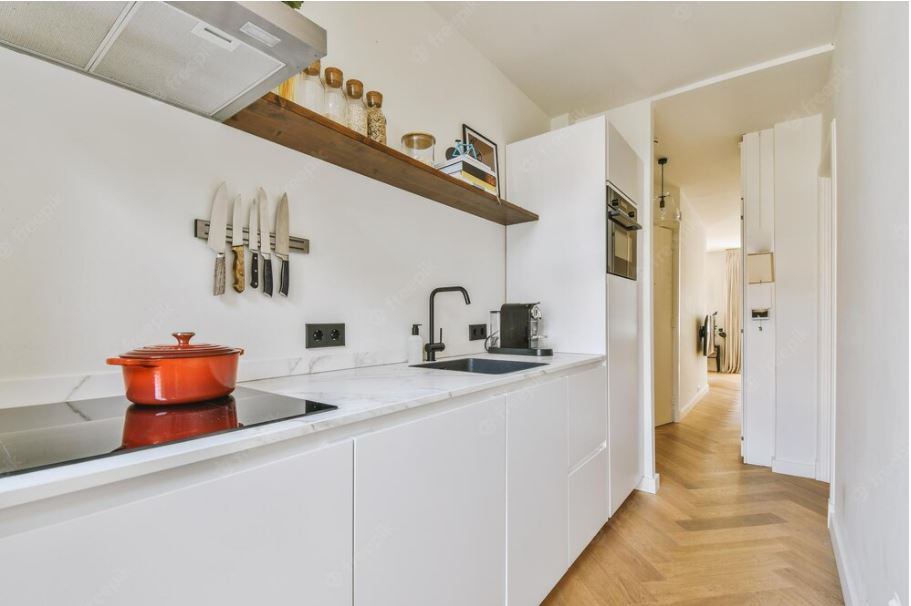 A galley kitchen should feel cozy, not confining. Great very small galley kitchen ideas feature ergonomic designs that make a tiny space feel luxurious. Good lighting, unified colors, and high-quality materials will make a very small space feel bright and cheerful. Carefully choose compact or full-sized appliances that will be easy to access. Install them flush with cabinetry at a height that will maximize functionality and ease of use. Shallow, closed cupboards that hang above the countertops will make your workspace feel open while keeping essentials close at hand. Store cookware and small appliances inside cabinets to keep work areas free of clutter. With an integrated plan that accounts for every inch, your kitchen will feel warm and welcoming.
Narrow Galley Kitchens
It's completely possible to dream up small narrow galley kitchen ideas that will optimize efficiency and comfort. To maximize the open space of the aisle, create usable storage that reaches up toward the ceiling. Consider installing custom, built-in cabinets and slimline counters along each wall. This design strategy allows for freedom of movement while keeping supplies within reach. Sliding doors make serveware, utensils, and small appliances accessible while keeping work areas clear. Add a window to the outside or an adjoining room to add depth and bring in light.
Modern Galley Kitchens
Modern galley kitchen ideas take full advantage of up-to-date materials and technology. Porcelain and ceramic composites make sleek countertops that are easy to maintain. Smooth laminate and concrete floors feel unfussy and stable underfoot, so you can move around effortlessly. Flat-faced cabinets and recessed lighting are minimalist, chic, and functional. High-tech features paired with elegant, simple furnishings will take the labor out of cooking. Digital control panels, voice-activated controls, and automation are the hallmarks of a "smart kitchen" that save time and reduce hassle. Stainless steel appliances complement a clean-lined, contemporary aesthetic.
Fitted Galley Kitchens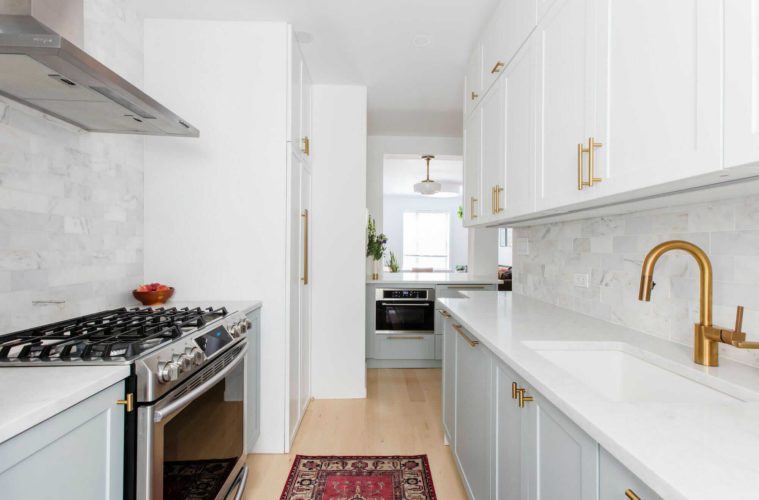 A fitted galley kitchen assures the cook that everything is in its proper place. In a fitted kitchen, cabinetry is attached to the wall or floor. It spans the perimeter to maximize storage and counter space while incorporating drawers into the lower cabinets. Appliances are built-in to fit flush with countertops and cupboards. Good fitted galley kitchen ideas include provisions for easy access to every essential cooking tool and device. The overall look is tailored, streamlined, and somewhat formal. Add custom hardware, a tiled backsplash, and pendant lamps to give your fitted kitchen personality.
Victorian Galley Kitchens
The most beautiful Victorian galley kitchen ideas envision sensual, lively spaces that encapsulate opulent style. Plush barstools can turn a countertop into an inviting area for drinks or snacks. Beveled glass cupboards, open shelving, and exposed pipes will balance rich textures to create an airy feel, while crystal chandeliers draw attention to polished metal fittings. Ornate details, hanging copper pots, and dark wood are tactile delights. Deeply colored accents that complement artfully proportioned patterned tiles will create a jewel-box-like feel. Placing a narrow butcher between the stove and the sink brings all the elements together and serves as the heart of the space.
Hand Painted Galley Kitchens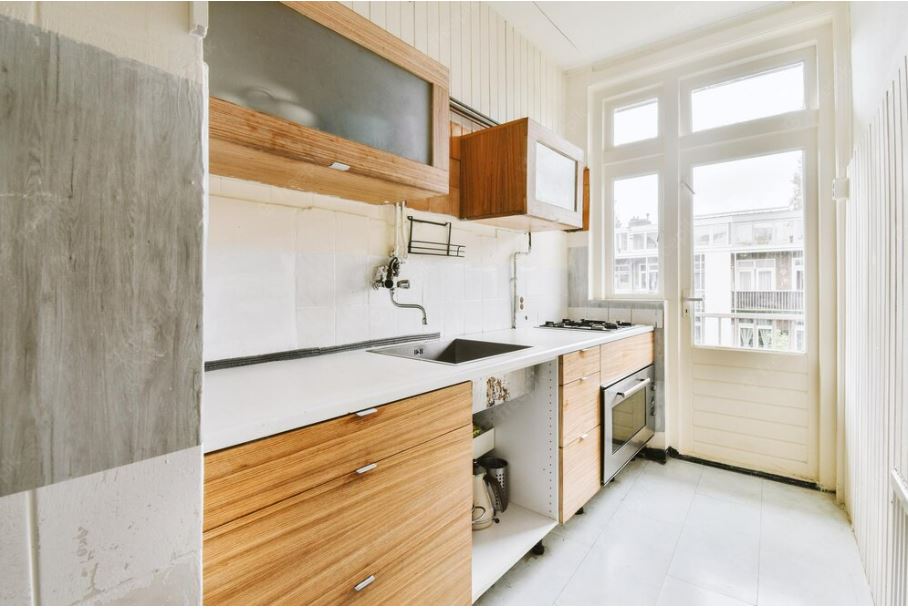 A hand painted galley kitchen is a perfect choice for lovers of traditional design. Made-to-order cabinetry can be exactly sized, fitted, and customized to make a galley kitchen feel roomy and inviting. Whether budget-friendly or lavish, hand painted kitchens provide a perfect opportunity for quirky and artistic self-expression. Cabinetry is finished with a brush or roller rather than by machine. Stenciled motifs and floral embellishments can soften and personalize a small galley kitchen. Although the exterior cabinetry can have a vintage look, the interiors may be crafted of entirely modern materials that are durable and functional. Hand painted galley kitchens offer charm, comfort, and every contemporary amenity a cook could wish for.
Premium Finishes for Galley Kitchens
Attractive, high-performance materials make a galley kitchen into a premium kitchen. As you consider different finishes for your galley kitchen, think about how they will make your space easy to use and lovely to be in. Many contemporary countertops, workspaces, and vertical surfaces are crafted from engineered materials like Fenix, XTone premium ceramic, and top-of-the-line porcelain. These durable, hygenic materials are resistant to extreme temperatures, chemicals, stains, and scratches. Fenix kitchen panels are crafted in a variety of thicknesses, colors, and textures to suit every vision. Some porcelain faced kitchens recreate the look and feel of fine natural minerals like marble, sodalite, granite, and travertine, while gloss, satin, matte, and metallic finishes create contemporary flair.
Storage for Small Galley Kitchens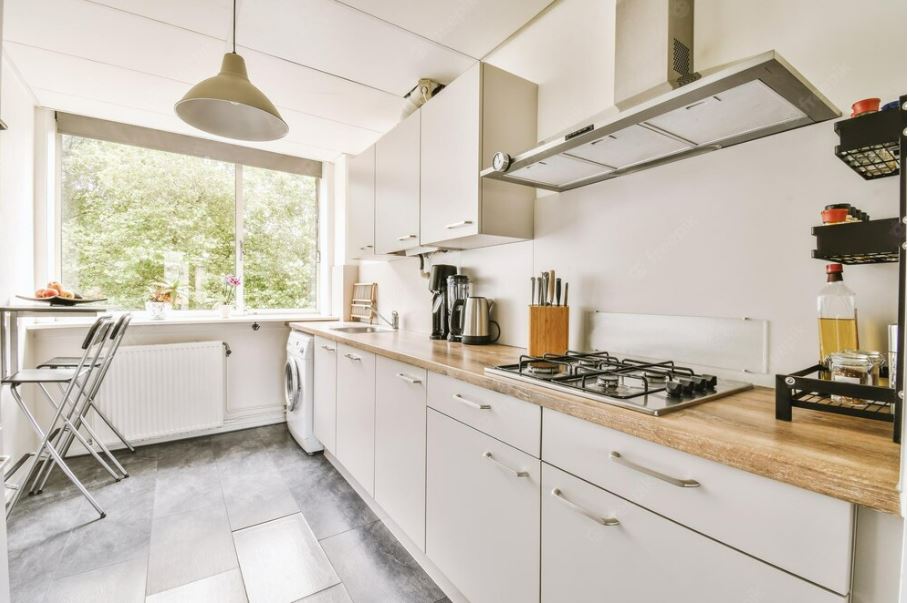 All good small galley kitchen ideas include provisions for cabinetry that will store and showcase your appliances, cookware, serveware, and utensils. Some of the best galley kitchen designs can accommodate a pantry or the wine you keep for company. Choose storage solutions that hide large, awkward, and unsightly pots, pans, and mixers while showing off your beautiful crystal. Glass cabinets and shelves can feel weightless and make a galley kitchen seem more spacious. Solid lower cupboards will make your kitchen feel grounded without getting in the way. Carefully considered storage lets you keep things where you want them, so they are ready when you need them.
Lighting a Small Galley Kitchen
Whether you love the natural light that comes from windows and skylights, the sophistication of recessed lighting, or the practicality of ceiling lights and pendant lights, good lighting is an essential component of a well-appointed galley kitchen. The right lighting makes it much easier to see your food and tools as you're working, and it also contributes to the ambience of the space. Good lighting will make colors pop and draw attention to your kitchen's best features. A light-colored or white color scheme that utilizes glossy surfaces will brighten your kitchen so that it feels large and expansive.
Small Galley Kitchens Have Wonderful Potential
The best small galley kitchen ideas explore the possibilities afforded by good design. They can be edgy and polished, warm and inviting, or artsy and eccentric. Great galley kitchen ideas UK have carefully designed layouts that make them perfectly suited to today's busy lifestyles. As you look for galley kitchen inspiration, think of how you live now and how you would most like to live in years to come. Prioritize what's most important to you, like working or storage space, then design accordingly. Books, magazines, and Pinterest are wonderful sources of galley kitchen ideas. If you want to optimize the use of time and space in your life, consider the advantages of a small, custom-built galley kitchen as a perfect addition to your home.
Fill in the form to discuss your project
[contact-form-7 id="56972″ title="Form1″]