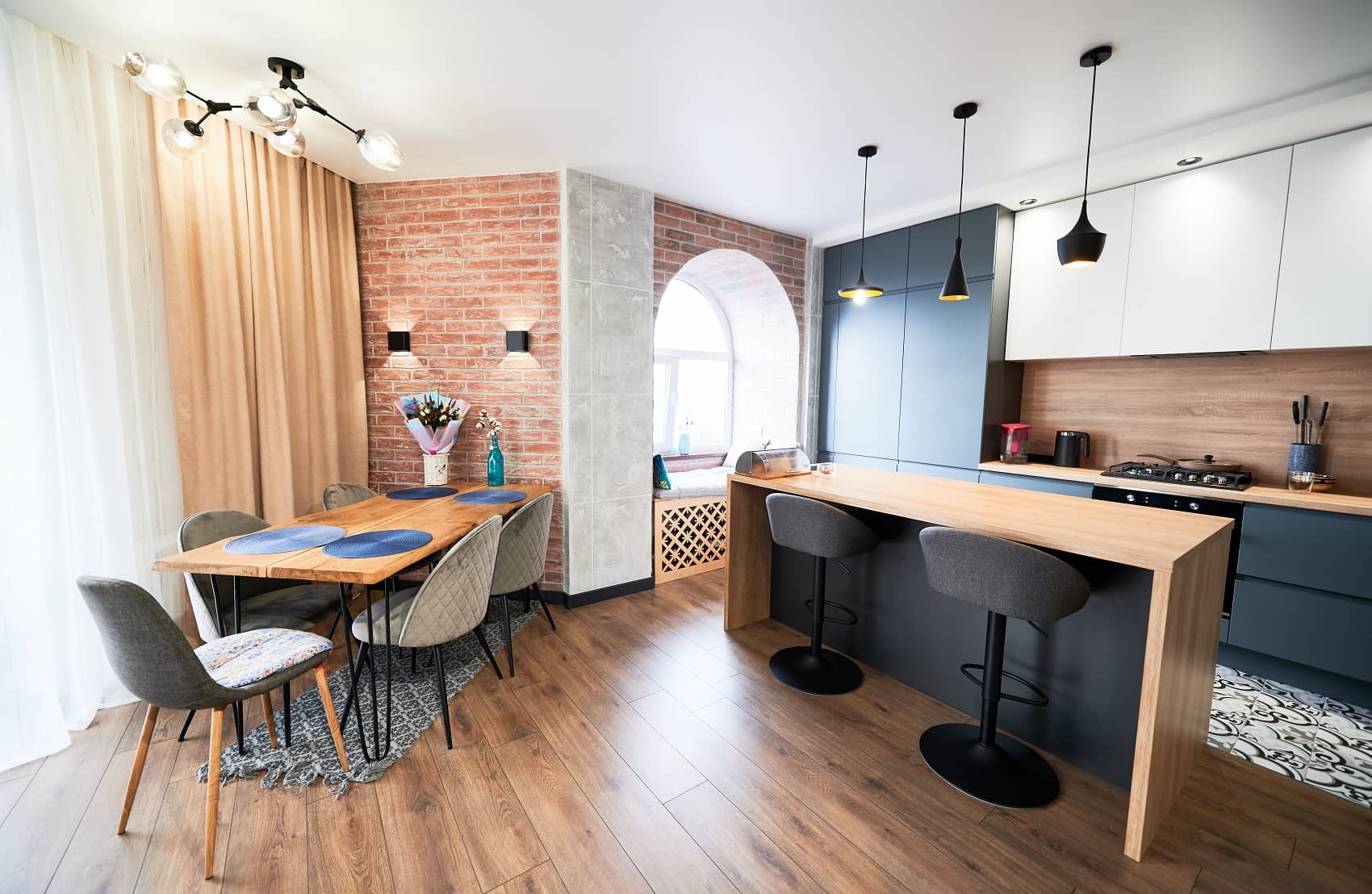 The Best Kitchen Splashback Ideas
As with lots of home decor, kitchen splashbacks started as a necessity and have now become part of the kitchen's signature style. Splashbacks still serve a functional purpose, but can also be used to accent your kitchen and make it stand out.
Whether you need a splashback, are building a new home or want to replace your current splashback, there are many ideas to choose from. When many people think of splashbacks, they think of tile, but there are many other materials and ideas to customize your kitchen. Choose from some of the most popular kitchen splashback ideas to give your kitchen that extra it factor.
Consider Your Cabinets
Your kitchen cabinets are the largest item in your kitchen, making them the focal point. Many of the most popular kitchen splashback ideas highlight your cabinets in some way.
Some splashbacks perfectly complement your kitchen furniture by including the same colour as your cabinets. For example, Fenix kitchen furniture is made out of a special nanotech laminate and comes in many colors. Along with traditional colours like black and white, Fenix cabinets also come in red, blue and green. With the bolder colours, you can choose a splashback that pulls out some of the colours in your cabinets.
Tile Splashbacks
Tile is one of the most popular materials for a kitchen splashback. It's versatile and allows for many design options. It can fit with almost any style, from rustic to modern. Tile is also a good option for a range of budgets. You can find something very affordable like ceramic or choose a luxury option like porcelain. Both are among the best kitchen tiles for your space.
If you go with a natural or unfinished tile, you'll want to put a coat of sealer on it. Splashbacks get their name for a reason – food will hit the wall area behind the cooker. A sealer will protect natural tile and make it easier to clean.
Glass Splashbacks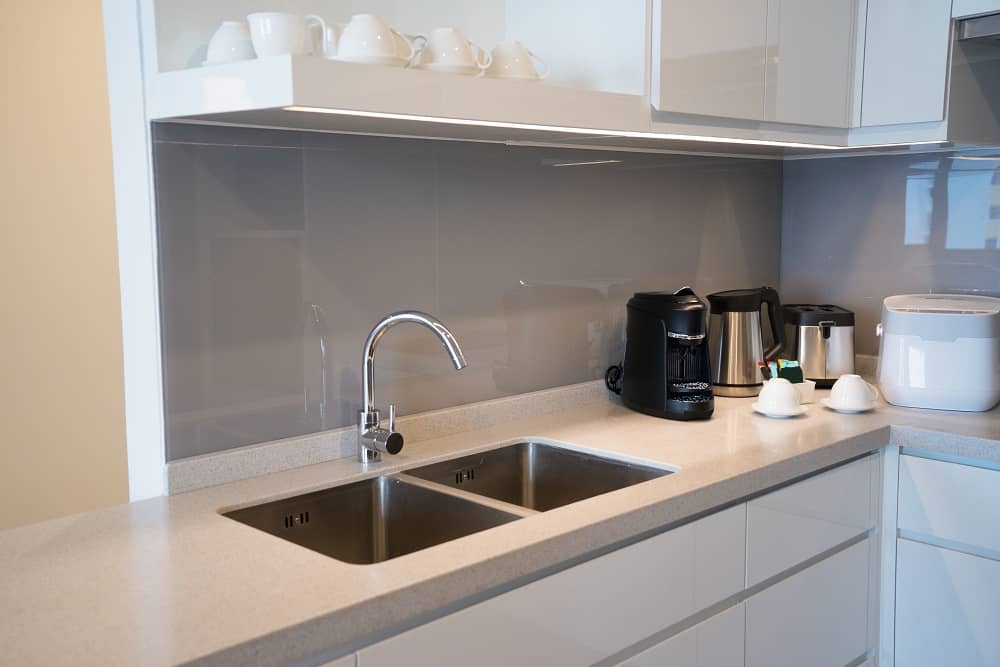 There are so many great glass kitchen splashback ideas. You can use glass to reflect the other colours in your kitchen or let the colour of the wall shine through. Glass can also add some shine to a kitchen that needs a little more character.
When it comes to glass, you have so many options. You can choose between smaller glass tiles to create colour and patterns or go with larger tiles for a more modern feel. Different finishes allow the glass to let colour through, reflect light or have an opaque finish.
Stainless Steel Splashbacks
Stainless steel is one of the most popular modern kitchen splashback ideas. It gives your kitchen a sleek industrial style. With just the addition of stainless steel, you can change the entire feel of your kitchen.
Stainless steel's light-reflecting properties can make a small kitchen feel bigger. When added with a stainless steel countertop, you can create a seamless modern style.
While stainless steel is only available in one colour, you can use different textures like hammered or ribbed to achieve different looks. Stainless steel is easy to care for and isn't likely to stain, but it can dent. It can also be costly, both for materials and installation.
Splashback Ideas for White Kitchens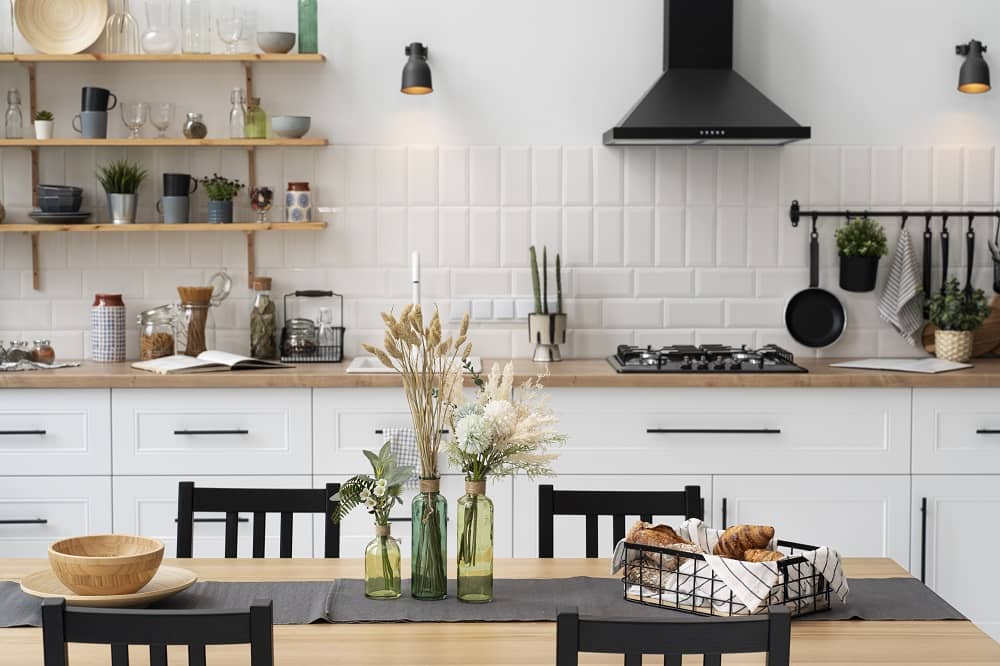 There are quite a few directions you can go with splashback ideas for white kitchen. If you like the look of a clean, monochromatic white kitchen, you can carry the white onto your splashback. White subway tiles lend a subtle texture and movement. Porcelain brick tiles add even more texture and make the kitchen warmer. Hexagonal tiles incorporate a geometric element.
One of the best kitchen cooker splashback ideas for a white kitchen is to use the space for a pop of colour. Glass tile in a pale green or blue can give a white kitchen added warmth. You can also opt for more contrast and use a bright colour or even a brightly coloured pattern. Bold colours can make the splashback a primary feature of your kitchen.
Ideas for Kitchen Splashbacks to Create Contrast
If your kitchen feels dull and needs a little something to make it pop, a colourful kitchen splashback can add some interest and bring life to the room. There are many good ideas here.
Sometimes a bold pop of colour, such as a bright red or sunny yellow, is the perfect addition. Patterns are another good idea. A simple herringbone pattern in white or grey can be an elegant, modern addition that still adds interest to the space. A bolder pattern with several colours, such as red, blue and yellow can bring a bohemian feel to the room.
Budget Kitchen Splashbacks Ideas in UK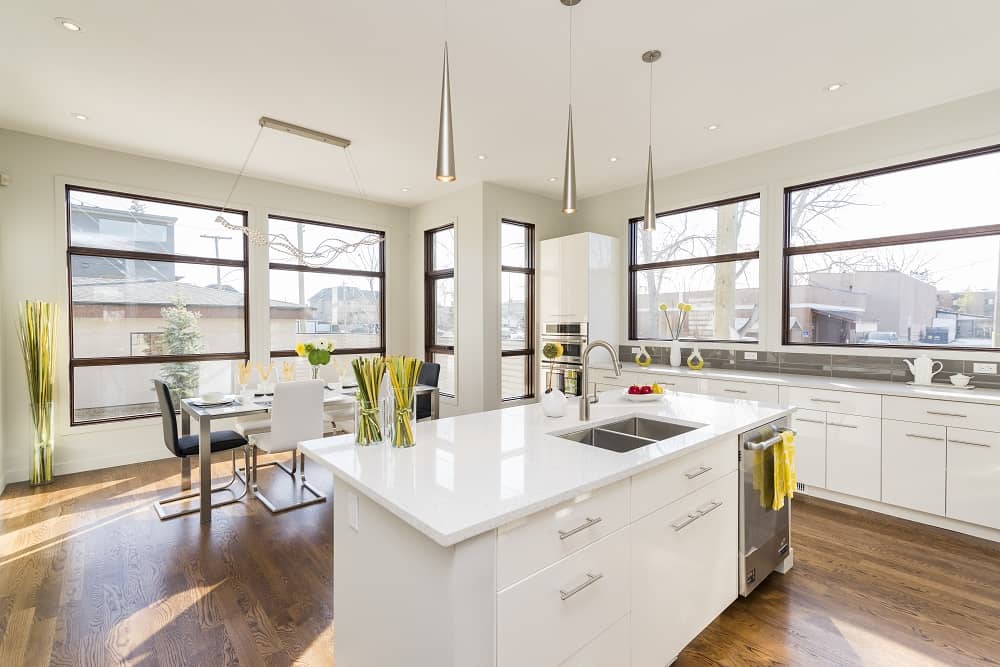 Even if you're on a budget, you can still have a beautiful kitchen splashback. There are many cheap kitchen splashback ideas that will make your space look like a high-end kitchen.
If you love the look of tile, but the kind you want is out of your price range, you can get peel-and-stick tiles. These apply easily to your wall and look similar to real tiles. You can get a gorgeous pattern at a fraction of the cost.
If you're set on real tile, you can often buy sheets of tile connected with mesh backing.
Wooden Kitchen Splashback Ideas
Wood isn't one of the most common kitchen splashback materials as it can be challenging to keep it dry, but with the right sealer and maintenance, it can add a lot of rustic charm to your kitchen.
Shiplap is one type of popular wood for a backsplash. Shiplap is a special wood design with narrow boards and grooves that create a line pattern on the wall. It's often whitewashed, but can be left natural, stained or painted another colour. Some opt to do the entire while in shiplap, while others just do the area behind the cooker.
Go Classic
Classics are classics for a reason – they never go out of style. White subway tiles fit almost any kitchen style. While you can certainly find high-end subway tiles, you can just as easily find an affordable style to fit your budget. They're relatively easy to install if you decide to DIY.
Subway tiles fit well with modern, rustic, traditional and elegant kitchens. When paired with plywood kitchens, they look sleek and clean. They're subtle, but if you choose to do a larger area than just behind the range cooker, they can become more of a statement piece.
Mirrored Splashbacks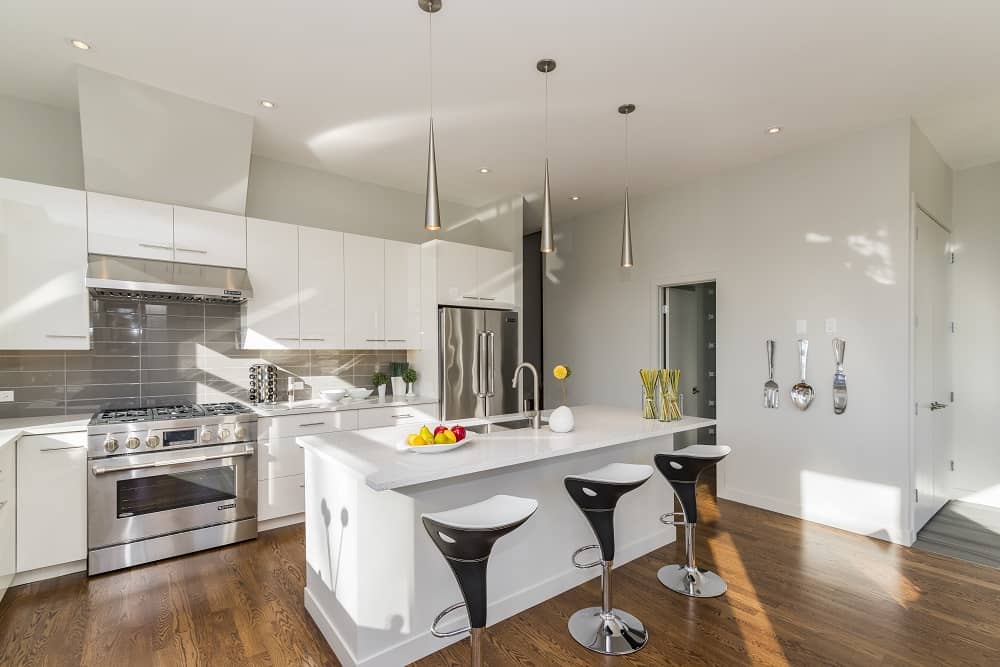 If your kitchen is on the small side, you can use your splashback to give the illusion of depth. Mirrors are one of our favourite range cooker splashback ideas as mirrors can make a room feel bigger.
While mirrors look great, they do require some extra cleaning. If mirrors seem too modern for your kitchen's style or you don't want to worry so much about smudges and spears, an antiqued glass mirror may be the answer. You'll get the same effect with a warmer, easier-to-care-for style.
The Perfect Splashback for Your Bespoke Kitchen
Choosing the best splashback for your bespoke kitchen comes down to the look you want to create along with your budget. Keep style elements like colour, pattern and texture in mind along with functional qualities. You want something durable and easy to clean.
With so many splash back ideas for kitchen you're sure to find one that fits the style of or adds an extra style element to your kitchen.
Fill in the form to discuss your project