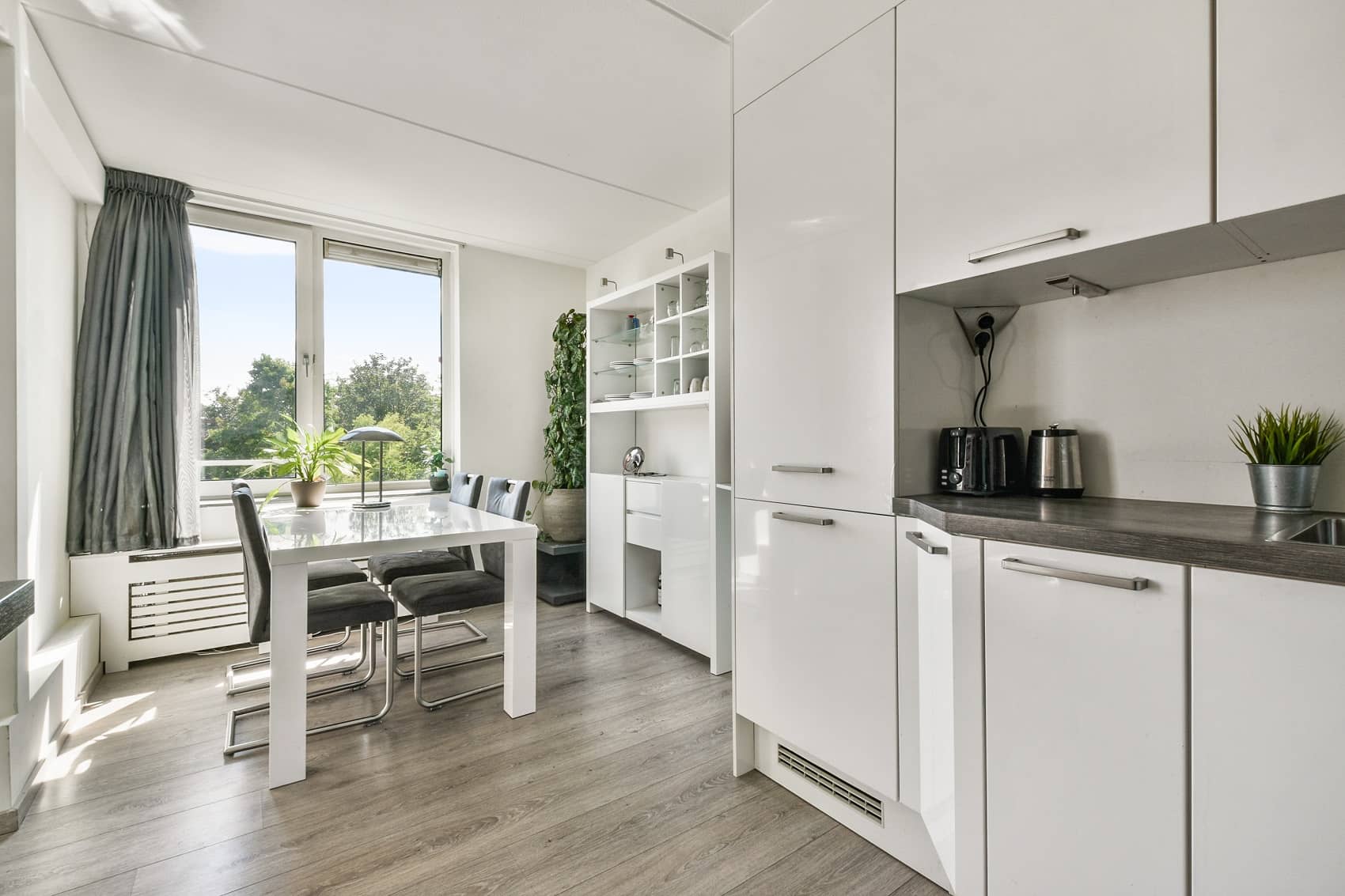 The Best Kitchen Layout Design Ideas
Choosing the right kitchen layout design is based on more factors than pure aesthetics. You want a functional space that makes mealtime preparation easy and efficient. Keep in mind that many families spend more time in the kitchen than in any other place in the house. There are several ways to get the kitchen of your dreams. Factor in the existing space and how you use it to help come up with a list of exceptional kitchen design layout ideas. If you are struggling to find just the right look for your kitchen project, here are a few of the best kitchen layout ideas for UK homes.
Allow Traffic To Flow Freely
In many homes, the kitchen is a high-traffic area. Besides cooking, these spaces can become the catch-all for backpacks, coats, and mail. When considering a new kitchen layout design, you will want to ensure that this space has ample room to move around. The best design for a kitchen will enable you to control the traffic that occurs on a daily basis.
Design a primary pathway in the kitchen that allows everyone to pass without bumping into cabinets, tables, or islands. There are plenty of hazards in the kitchen. You do not want an inadequate design to be one of them. When considering the traffic flow, ensure that everyone can move safely, even when refrigerator or oven doors are open.
Use Comfortable Distances for Kitchen Fixtures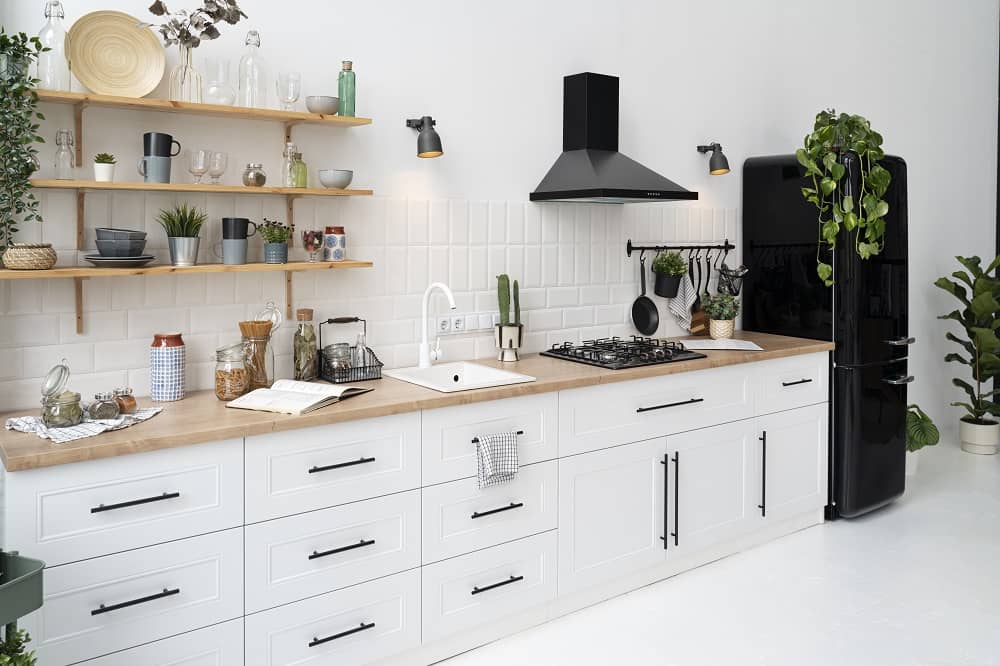 A kitchen must look great and be comfortable for everyone in the home. Having a faucet or sink in an odd spot can hinder meal preparation. Functionality is vital to any new kitchen layout design. You will want to have all of the fixtures at a comfortable distance. No one should have to stretch to turn on the water tap.
While everyone will have their preferences, think about using a "work triangle" to give you the best angles for food preparation. Position the sink between the refrigeration unit and dry goods storage areas. It is important to keep everything within arm's length. The best work triangles are less than 6.4 meters.
Choose the Ideal Spot for a Kitchen Island
Most individuals use the kitchen island as a spot for meal preparation. If you have space in the kitchen or are looking to redesign that area, consider the island's location carefully. A plywood kitchen can easily accommodate an island, but you need to select the best spot.
The kitchen island must never block the area in front of major appliances, such as refrigerators, dishwashers, or ovens. Give those appliances plenty of space. Always keep door swings in mind when determining the island's location for your next kitchen planning idea. You do not want to place the island far away from those cooking appliances. Generally, the island should be within arm's length of each of the kitchen's major fixtures.
Make the Sink a Top Priority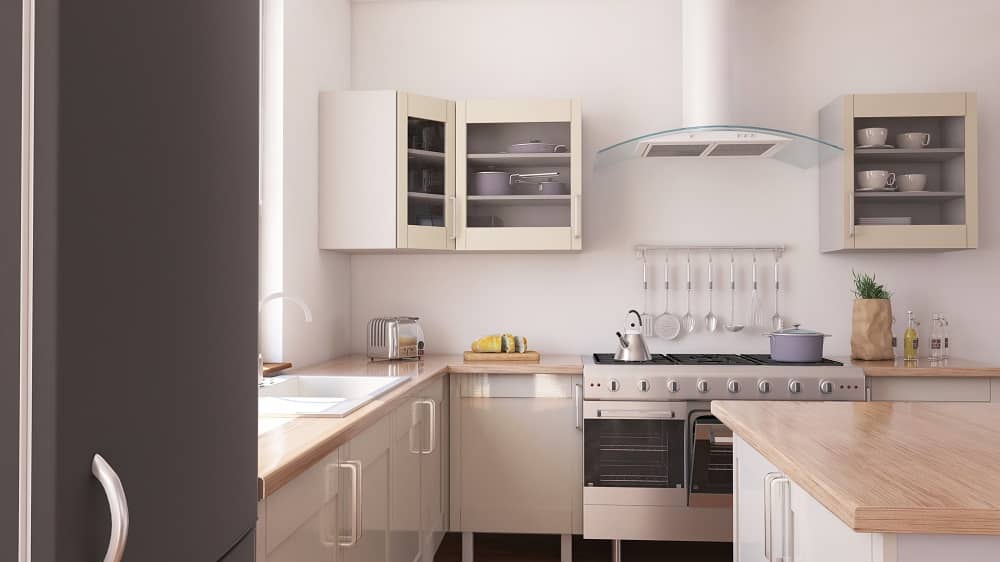 There are a few traditional steps to follow when you design a kitchen layout. One of the best tips is determining the location of the sink in the kitchen and working out from there. Many designers still follow these rules and start a kitchen layout design with the placement of the sink. While the refrigerator and oven are a vital part of the preparation process, the sink is one place where people spend the most time. Sinks should be placed where you can view the rest of the kitchen. Traditionally, sinks are often placed near a window.
Put the Stove on an Exterior Wall
Another kitchen plan idea involves the placement of the stove and oven. Ideally, choose a space that allows you to cook meals without obstructions. Ovens and stoves need proper ventilation so that the house does not fill up with smoke or food odor.
Some individuals will place a stove in the middle of the kitchen island or on an interior wall. While you could do that, you will need proper ventilation for those appliances, leading to higher costs. Consider putting the stove and oven on an exterior wall where you can install a more effective ventilation system for the home.
Keep Vertical Storage in Mind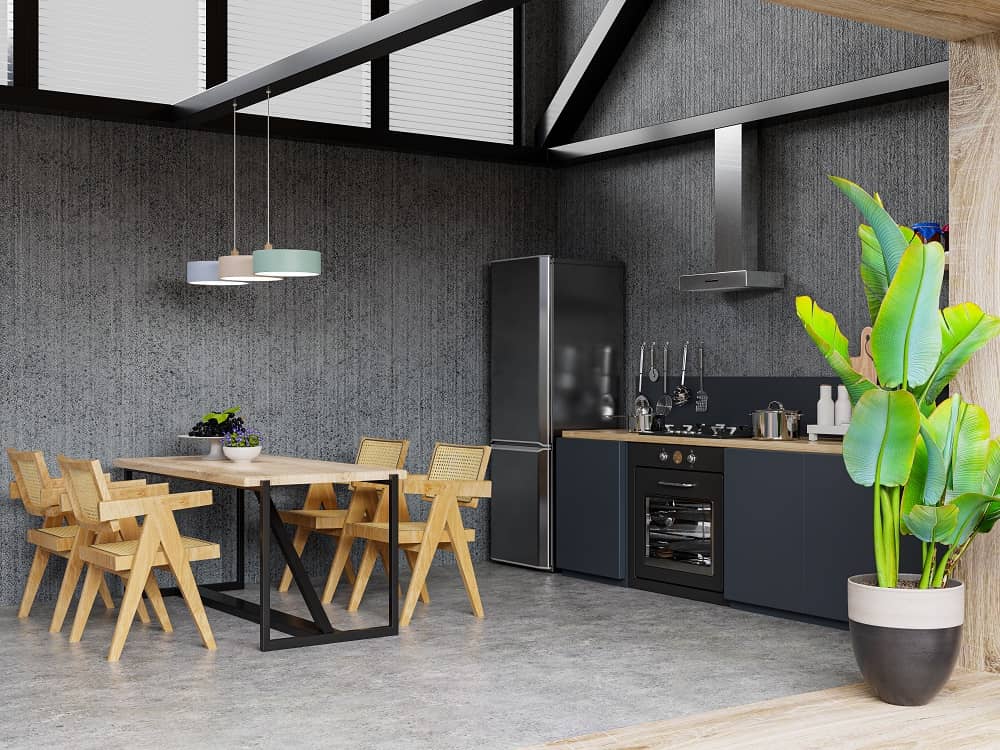 Many people focus on designing more drawer and cabinet space, but you might want to think outside the box. Think about configuring a spacious wall storage unit. These storage walls are the best way to incorporate small appliances, baking pans, pantry storage, tableware, and other accessories into one location. You can use wall hooks, open shelves, and overhead pot racks to add another dimension to your kitchen aesthetics. Going vertical is one way to accomplish this task. That idea adds an aesthetically pleasing look to your kitchen as you continue to maintain functionality.
Divide the Kitchen Into Zones
Want the best layout for a kitchen? Divide your space into several zones. If you want a luxury kitchen design, zones are a must-have element.
These sections need to be dedicated to specific tasks. With that, you can make sure that everything is easily accessible in the space. For example, you want pans, pots, and utensils in the cooking area. There should be plenty of room to work in a meal prep space, with chopping boards, knives, and bins all within reach. Some people make a special place to brew tea or coffee. In that area, you will want to keep the kettle, tea or coffee, and cups in all one place. Usually, people will design a place near the sink to make this process more accessible in the morning.
Kitchen Layout Ideas for Small Spaces
There are excellent small kitchen layout ideas, especially if space is limited. A one-wall solution is a great way to design a kitchen in a studio or loft. These kitchens are open areas with a dedicated space that includes a sink, refrigerator, and oven. Consider placing a wall of hooks to hang cooking utensils, pots, and pans to keep the area organized. A galley kitchen is another option to consider for smaller spaces. You need to maximize the counter area to help overcome space limitations. Use open storage layouts, under-the-sink cabinets, and ample countertops to help utilize smaller areas.
Use a "L" Shape in Your Kitchen Layout Design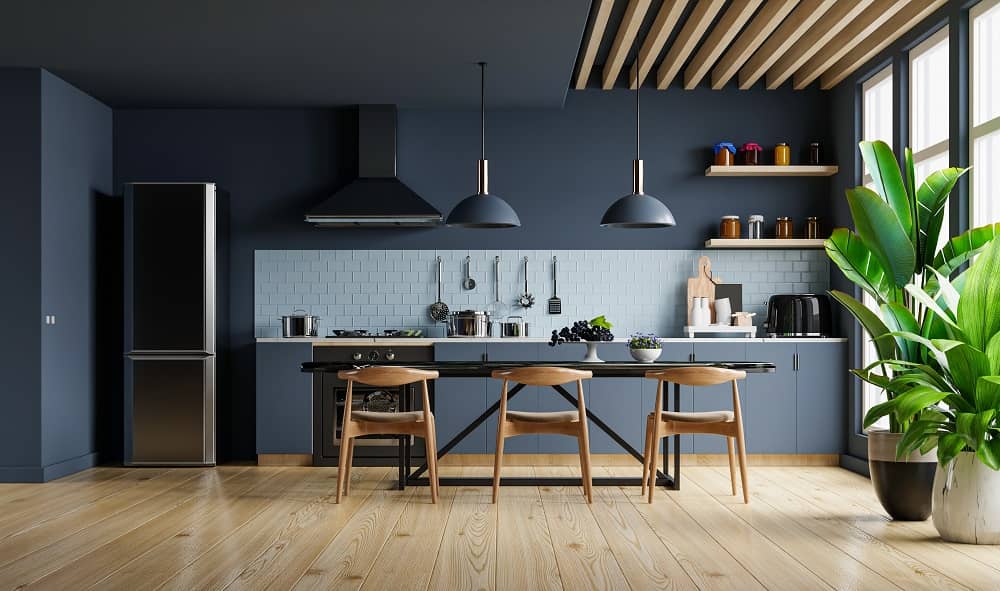 Are you searching for more kitchen planning ideas? A few options are available to create great square kitchen layout ideas for your home. You might want to design your kitchen in the shape of the letter "L." This kitchen layout design will have two walls with an angle between them. You can position the refrigerator, stove, and sink in that space as part of that work triangle. In most designs, the "L" shape is centered around a corner so that you don't lose any room in the kitchen. Remember, you want to create a space that maintains a comfortable distance between those functional areas in your kitchen layout design.
Find the Right Light Options
Choose the proper lighting if you want to keep your painted kitchen in harmony. A well-designed lighting scheme ensures that the kitchen remains cozy and welcoming. You can incorporate so many lighting designs into your kitchen plan ideas. Many people use classic chandeliers, track lamps, and spot lights for an added glow to the room. Don't forget that work lighting allows you to create a brighter space for all those meal preparation areas. Accent lights create a special mood and highlight specific design elements. Use them to draw attention to a particular counter, emphasize the cabinets' beauty, or spotlight an unusual decorative element.
If you want to know how to design a kitchen layout, these ideas can point you in the right direction.
Fill in the form to discuss your project