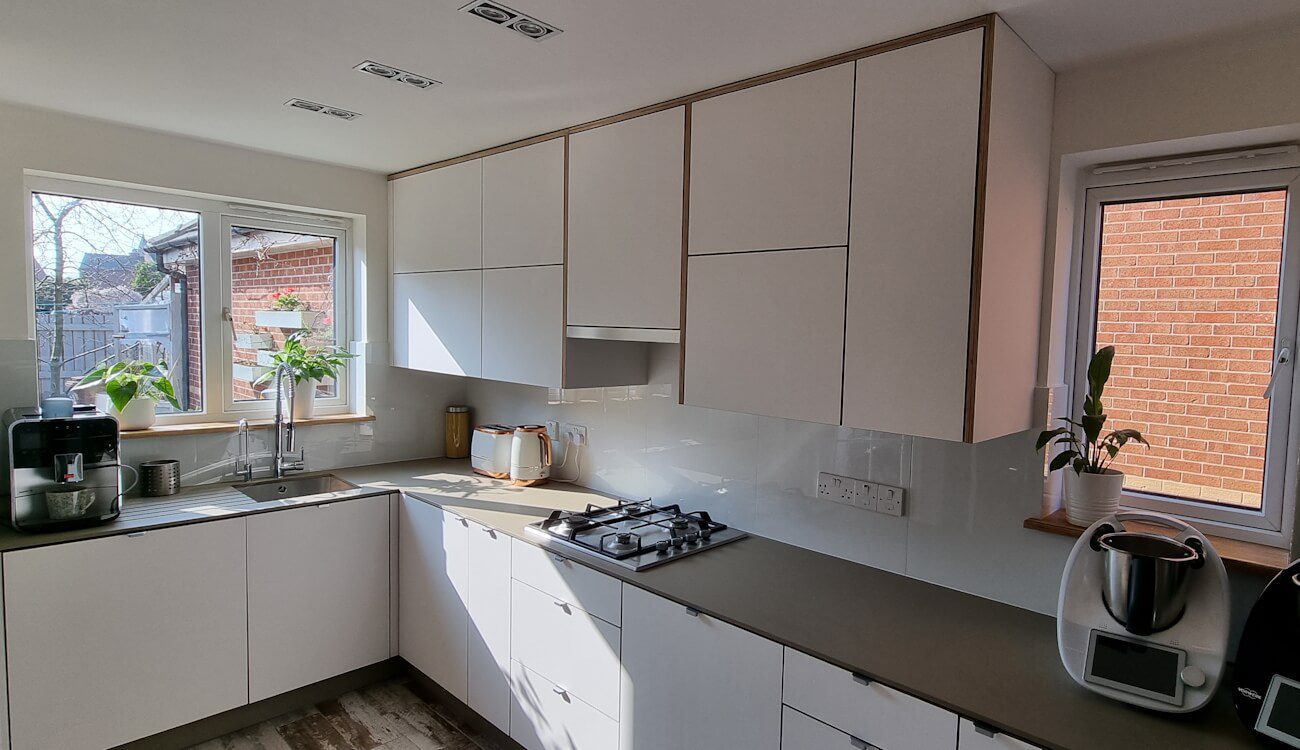 White modern Fenix NTM plywood kitchen, Leeds district
The modern style plywood kitchen which we are presenting today was designed manufactured and installed for one of our customers based in the Leeds district. After detailed consultation regarding the available budget and priorities in the matter of style and functions, we ended up choosing one of our premium range kitchens which is the FENIX NTM line. This product is made on the base of 18mm birch plywood impregnated with Osmo oil wax and finished with laminates in a wide pallet of colours.
Carcases of this kitchen are made of 18mm Egger MFC, doors and end panels 18mm birch plywood covered with white Bianco Kos Fenix NTM.
Worktop which we used for this project was a 12mm solid matching solid core Bianco Male Fenix NTM laminate with integrated drain groves and an under-mounted sink which significantly improve functionality and kept to worktop tidiness.
All hinges, bifold lifting systems, and drawer runners are made by Blum leading furniture component manufacturer and possess a warranty for the lifetime of the furniture.
The Set was completed with all necessary integrated appliances including oven, hob, pill out extraction fan, dishwasher and under-mounted stainless steel sink.
During the consultation, we have located critical points in the kitchen from the customer's point of view in the matter of comfort of use and ergonomy. Starting from the corners there are extra wide magick corner solutions on each side of the kitchen which optimise storage space and access to the content. There are also two pull out baskets one 200mm wide and the other 300mm wide for smaller items. There is also a 600mm wide pull out bin with an additional drawer above it. To complete the furniture functionality we have also applied a number of soft close drawers in many different locations including under the hob and double oven.
Different stages of the project.
Design
How to order you FENIX NTM kitchen
The best way to order your kitchen is to contact us directly to arrange free no-obligation consultation when we will be able to suggest and design your set according to the available budget and requirements regarding the shape and colour. Feel free to visit the Fenix NTM dedicated page where you will be able to learn more about this particular range and contact us directly and we will be happy to suggest the best available solutions tailored exactly to your needs.