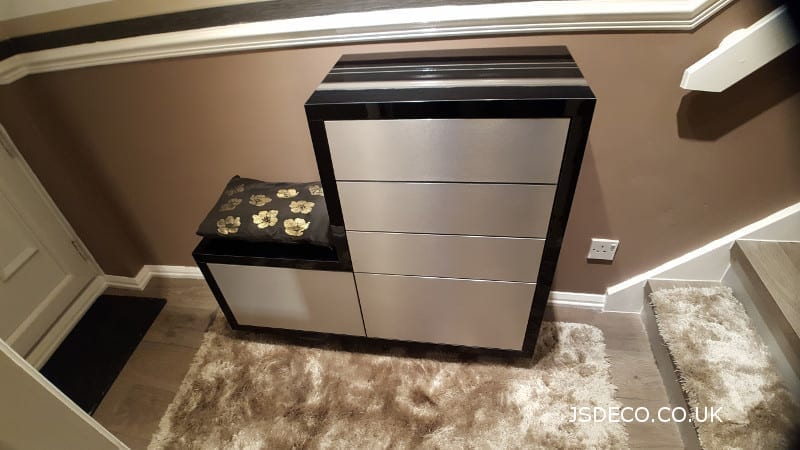 Bespoke shoe cupboard for the corridor.
Today we would like to tell you more about our recent realisation of freestanding custom made shoe cupboard manufactured for our customer based in Wakefield, West Yorkshire. This particular model of bespoke shoe cupboard was made of MDF board finished in high gloss black acrylic coat, combined with doors finished with an aluminium laminate. This way, we have received modern style furniture in a unique style and premium quality.
Bespoke shoe cupboard in production.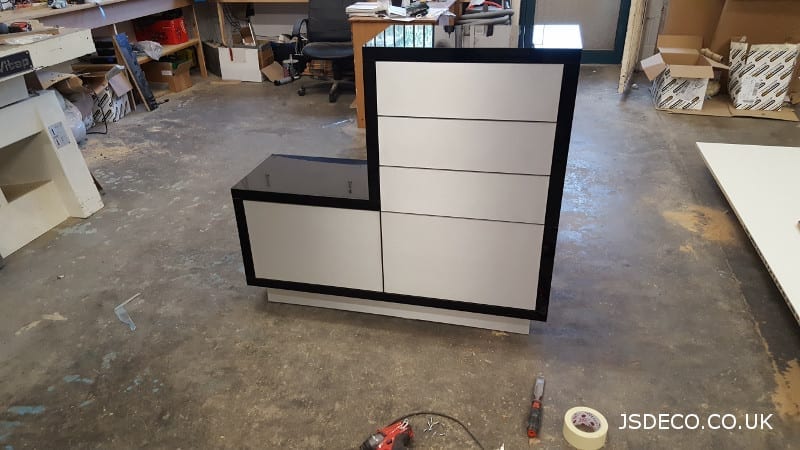 Handle-less push to open aluminium-coated doors gives the furniture a smooth and very modern look and exceptional durability. The left lower part of the cabinet was designed and made that way to provide not only storage space but also the possibility to use it as a seating area to put shoes on comfortably.
Installed bespoke shoe cupboard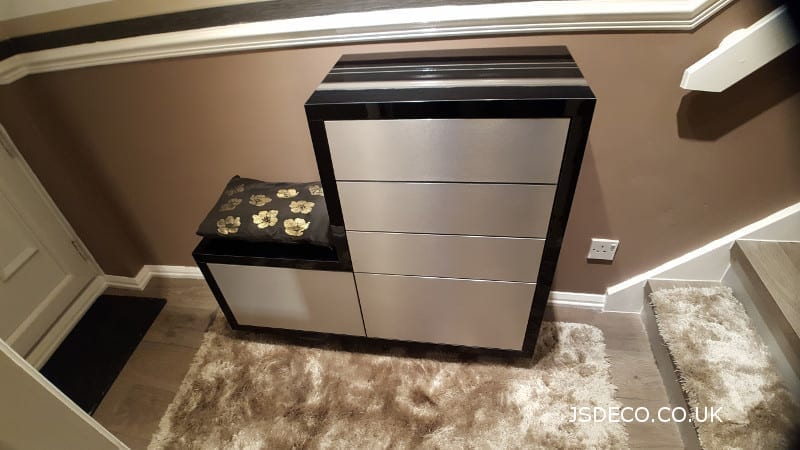 The unit has got five compartments in the depth of 350 mm. In this particular corridor, it was the compromise between available space and capacity of the cabinet but also suit precisely to the biggest size of owner shoes placed horizontally. There is also enough room to use as a storage for any useful odds and ends.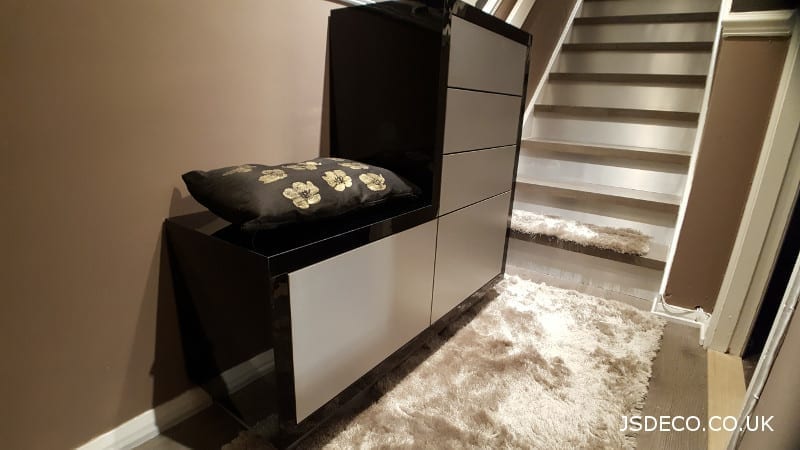 This bespoke shoe storage cabinet is the first element of the design line ( clothes hanger, tv unit, wardrobe, drawer chest, etc.). the range will give our customers the possibility to configure the whole house in a consistent style.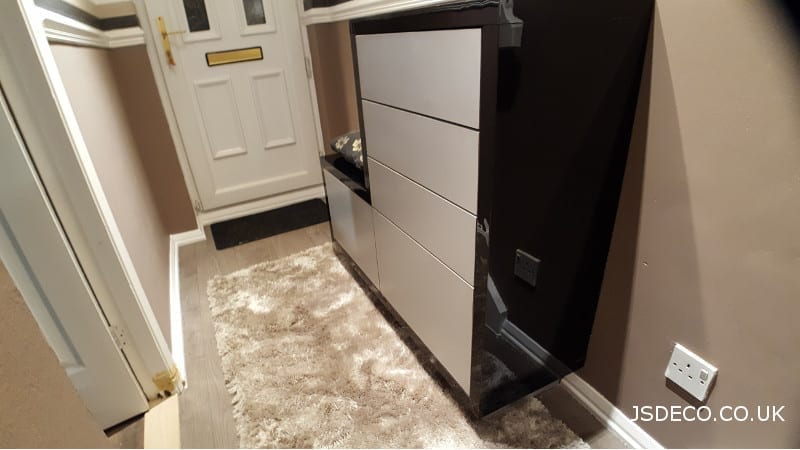 The specificity of our business gives us the flexibility to provide furniture in a wide range of colours and sizes for private and commercial customers. We can also do projects to the specification provided by the customer. So If you have some pictures or ideas for your furniture, pass them to us, and we can turn them into reality.
Project specification
Type of furniture – bespoke shoe cupboard
Style of furniture -High gloss with metallic elements modern
Location Wakefield
Materials
cupboard high gloss acrylic coat MDF 36 mm
handle-less push to open doors 18 mm aluminium coat MDF
plinth 18 mm aluminium coat MDF
How to order custom made furniture
If you have found this realisation interesting and would like to have similar furniture at your home or would like to offer it to your customers we are always open for cooperation with private and commercial, property investors, shop owners, and interior designers. Feel free to contact us and tell more about your project and requirements. We will be happy to help and meet your expectations.
To find out more about our customer's experience, Visit our Checkatrade, Houzz, Which Trusted Traders profile to see reviews of our work or visit our Facebook Page.