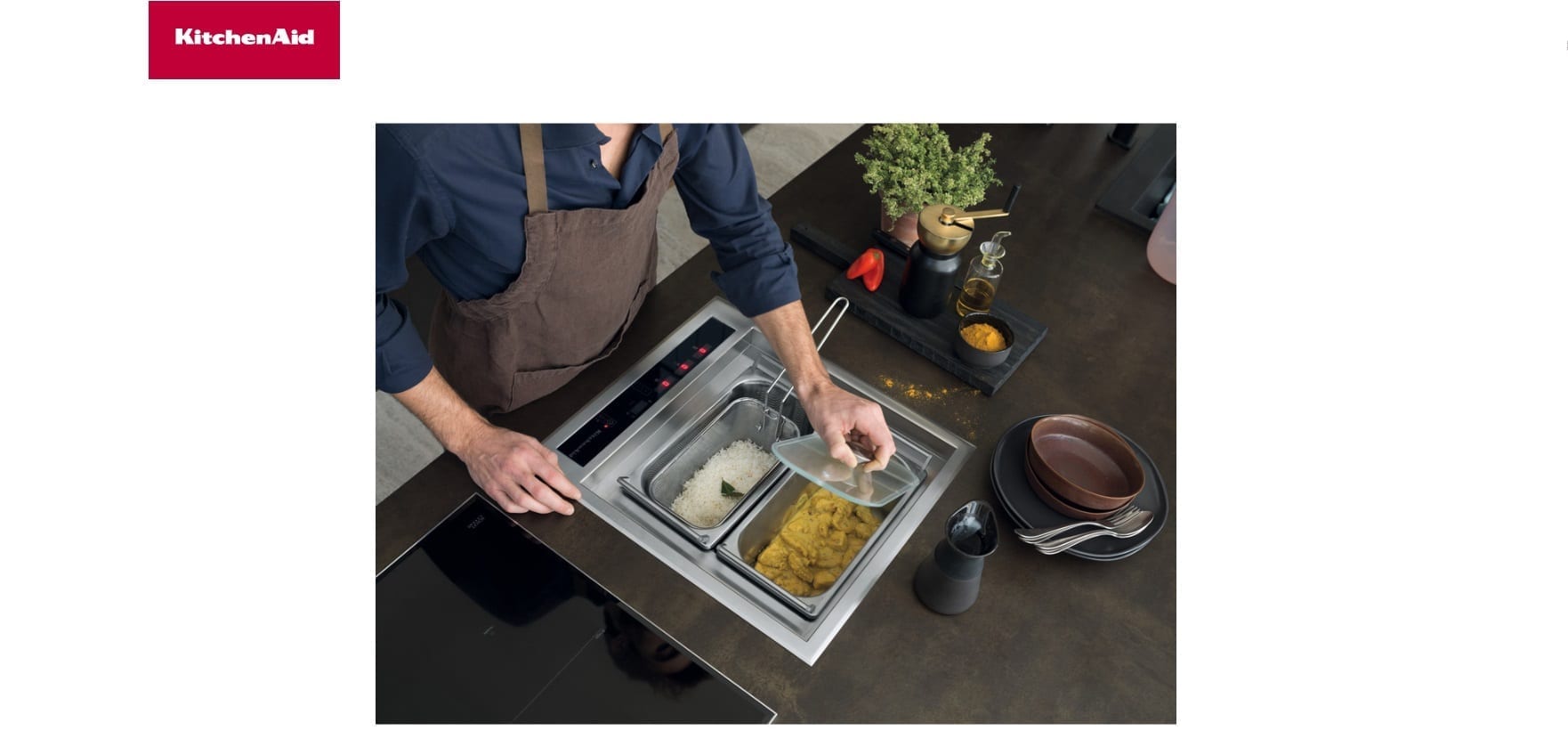 KitchenAid Chef Sign premium kitchen apliances
Kitchen Aid Chef Sign is the only induction tray system that allows you to experience five different cooking methods on one appliance. Beautifully versatile, this state-of-the-art cooking system offers the performance of an oven combined with a hob, for outstanding results every time. Chef Sign changes the concept of domestic cooking, bringing professional induction trays and the principles of induction cooking into the home kitchen.

Multifunction Cooking
The two induction plates of Chef Sign, each with a maximum power output 1400W, can work either separately or simultaneously. Heat is distributed evenly with the highest level of temperature accuracy for optimal cooking results. With Chef Sign, performance is improved, and the amount of time and energy needed to reduce thanks to the speed and even heat distribution and the absence of any heat dispersion.
Safety
Only the try heats up, while the surface of the hob and the tray handles stay cool, for greater comfort and safety. Chef Sign is equipped with a Key lock and residual heat indicator.
Electronic Timer
Whether you are using a single tray or both simultaneously,  the electronic timer allows you to independently set the cooking time for each area, giving you full control at your fingertips.
Touch control
Combining elegance and functionality, the touch control panel is simple and intuitive to use. The slide control can be set to 16 different power levels with extreme precision and indicates the operation, the power level of the plate, the residual heat and the duration of pre-set cooking.
Exceptional flexibility and endless ways to challenge your creativity in the kitchen. With Chef Sign, cooking will never be the same.
Steaming
the special surfaces are ideal for steaming food, maintaining flavours and texture with a very limited loss of vitamins and minerals. Cooking with steam is ideal for creating delicious, light and incredibly healthy dishes as no additional oil, fats or seasoning are required.
Boiling / Poaching
Traditionally one of the most popular and convenient cooking methods, no even easier with the Chef Sign. The specially created accessories make it easy to drain pasta and vegetables.
Roasting
with direct and precise temperature control, food typically prepared in an oven can be roasted directly in the multi-purpose pan. Roasting gives food a wonderful flavour.
Deep frying
With the dishwashable steel frying basket, fried food comes out uniformly cooked, light and crispy.
Low temperature cooking
KitchenAid's technology allows you to set the cooking temperature allows you to set the cooking temperature with precision, even at low levels, and to maintain the temperature for the set time. Food is evenly cooked and retains its nutritional value and texture.
Contact us to order your KitchenAid Chef Sign or any other KitchenAid appliances.