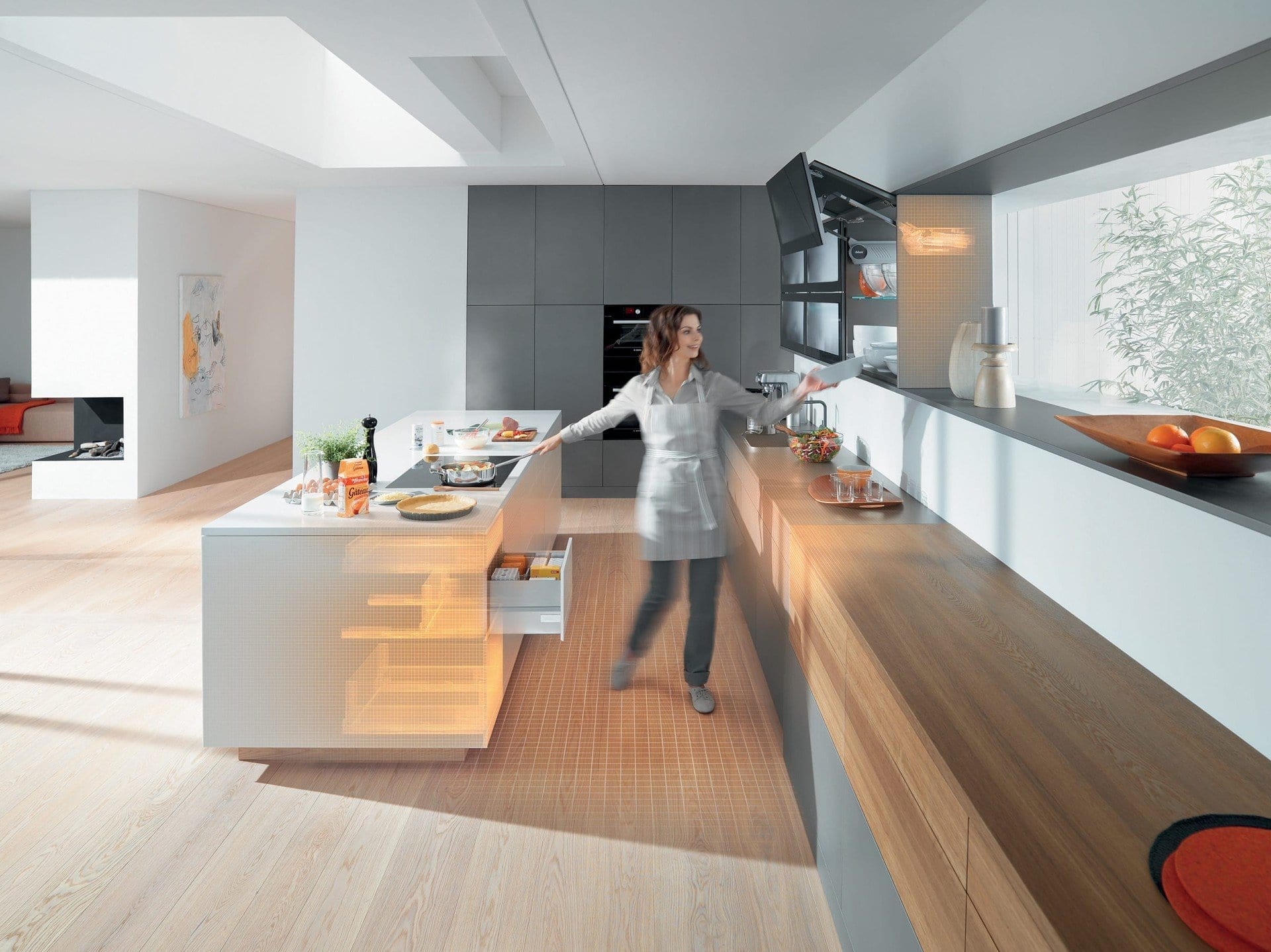 BLUM SERVO-DRIVE system.
Blum servo-drive system is one of the most technically advanced systems in the kitchen furniture components industry. To meet the requirements of our customers who are interested in high-tech solutions we also have it in our offer of kitchen furniture solutions. This kind of system is especially suggested to be implemented in our premium luxury ranges including INFINITY LINE and FENIX NTM LINE But also in any other type of bespoke kitchen furniture manufactured in our workshop.
Blum SERVO-DRIVE in modern style furniture.
Servo-drive is a solution designed to support modern handleless kitchens and can be used with drawers, bin and basket cabinets, lift systems and integrated appliances.
It can be integrated with most of the Blum types of drawers including Antaro and Lgrabox.
Another location where servo drive is beneficial is wall units constructed with the use of horizontal or bi-fold doors. Especially Aventos solution combined with servo drive benefits in the matter of ergonomy and comfort of use during work in the kitchen.
Integrated bins located under or near the sink area.
Handles integrated appliances especially fridge freezers and dishwashers.
To see servo drive in the real kitchen please check the video.
Blum servo drive inspiration for your kitchen
Blum servo drive integrated waste bin
Blum servo drive voice control
Blum is very close to release the update of this electrical system which soon will be also integrated with voice control devices what will take your kitchen to the next generation of high tech level. It will be instantly available to install in the JS DECO kitchens.
Order your kitchen implemented with BLUM SERVO-DRIVE system.
You can find a full offer of the Blum components which we can implement in our premium range kitchens visiting the manufacturer website all kitchen solutions which are placed on this website can be implemented in JS DECO custom made kitchens.
To find out more about details feel free to browse our website or contact us directly to arrange a visit to our workshop o one of the partnering kitchen studios.