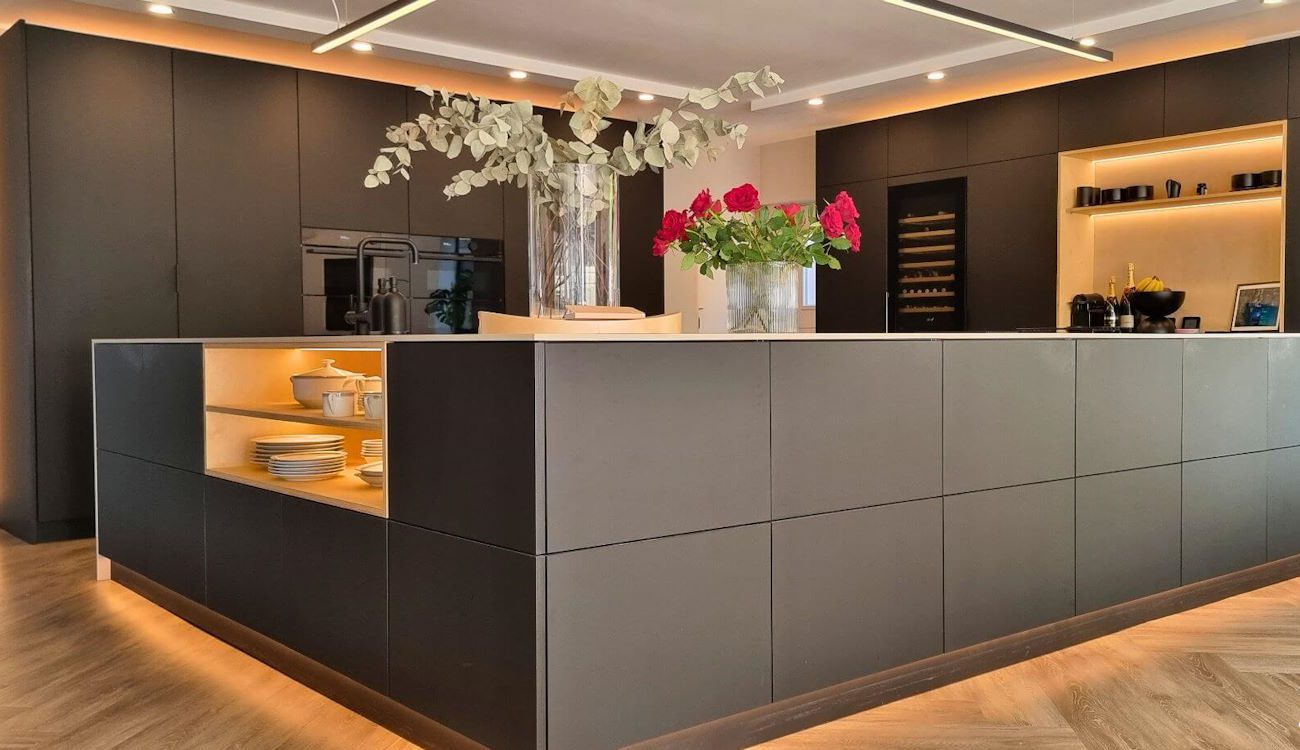 Luxury Fenix NTM black matt plywood kitchen.
Introduction: A Kitchen Redefined in Manchester
Our most recent kitchen project in Manchester stands out as a prime example of what can be achieved when design excellence meets practical considerations. This kitchen isn't just a place to prepare meals; it's a functional piece of art that adds value to the home and daily life.
Project Overview
Client: A private investor in Manchester
Design Style: A kitchen without handles, focusing on modern aesthetics
Core Materials Used:

18mm thick Birch Plywood for the basic structure
22mm thick Black Fenix NTM Laminate for doors
12mm thick Solid Core Fenix NTM for countertops

Key Elements:

Cabinets with doors that fold in the middle
An L-shaped countertop area
Built-in refrigerator, freezer, and dishwasher
Several drawers that close quietly, constructed from plywood
Doors that close softly
Pull-out trash and recycling bins
A variety of lighting options
From Vision to Reality: The Design Process
Our client, who resides in Manchester, approached us with a basic idea and a financial plan. They wanted a kitchen where beauty and practicality could coexist. They favored a design without handles to go along with their modern home decor. We took this foundational idea and developed it into a full-fledged kitchen plan.
Material Selection: A Balanced Combination
After reviewing market options and consulting with experts, we agreed upon the materials that would make up the foundation of this kitchen.
The Importance of 18mm Birch Plywood
We used 18mm thick Birch plywood to form the core structure of the cabinets. Birch plywood is a reliable material, known for its strength and longevity, making it a wise choice for the heavily-used framework of a kitchen.
The Selection of 22mm Black Fenix NTM Laminate for Doors
The doors were covered with a 22mm layer of Black Fenix NTM laminate, a durable and visually pleasing material. It's designed to withstand daily usage while requiring minimal maintenance, perfect for a busy household.
12mm Solid Core Fenix NTM for Countertops
We chose a 12mm thick solid core Fenix NTM for the countertops. This material is not only durable and easy to clean but also beautifully complements the laminate on the doors.
Features that Make a Difference
Cabinets with Bifold Doors
Cabinets with bifold doors are a standout feature. These doors fold in the middle, making it easier to see and access the contents. This can be especially helpful when you're in a rush.
An L-Shaped Countertop for Multiple Activities
The L-shaped countertop provides ample space for meal preparation and other activities. It features a large cooking area and includes an under-mounted sink, forming a practical and social hub in the kitchen.
Built-In Appliances for a Unified Look
Appliances like the fridge, freezer, large wine cooler and dishwasher are built into the cabinets, offering a streamlined look without breaking the design continuity.
Completion and Customer Satisfaction
Our Manchester team oversaw each step of the process, from initial sketches to the final installation. The client was actively involved, ensuring that the finished kitchen met their personal requirements and lifestyle.
Final Thoughts
This kitchen project in Manchester is one that we are particularly proud of. It successfully combines reliable materials like 18mm Birch plywood and 22mm Black Fenix NTM laminate to create a durable and visually pleasing environment. The client now enjoys a kitchen that is both beautiful and highly functional, meeting all their needs and exceeding their expectations.