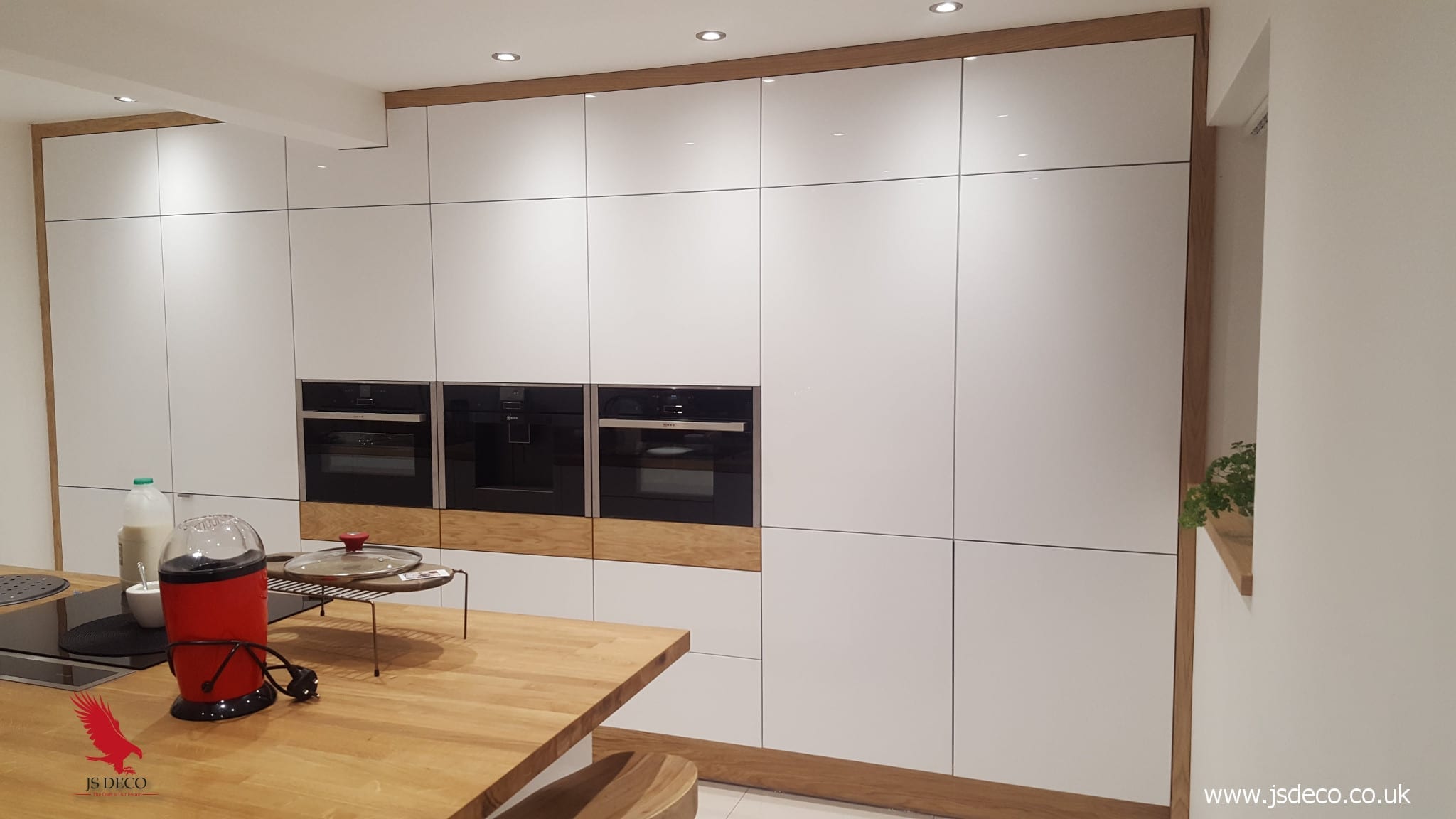 High gloss white modern style kitchen furniture
Our workshop in Halifax recently took on a unique project for a private customer – a bespoke kitchen furniture design that flawlessly combines modern and traditional styles with natural oak wood. To ensure durability and high-quality craftsmanship, we utilized top-of-the-line laminated Egger chipboard for the carcases, paired with sleek high gloss acrylic doors and finished off with a beautiful solid wood oak worktop. The end result is a stunning and functional kitchen that seamlessly fits the customer's unique vision and style.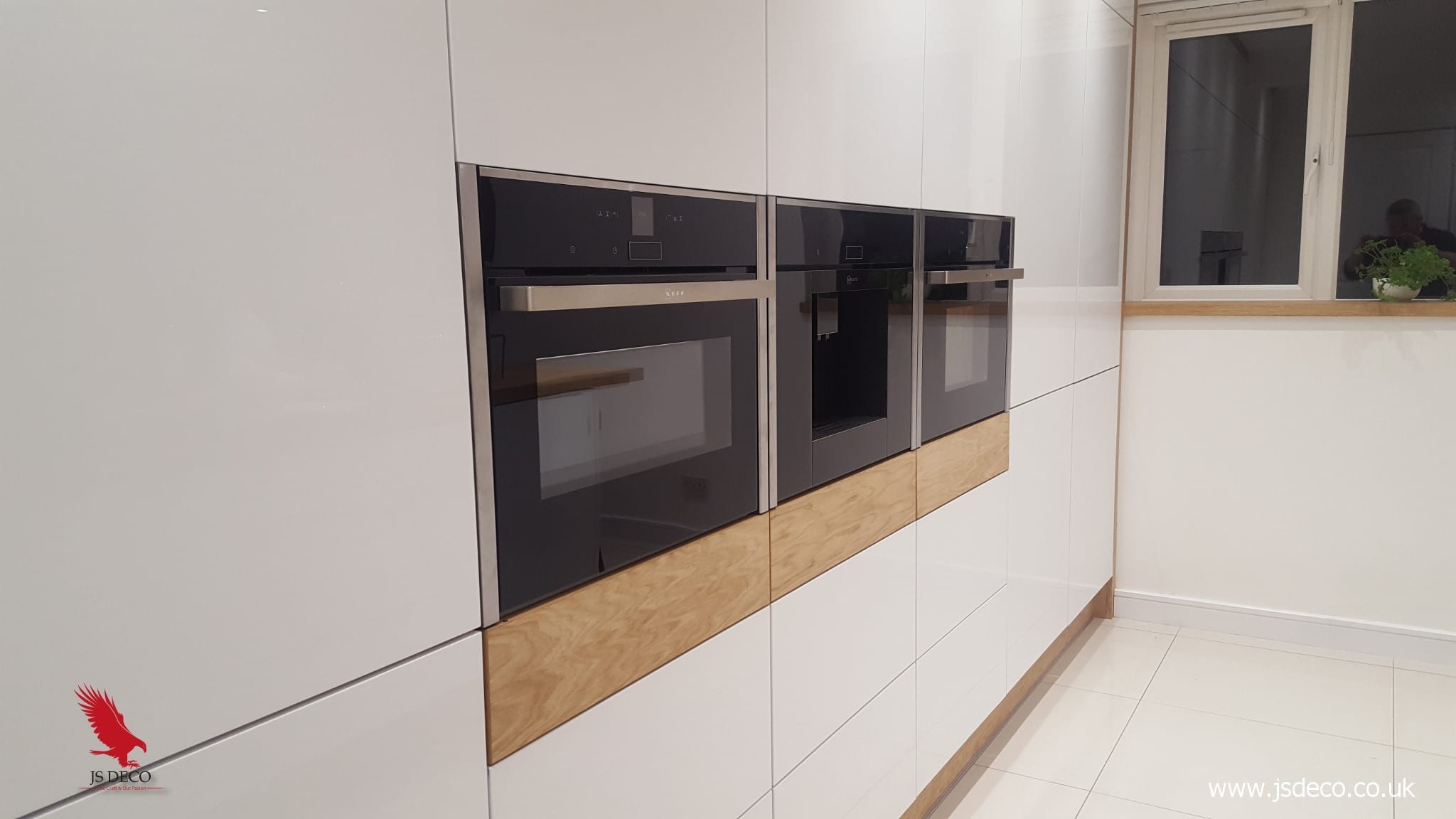 Appliances and mechanical specifications of the kitchen.
The comprehensive package encompasses top-tier Neff appliances, comprising a seamless integrated dishwasher, an exquisite coffee maker, an efficient steam oven, a versatile oven/microwave hybrid, a spacious fridge, and a capacious freezer.
In addition, the project also incorporates cutting-edge Caple appliances, including an advanced induction hob and an innovative downdraft extractor. The doors and drawers feature a distinctive Tip-On Blue motion system, guaranteeing unparalleled furniture quality.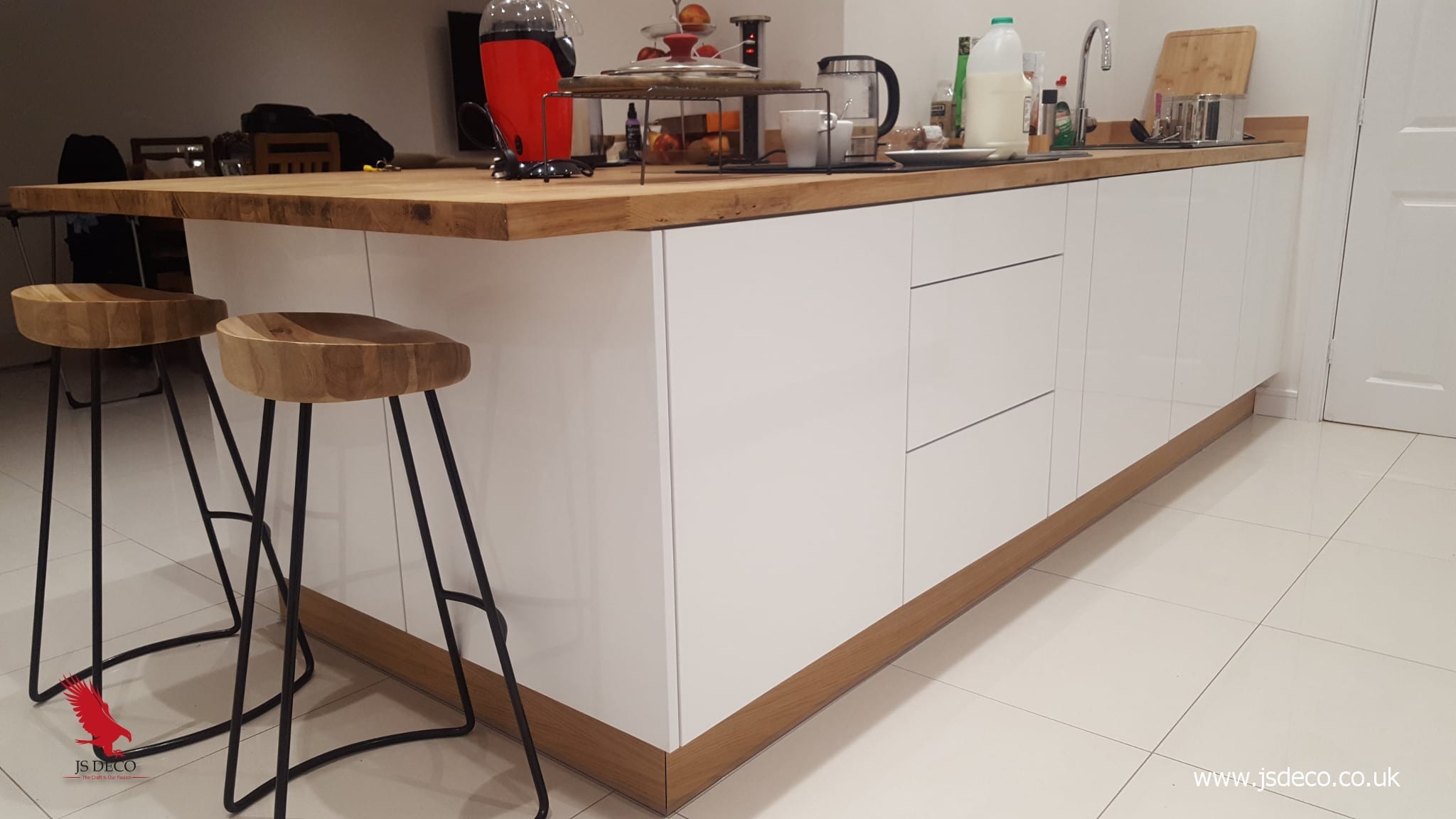 Video presentation of handleless modern-style white bespoke style kitchen.
We would like to share with you a brief video showcasing the utilization of a downdraft extractor fan and a Blum tip-on drawer system in a contemporary kitchen design. The video presents a detailed view of the practicality and functionality of these modern appliances in a kitchen setting.
Kitchen specification:
Style – Modern
Location – Halifax
Materials
Solid Oak worktop 44 mm – danish oil finish
MDF core, natural oak veneer doors – danish oil finish
MDF core, white high gloss acrylic doors
Blum push to open handle-less system of doors and drawers
Black glass sink and tap
Neff integrated fridge
Neff integrated freezer
Neff integrated coffee maker
Neff integrated oven
Neff integrated steamer
Neff integrated dishwasher
Bosh integrated washing machine
Caple downdraft extractor fan
Caple induction hob
If you happen to be a private customer who's in the market for a brand new kitchen that's tailor-made to your exact preferences and requirements, JS DECO is the perfect solution for you. Our company specializes in designing, manufacturing, and installing exceptional kitchens that are not only functional but also beautiful. We also cater to kitchen studios and interior designers who are interested in featuring our custom-made furniture products. For any inquiries, don't hesitate to reach out to us directly and arrange your free no no-obligation consultation.